The Eagles Autism Foundation impacts the Philadelphia community all year long – but no family or child's experience is the same.
Every individual is invited to take in the foundation's annual events at their own pace – but no matter how they choose to get involved, the Eagles Autism Challenge, Huddle Up for Autism, and the All-Abilities Clinic each present an exceptional opportunity to connect with the organization while promoting inclusion and fundraising for autism research and care.
Are you considering joining Eagles Autism Foundation's mission to take action for autism?
Here are two very special families whose lives have been impacted by their involvement. The Van Riper and the Cruz families have graciously shared their stories with the hope of encouraging other families with children on the autism spectrum – and the Eagles community as a whole – to get involved.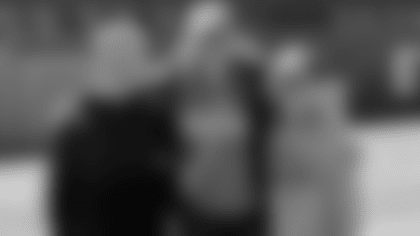 'It really blew away all of my expectations'
Christina Van Riper and her husband Jake are counting down the days until May 20th; this year will be their third Eagles Autism Challenge.
2021 was their first challenge. At first, though excited, they didn't know what was in store until they arrived.
"It really blew away all of my expectations," Christina said. "And it really opened the door to me exploring what the Eagles Autism Foundation does outside of the challenge itself."
The Van Ripers have participated every year since, finding fundraising success each year. Their son, 11-year-old Kellen, was diagnosed at 3 1/2 years old. Each year, Christina shares his story in detail on her fundraising page, giving donors a glimpse into his life and why participating in the event is so important to her family.
"We'll never forget putting him on a school bus to Early Intervention with his limited understanding and vocabulary of what to expect; to expanding his food palate from five foods to 10 (yay for pizza nights!); to the everyday glimpses of how his different and beautiful mind navigates the complex world around us," Christina said. "It would not be true to say that it has been easy or stress-free, quite the contrary, but these last several years have taught us so much about what is truly important in life. It is for him and the millions of others on the spectrum and their families that I'm participating in the Eagles Autism Challenge."
Though Kellen will not be in attendance, Christina and Jake annually participate, aiming to support the EAF's dedication toward raising funds for innovative research and care programs.
"I think people really liked the idea of doubling their money. It definitely is exciting, as the fundraiser, to say, 'Look, if you give a $50 gift, it's really $100. Right?' And it's cool to see your totals increase double on those days," she said.
The Nouryon Matching Gift Drive is taking place now where 100 percent of donations made to individual fundraising pages right now will be matched dollar for dollar.
For some, the fundraising expectations of EAC may seem daunting, but Christina has words of advice for people who may be considering signing up.
"You will underestimate how generous people are. People really want to hear your personal story and how their gift or their contribution really, ultimately, can impact you personally and you and the autistic community as a whole."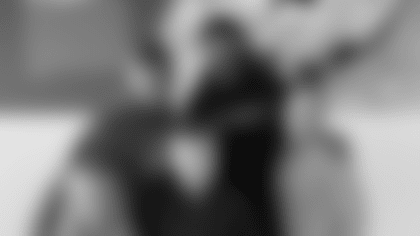 Not only has the Challenge allowed the Van Ripers to make a difference through fundraising, but it has also introduced EAF's other events throughout the year.
Christina brought Kellen to this year's Huddle Up for Autism, a sensory-inclusive experience featuring live performances, photo opportunities, field activities, locker room tours, and special appearances by Eagles players, Cheerleaders, and SWOOP. Kellen's favorite part was spending time with the therapy dogs.
"He just wanted to chill out. We spent the majority of the time sitting in the stands, actually. But that was his comfort zone. He was able to soak it all in, but it was just cool for him to be able to sit there and have that experience the way he wanted to have that experience," Christina said.
For Christina, the highlight of her day was spending time with her son while watching how the Eagles Autism Foundation is woven into the fabric of the organization.
"It's fun to really see the passion of Jeffrey Lurie and actually get to meet the players and the coaches and see how much they are invested. You can tell they're real about it and genuine," she said.
The Van Ripers attend several EAF events year after year, much like several other families who are committed to the cause, holding tight to the same hope each time.
"I would say it's really raising funds for the research grants and the community grants. I think that's really important to us and that's what's driving us to keep participating."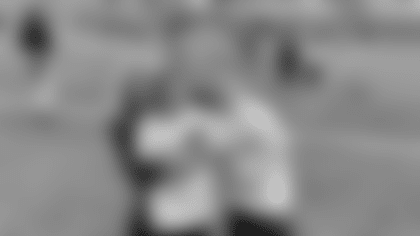 Memories that last a lifetime for the Cruz family
Miriam Cruz was at her 5-year-old son Julian's outpatient therapy clinic when she was handed a flyer for the Eagles Autism Foundation's All-Abilities Clinic.
It was her first time learning about the Eagles' commitment to autism, and as a mother with a son on the spectrum, she quickly searched for more information. That's how she found Eagles Autism Foundation on social media.
After perusing the page and checking out the Eagles' website, she began to take note of all the upcoming events her family might enjoy. Little did she know, the connections her 5-year-old son Julian and his 7-year-old brother Jaivien would make on the field lasted longer than the duration of each event.
When the All-Abilities Clinic came around, Cruz brought her two sons to the NovaCare Complex for the very first time.
"I decided to take my son there, and it's been amazing. It is somewhere I can take my son and he can be himself," Miriam said.
"It was geared literally for children with special needs to be themselves. There was really no limit, they were able to do everything and anything there. It was great, I loved it. Will they go next year? Yes, they will."
Julian and Jaivian participated in football skills activities and even helped to hold the microphone while the players addressed the participants.
But her favorite part? Spending time with Eagles linebacker Shaun Bradley.
Their experience was such a positive one that it encouraged them to attend Huddle Up for Autism in April. There, Eagles and Temple Football players were on-site, spending time with participants. That's where they ran into Bradley, who recognized the Cruz family from the All-Abilities Clinic.
Jaivien and Julian got to speak with Bradley about all things football, but the highlight was telling him about their love for barbering.
Their father, Joshua Santiago, is a local barber. But he isn't just any barber. Santiago donates his time and resources to giving haircuts to homeless individuals in Kensington – he's earned a following of more than 300,000 fans on TikTok under the username Empowering Cuts. There, he shows how something as seemingly simple as a haircut can make a difference.
Santiago's barber shop is situated within an RV, so when he's not serving the local community, he's often on the road, traveling from state to state to give haircuts to those who need it most.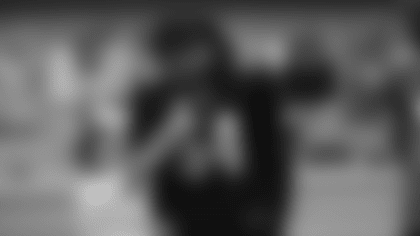 Barbering has given Julian, who was diagnosed with autism about three years ago, a chance to learn skills while spending time with his older brother and father.
"They'll grab a mannequin, they have barber chairs, they have barber clippers, they actually just want to play and act like they're given haircuts to the mannequin," Cruz said.
"They don't actually turn the clippers on unless they're with his dad, because I'm not a barber, I'm an educator. It's just something that they're picking up from dad and he does it with such a humble and open heart."
After meeting Bradley twice, the boys' dream is to one day give him a haircut with their father.
Now that their family is involved with Eagles Autism Foundation, they plan to attend every event they can, and Cruz has a message for those who might want to join them.
"Don't be nervous. Sign them up. Sign them up. Make sure you let your child be themselves. The events were both wonderful," said Cruz.
"We'll definitely be there again next year."