There has been a lot of discussion about the outside linebacker position leading up to the start of the season. With Trent Cole moving on, and Brandon Graham stepping up as a full-time starter for the first time as a linebacker, there have been external questions about the depth and what the production will look like from that position.
From a depth perspective, obviously the staff will count on Marcus Smith taking the next step once he's fully rehabilitated from an injury that cost him most of the preseason. You know what you're getting in Bryan Braman, who is an outstanding special teamer who can come in and offer quality snaps as a part-time pass rusher as well. Brad Jones has filled in nicely as a swing player, getting reps both inside and out this summer. But what about Connor Barwin and Graham? What will that duo look like together, and can they be as productive as Barwin and Cole were a year ago? I'll let you decide.
Both Barwin and Graham build their games around power and leverage. They have the ability to turn the corner on tackles, but when they're able to go speed-to-power and bull-rush linemen into the quarterback's lap, that's when they're at their best.
Against Carolina, the Eagles' front-seven feasted on the Panthers' offensive line. Both Barwin and Graham crush the pocket as Cam Newton has nowhere to go with the football, resulting in a sack.
Everyone remembers Cole, one of the best pass rushers in team history, as being one of the most relentless defenders on the team year after year. He tirelessly chased down quarterbacks and ball carriers from sideline-to-sideline on every play. That's something he seems to have passed down to Graham, who shows some of those same types of attributes, as we all saw on this sack against the Texans a year ago. Graham beat the tackle with a double-hand swipe, turned the corner, leapt after the quarterback and knocked the ball out on a great individual effort.
When you look at the individual skill sets of both Barwin and Graham, you also have to factor in the creative ways that defensive coordinator Bill Davis deploys the two pass rushers. Through different alignments, stunts and blitzes, he helps create matchups for his players to generate opportunities with just a four-man rush without having to sacrifice players in coverage. In my opinion, he's one of the best in the league in doing so from what I've seen.
This was something we saw a lot of last fall, including in Week 1 against Jacksonville. You've got Cole (No. 1) and Barwin (No. 2) lined up on the same side of the line (with Vinny Curry, who is now a full-time outside linebacker, and Fletcher Cox lined up to the other side). Having those two threats to one side is tough for an offense to deal with, and even if the line to decides to protect with a "big-on-big" strategy (a man-to-man scheme), there are still potential matchup problems, which presented itself on this play with Cole beating the left guard cleanly and forcing a sack-fumble.
Davis didn't just attack offensive lines with Cole inside, but Graham also saw reps at that spot in certain packages.
On this play against Dallas, Graham beats the left guard quickly and sacks Tony Romo out of the same type of formation (except with Cox and Bennie Logan lined opposite of Graham and Barwin). When you slide rushers like Graham inside, they have the stoutness to hold up against the run, but their athleticism lets them win against interior linemen as well, and this is something that Davis takes advantage of.
When he lined up these linebackers in the B gap, however, Davis didn't always just have them rush straight up the field. He often employed stunts and twists up front to help create pass rush opportunities and confuse responsibilities in protection.
Here against Tennessee, you see a "T/E" or a "Me" stunt from the Eagles' defense. Cole, lined up inside, is the penetrator on this play. It's his job to get upfield, penetrate the line of scrimmage and pull the attention of the left guard. Barwin is the looper. This stunt is called to typically open the play up for the looper. This attacks man-protection concepts and it worked to perfection on this play, as the left guard (Andy Levitre - who just may be starting for the Falcons on Monday night after getting traded there last week) fails to see Barwin as he knifes in to sack quarterback Zach Mettenberger.
I loved this play, so I had to include it. After running the "Me" stunt earlier in the game with Barwin looping inside, he sells the move again later as if he's breaking inside before spinning off the tackle and racking up a sack-fumble. This was a masterful pass rush performance by Barwin, who has been as dependable as any player at his position in the league. The telestration may look like a clipping from Family Circus, but it was one of my favorite plays from the 2015 season when you take it in context.
One of the best ways that Davis was able to create pressure last season was with his double A-gap pressure looks. This was a concept that I discussed in detail with NFL Films senior producer Greg Cosell on last week's podcast, but when a defense places two defenders in the A gaps, even when it's a team that routinely drops players from the A gap when they show blitz, the offense has to account for them. They cannot allow free rushers up the middle at the quarterback.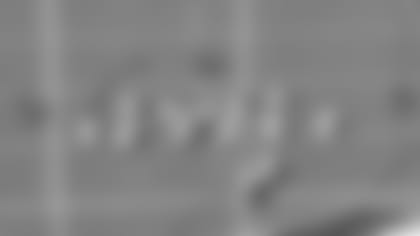 On this play against St. Louis, the Rams come out in an empty set. The Eagles reset by aligning in a double A-gap look. This presents the five-man offensive line with six possible blitzers. They have to allow one of those rushers to come free, so they have to pick one of the least dangerous defenders, which is almost always going to be a player who is lined up farthest away from the quarterback. In this case, that's Vinny Curry.
Nolan Carroll, one of the potential A-gap rushers, drops back into coverage. Despite the five-on-five protection, Curry comes free, sacks the quarterback and forces the turnover for the Eagles' defense. This was a great job of manipulating the protection by Bill Davis, who forced them to leave one of his best and most productive pass rushers free to get to the quarterback.
When presented with a double A-gap look, offensive lines in the NFL choose to protect in one of two ways. You either have:
A full-on slide protection, where the entire offensive line slides to one side and the back is relied on to defend an edge pass rusher.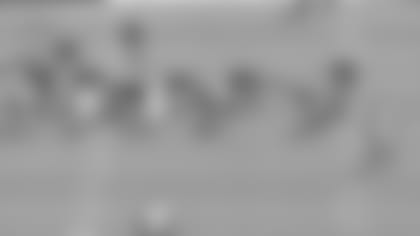 or 2. The center becomes responsible for one of those players, and the running back becomes responsible for the other.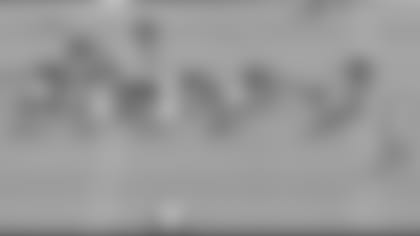 How the offense chooses to protect this is entirely up to whomever is in charge of this pre-snap. In this look, you've got both Barwin and Cole lined up in the A gaps. Would you want your running back charged with blocking one of them one-on-one right in the quarterback's lap? Probably not. But say that was a nickel cornerback or a safety inside, you might be more likely to give your running back that responsibility. This will vary team by team and game by game, depending on personnel and matchups.
On this play, it's tough to say what the San Francisco 49ers were planning because it's clearly a bust. The running back, Frank Gore, has his eyes on Carroll off the edge, and the right side of the line slides that way as well, giving Barwin a free rush at Colin Kaepernick as the Eagles get another sack. Who knows what the call was for the offense, but it was a busted play regardless. This is an example of how Bill Davis did a great job of generating pass rush for the unit, and I would expect to see more of the same in 2015.
Fran Duffy is the producer of "Eagles Game Plan" which can be seen on Saturdays during the season. Be sure to also check out the "Eagle Eye In The Sky" podcast on the Philadelphia Eagles podcast channel on iTunes. Prior to joining the Eagles in 2011, Duffy was the head video coordinator for the Temple University Football team under former head coach Al Golden. In that role, he spent thousands of hours shooting, logging and assisting with the breakdown of the All-22 film from the team's games, practices and opponents.