The "Legion Of Boom." "Beast Mode." Russell Wilson. Pete Carroll. This Seattle Seahawks team has a number of character-driven storylines coming with them to Lincoln Financial Field on Sunday afternoon. Unlike other teams and players around the league with fancy, schmancy nicknames or high-profile young stars, this team backs it up with the way they play week in and week out. Chip Kelly said it best on Monday, there's a reason this team won the Super Bowl last season. They're full of talented players on both sides of the ball, and they play tough, hard-nosed football for four quarters every week. Let's jump into the tape and look at examples of that, starting first on offense.
At its core, this is a smash-mouth running team and Marshawn Lynch is the hammer. "Beast Mode" is the most violent runner in the league right now, as he consistently gets downhill, runs through first contact and creates his own yardage. They get the ball to him in a variety of ways, but their signature play is the zone read. Whether it's an inside, mid or outside zone run, or whether they're reading the defensive end, defensive tackle, linebacker or even the safety, they love to put the opponent in a situation where they have to choose to defend Lynch or Wilson on the keeper and burn them for long yardage.
On this zone-read play, Wilson reads the defensive end, sees him crashing down and he keeps it and takes off down the alley. The safety (out of the frame) takes an awful angle. Wilson gets two blocks at the second level (one is actually a holding call that keeps this from being a touchdown) and Wilson ends up with an explosive play. That's from a couple of weeks ago against Dallas and this is the week prior against the Kansas City Chiefs.
It's second-and-6 and the Seahawks run a zone-read play. This time, Wilson reads the safety (that's former Eagle Kurt Coleman) and gives it to Lynch for a 17-yard gain and a first down, as he barrels through potential tacklers before a gaggle of Chiefs get him to the ground. Gang tackling will be important to stopping Lynch on Sunday, but holding up at the point of attack, staying disciplined in their run fits and keeping contain on Wilson will be paramount as well.
While the zone-read compiles the majority of their run scheme (and pass game as well - as they run a number of packaged plays with options for the quarterback on the ground and through the air), they have a few other plays in their arsenal that help form their rushing attack, including a play that should be familiar to Eagles fans by this point in the season - the stretch play.
You see the stretch run play in action here from this past week against the 49ers, this time with fullback Will Tukuafu in the backfield leading the way for Lynch. They'll run this stretch play out of one- or two-back sets. On this play, Tukuafu kicks out safety Antoine Bethea.
Notice, too, Lynch using his arm as a weapon in the open field, keeping rookie tackling machine Chris Borland at bay as he makes his way down the sideline. The Seattle offensive line, particularly to the right side with rookie Justin Britt and right guard J.R. Sweezy, is athletic and can get out in space and locate defenders on the move. They've been without Pro Bowl center Max Unger, who is one of the most athletic linemen in the game, but backups Patrick Lewis and Lemuel Jeanpierre have performed admirably in his stead and have kept that run game going despite his absence.
You saw Tukuafu kick out the safety on the last stretch play. Here he is as the lead blocker on this iso lead scheme to the weak side. This time, the fullback takes out Giants linebacker Jacquian Williams, as Lynch runs right through the would-be tackle from Jameel McClain for 22 yards and a first down. Notice the recurring theme here from Lynch, and you'll get the same with backups Robert Turbin and Christine Michael. This is a no-nonsense rushing attack that will meet you in the hole and punish defenders if you let them.
The final aspect of their run game I'll cover is the boot/naked aspect with Wilson rolling out. Whether it's a designed run like you see here on Monday Night Football against Washington back in Week 5 or the boot-action pass game where Wilson has the option to tuck it and run, this will be imperative for the Eagles' backside defenders to keep contain and play the upfield shoulder of the quarterback. Ryan Kerrigan loses contain on this play and Wilson makes him pay, as he runs 29 yards for a first down.
In the pass game, the Seahawks get criticized for not having a ton of weapons on the outside (though Doug Baldwin and Jermaine Kearse are very nice receivers and rookie Paul Richardson is a burner who can stretch the defense), but you have got to prepare for one thing in particular when you game plan against this offense. They are a huge empty set team, perhaps more so than any in the NFL. Even when they aren't in empty, they play a ton of five-man protection schemes where it's just the offensive line in to protect, and any extra rushers are Wilson's responsibility to account for.
There are a lot of defenses, and the Eagles are one of them, that like to at the very least show blitz against empty sets to create free rushers on the quarterback, forcing the play to break down and making the quarterback make something out of nothing. Now, Wilson is GREAT at this. He's magician-like by making defenders miss inside the pocket and on the perimeter, and is a great decision-maker with the ball in his hands, knowing for the most part when to throw it away or who to get the ball to. That, in my opinion, is the strength of this Seahawks pass game. Wilson is a great out-of-structure passer, and the Seahawks (by playing so much empty), seemingly INVITE this pressure, because they believe they can count on Wilson making plays for them on the move with his arm and with his leg. So many of the Seahawks plays, when you watch them on film, come outside of the concept that was called in the huddle. How the Eagles choose to both attack and defend that will be the No. 1 thing I look for on Sunday. So let's look at these empty sets.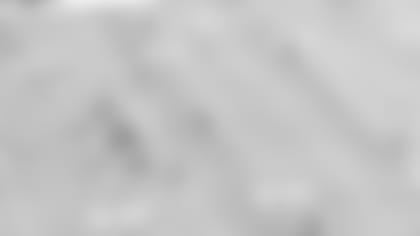 It's second-and-16 against the St. Louis Rams. The Seahawks come out in their top personnel grouping, 11 personnel, with one back (Lynch, at the bottom of the screen) and a tight end (Cooper Helfet, in the slot to the left). They run out of this package with Lynch in the shotgun and Helfet lined up in-line, but here you see them spread the defense out and make them defend every inch of the field.
Being in an empty set, Wilson knows that any extra rushers are his responsibility. So what happens when he sees blitz from the Rams? At the top of his drop, he immediately releases the football, hits Kearse in stride and connects for a 29-yard gain and a first down. This is great quarterbacking from Wilson, who makes a great decision and gets rid of the football quickly for a first down. This is an example of him making a great play within the construct of the play call.
Here's a play from that same game. This time it's third-and-9, but again this is an empty set out of 11 personnel. This time, it's just a four-man rush. The Rams didn't even show blitz. Instead they focus on coverage and have taken away the first three reads in Wilson's progression. He rolls from the pocket, buying time before he throws a pump fake on the run, getting St. Louis defenders to leave their feet and takes off down the left side for a 52-yard run. So you've seen him now gain major yards both inside and outside of structure out of the empty set.
Let's jump to last week's game against San Francisco. It's early in the second quarter. While this isn't an empty set, it's still a five-man protection out of 11 personnel, so the rules are the same for Wilson. Any free rushers are his responsibility. This time, a slot defender comes in free, and Wilson does what he does best. He evades the blitzer, keeps the play alive, the receivers work to get open and he hits Tony Moeaki for a 63-yard gain and a near touchdown.
In the last two plays, this pass to Moeaki and the long run against the Rams, the defense "won" if you were to draw it up on the whiteboard. St. Louis took away every conceivable receiving option and he took off and ran for a huge gain. The 49ers blitzed, got a man free but he keeps the play alive and hits his tight end for another huge gain. Wilson's ability to create big plays when the play breaks down is a trait that few (other than maybe Aaron Rodgers and Andrew Luck) have the ability to do at such a high level in the league right now and it's something the Eagles will have to account for on Sunday.
On defense, this is a team that is a bit more diverse than they are given credit for on a national scale. The narrative with the "Legion Of Boom" is that they are a 4-3 under front that doesn't blitz often and plays almost entirely Cover 3 or Cover 1 Robber with Earl Thomas in the middle of the field, Kam Chancellor at the line of scrimmage and Richard Sherman locking opponents down at the left corner spot.
Watching them this year however, they're much more than that. This is a multiple front that attacks offenses in a lot of different ways. They'll play single high and they'll play two high. They'll play zone and they'll play man. They'll play 3-man lines or 4-man lines. They'll bring seven or they'll rush three. They do a lot of different things and they have great personnel at every level of the defense to pull it off. So rather than dig too deep into the schematics of what they do defensively, I figured I'd give Eagles fans a closer look at the players who make up this great defense coming to town from the Pacific Northwest.
Let's start up front. Michael Bennett was such a huge part of Seattle's success during its Super Bowl run and was rewarded with a contract extension. Bennett is a versatile guy who can line up at a number of different spots. Whether he's at defensive end or at defensive tackle, he is a disruptive force in opposing backfields.
On this play in Week 1 against Green Bay, Bennett lines up as a defensive end in the Seahawks' over front. He beats the right tackle with a quick hand swipe and gets a sack-fumble on Rodgers which results in a safety.
Meet Bruce Irvin, who gets the sack in the play you see above against Cam Newton. He lines up in the 9-technique (the Wide 9) and leaps over the running back, keeping his balance and tracking Newton down from the back side. Irvin is an incredibly versatile, moveable chess piece for defensive coordinator Dan Quinn. Irvin plays with his hand on the ground as a defensive end, stands up on the edge as a pass rusher, stacks behind the line of scrimmage and even lines up in the slot in coverage. He's a great athlete, and has developed into one of the most dynamic edge defenders in the NFL after many considered him a "reach" of a first-round pick just three springs ago.
Look at Irvin on this play. He drops as an underneath defender in this three-deep zone coverage and makes a great play on the ball to reel in the interception and return it for a touchdown against Oakland. Irvin's skill set makes him tough to game plan against, and he has turned into one of their bigger playmakers in that front seven.
The Seahawks' leading tackler thus far in 2014 is middle linebacker K.J. Wright, who is putting together quite the résumé this season with 88 tackles, three tackles for loss, three pass breakups, two forced fumbles and a fumble recovery. The explosive linebacker is a punisher against the run and is used in coverage as well. On this play in Week 5, Wright brings Alfred Morris down for a loss and strips the football in the process.
On a similar play in Week 1 against the Packers, watch linebacker Bobby Wagner, one of my favorite players to watch on this unit, patiently track down Eddie Lacy and bring him down for a loss. Wagner is an athletic, tough linebacker who fits this defensive mindset well in Seattle and has been such a great fit since being a second-day draft pick.
Long considered a zone coverage team, the Seahawks have mixed in a lot more man coverage this season, in particular over the last couple of weeks. In this play two weeks ago against Arizona, the Cardinals are running a basic smash concept to the left. Cornerback Byron Maxwell is in coverage, sitting on the hitch route and peels off that route to make a play on the ball and come up with the interception, jumping the corner route over the top. Maxwell has missed some time due to injury, but is one of those big, physical corners who Seattle loves and is a very good press coverage player.
Next up, you've got safety Kam Chancellor, a thunderous hitter who brings the boom to the "Legion of Boom" secondary. He's known for his prowess as a run defender near the line of scrimmage, but I don't think he gets nearly the respect he deserves as an instinctive player in coverage. Chancellor reads route concepts well, anticipates throws and makes plays on ball carriers in space very easily. On this play, Chancellor reads the slip screen by the Denver Broncos and knifes in to make the play for a short gain.
Here's a shot from the same game, where Chancellor (again as an underneath defender in Cover 3) reads the route concept before it finishes, jumps the hitch route from Wes Welker and comes up with a near interception on third down to force a punt. Chancellor is an intimidator, for sure, but his instincts are one of his strong suits as well.
Opposite Chancellor is Earl Thomas, and there's not much you can say about this guy other than he's one of the finest safeties in entire NFL. On this third-and-2 play against the Cardinals, Seattle in one of their nickel subpackages with three down linemen. They're in man-free coverage (Chancellor is fighting the narrative on him, playing in the deep middle) and Thomas rolls down to cover running back Andre Ellington out of the backfield. Watch him explode on the throw and bring the back down short of a first down to force a punt. Thomas is a sideline-to-sideline player who plays with maximum effort at all times and is one of the most physical players at his position in the league to boot. He'll be a player to watch on Sunday for sure.
Last, but certainly not least, you've got Richard Sherman, one of my personal favorite players in football. How can you not love a guy who approaches the game from such an intense academic standpoint like Sherman does? I love the way this guy plays and his approach to the game absolutely results in his many successes on the field. As you can see in this play above, his physical presence in the run game is apparent, as he fits into the run defense so well and consistently brings his man to the ground.
In the last paragraph I linked to an NFL Films feature on Sherman and his preparation and film study, and this interception last week against San Francisco is just another example of that. He knew 49ers receiver Brandon Lloyd was going to run this "stutter comeback route" as he calls it, and he sits on it from the jump to come away with an easy interception in this 3-deep coverage. Sherman is a fantastic player. Head coach Chip Kelly calls Sherman one of the best cornerbacks in the game.
Fran Duffy is the producer of "Eagles Game Plan" which can be seen on 6abc Saturdays at 7:30 PM. Be sure to also check out the "Eagle Eye In The Sky" podcast each week online and on the Philadelphia Eagles podcast channel on iTunes. Prior to joining the Eagles in 2011, Duffy was the head video coordinator for the Temple University Football team under former head coach Al Golden. In that role, he spent thousands of hours shooting, logging and assisting with the breakdown of the All-22 film from the team's games, practices and opponents.