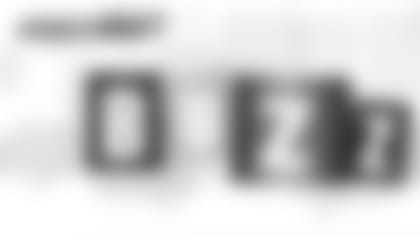 It seems just yesterday we were wrapping up Senior Bowl coverage in Mobile, Alabama yet in nine days PhiladelphiaEagles.com will be in Indianapolis for the 2016 NFL Scouting Combine. So what's the latest word as players prepare for more job auditions in front of NFL decision-makers? Here's the latest draft buzz as we move closer to the Combine.
1. One player who is not expected to run all that fast at the Combine is Laquon Treadwell. Rated by most analysts as the top receiver in the NFL Draft, those around Treadwell will be satisfied if he runs in the mid 4.5s during his workout on Saturday, February 27.
2. The top quarterbacks in the NFL Draft are all expected to throw a week from Saturday and will be the featured story. One signal-caller teams are excited to see is Jeff Driskel. After transferring from Florida, the strong-armed passer turned in a terrific campaign last season at Louisiana Tech then had his moments during Senior Bowl week. Teams were impressed with the way Driskel picked up the offense and improved each day. A number of franchises have stamped him with a second-round grade and believe a good Combine performance could put Driskel at the top of the second tier of quarterbacks ahead of Connor Cook, Christian Hackenberg and Jacoby Brissett.
3. Interest in small-school cornerback Harlan Miller of Southeastern Louisiana has picked up steam since the Senior Bowl. Teams were impressed with his play, ball skills and ability to shut down Oklahoma receiver Sterling Shepard during drills raised a few eyebrows. I'm told Miller is expected to move his 6-foot frame across the 40 yards at the Combine in the low 4.4-second range, a time much faster than most expect. Good workouts in Indianapolis could secure Miller as a top-75 pick.
4. Many were surprised when Stanford's Aziz Shittu was left out in the cold with no Combine invitation. So why didn't he receive one? I'm told the influx of underclassmen entering the draft soaked up almost one-third of the invitations. The number of defensive lineman who received invitations alone (63 in total) meant someone would be left out in the cold. There are still a number of teams who grade Shittu as a mid-round prospect with some listing him at defensive end and others at defensive tackle.
5. Medicals during the combine are always critical as linebacker Jaylon Smith will soon find out. While the media focuses on the former Notre Dame linebacker, teams will closely inspect Georgia receiver Malcolm Mitchell. I was told during the season a number of teams red-flagged Mitchell as undraftable due to prior medical issues, which include a torn ACL suffered while celebrating a Todd Gurley touchdown. Teams love Mitchell's film and the big possession wideout could end up in the middle rounds if he's medically cleared.
6. Offensive lineman Rees Odhiambo is another prospect whose draft grade will hinge on medical exams. The Boise State left tackle broke his ankle eight games into the 2015 season and was sidelined the rest of the year. He also had previous lower leg issues during his college career, but Odhiambo has been stamped with a second-round grade by a number of teams based off his game film. Several scouts believe the 6-4 lineman can turn into an All-Pro at guard, assuming he stays healthy. I'm told there's a chance Odhiambo participates in offensive line drills at the Combine after medical exams. Pro Day for Boise State is scheduled for March 31, and hopes are high he completes a full workout for teams at that time.
7. Many scouts predict offensive lineman Joe Thuney will exit the Combine with improved draft grades. Lining up at left tackle for North Carolina State last season, Thuney is expected to test as one of the better blockers in attendance and I'm told teams will be impressed with his interviews. He's known as a thinking man's blocker and can play any of the three interior offensive line positions, which further enhances his draft stock.
Tony Pauline has been a draft analyst for more than 25 years, and is president and editor of DraftInsider.net, a site dedicated year-round coverage of the NFL Draft. You can follow on Twitter @TonyPauline*