If you walk through the halls at Camden High School and Mr. Hinson is around, you'll likely hear a gaggle of football players trailing behind him using their best coach's voice, repeating some of these phrases:
"Figure it the frig out!" or "Figfro" for short.
"Embrace the grind, man!"
Even the occasional, "Knuckles on the ground when you recover a fumble!"
They try to emulate their coach, but it's not mockery. Instead, for Head Coach Robert Hinson, it's a sign that the players are receiving his messages. Though sometimes it comes across as humorous – it proves his football team is listening, and their impressive 5-1 start reflects that.
"They've really bought into it. We're still growing. We're not there yet. But, they've done a good job so far, buying into what we're trying to do with them," said Hinson, the Philadelphia Eagles High School Coach of the Week, presented by Hyundai.
"They really seem to be bonded as a family, and it feels pretty good."
Hinson is in the midst of his first season as the new leader of Camden's football team. It's also his first full year as a special education teacher in the building. But he is no stranger to the school's halls.
His new titles marked an exciting return to his alma mater – Hinson attended Camden High School and played cornerback on the football team until his graduation in 1989. Now, he has the opportunity to make an impact on students and athletes from his hometown, and he quickly got to doing so, even before he was officially hired for the role.
"I started a weightlifting club until the interview process was formal. So we started putting the culture in the weight room back in February," said Hinson.
"Just being in a school with these kids every day, in the hallways, fast-tracked the culture-building aspect of it. I think that's what our kids really needed."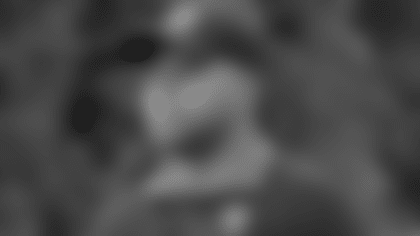 His program stands on the pillars of empathy, respect for others, and accountability, emphasizing the latter.
"Accountability for your actions, accountability to your teammates, accountability to your families," he said. "Just trying to be good men. It doesn't have to just be football."
His leadership has made an immediate impact, Camden is off to its best start since 2019. But it's no surprise. Before accepting the job, Hinson coached at Timber Creek High School in Sicklerville, where he led the team to immense success at the state level. Under his leadership, the team earned seven conference titles and four South Jersey state championships. He left the role to pursue an opportunity in college football at Rutgers, where he served as a player personnel analyst – but he yearned to return to the gridiron, which led him home to Camden.
"I wanted to get back on the field," Hinson said. "I wasn't quite ready to stop coaching. Some folks reached out from my hometown and said that there was a possibility that there may be an opening and what I'd be interested in if it was open. I said that I'd like to get back on the field, and the opportunity to come home would be even better."
Hinson followed the footsteps of his relatives – his family is responsible for hundreds of Camden High School wins throughout the last 50 years. His uncle, Andy Hinson, coached the team in the '70s and his cousin Reggie Lawrence followed suit in the '90s.
But growing up around coaches didn't mean just football. His uncle Andy also served as a football coach at Cheyney University – at the same time that Philadelphia legend John Chaney served as the men's basketball coach and Vivian Stringer coached the women's.
"Cheney was the men's coach. Coach Stringer was the female basketball coach. And then my uncle was the football coach. Being around those folks was just like – nobody knew the impact that they would have moving forward. But just as a young guy seeing that kind of stuff was incredible."
Now, he's using the coaching skills he's amassed throughout his experiences to impact the next generation of athletes on his home turf, and he has big aspirations.
"We want to win the state championship. My high school here, the last sectional championship was in 1976. So our first goal is to finish out our conference division, then win the sectional championship, then regional championship, and then the state championship. And this is the first year that public schools in New Jersey will have an actual state champion."
Hinson is no stranger to success, and the team's goals aren't out of reach – they're ranked fourth in the state by USA Today, and the Panthers have held opponents to 10 or fewer points in each of the last four games.
Though thrilled about the team's hot start, Hinson's pride is fueled by his players' character off the field.
"I have a lot of success stories, guys who've been in the NFL, troopers, doctors, plumbers, lawyers, military folks, guys who've been through service academies, businessmen. So, my biggest accomplishment has been sitting back and looking at what my guys have been able to do," Hinson said.