Coach Robbie Marsden braced as a cool rush of Gatorade showered over his head at the final buzzer of Vaux Big Picture High School's football game on Thursday, September 22.
The team passionately celebrated its 24-0 win against Thomas Edison, gleefully cheering and embracing each other. That's when Marsden's eyes began to well with tears. He proudly watched at the ecstatic faces of his players and students – this wasn't just any win. The first day of fall marked the Vaux Big Picture Cougars' very first win since the program's inception in 2020.
The difficulties are seemingly endless for students and athletes both on the gridiron and within the surrounding underserved North Philadelphia community. But dedicated leadership at Vaux High School is not one of them. Marsden has remained committed to surmounting those challenges alongside his team.
The title, "Head Coach," was not always a part of Marsden's plan. Since 10th grade, his priority has always been to become a teacher. He studied at Dickinson College in pursuit of an education degree while lining up at left guard on the school's Division III football team.
Now, Marsden is affectionately known as Mr. Mars/Coach Mars; he's a devout social studies teacher at Vaux Big Picture High School.
He's passionate about history and teaching it in a relatable and impactful way – as demonstrated by his Instagram account that's flooded with fun videos and photos of him elaborating on his lessons using the hashtag #MrMarsdensMinuteOfHistory.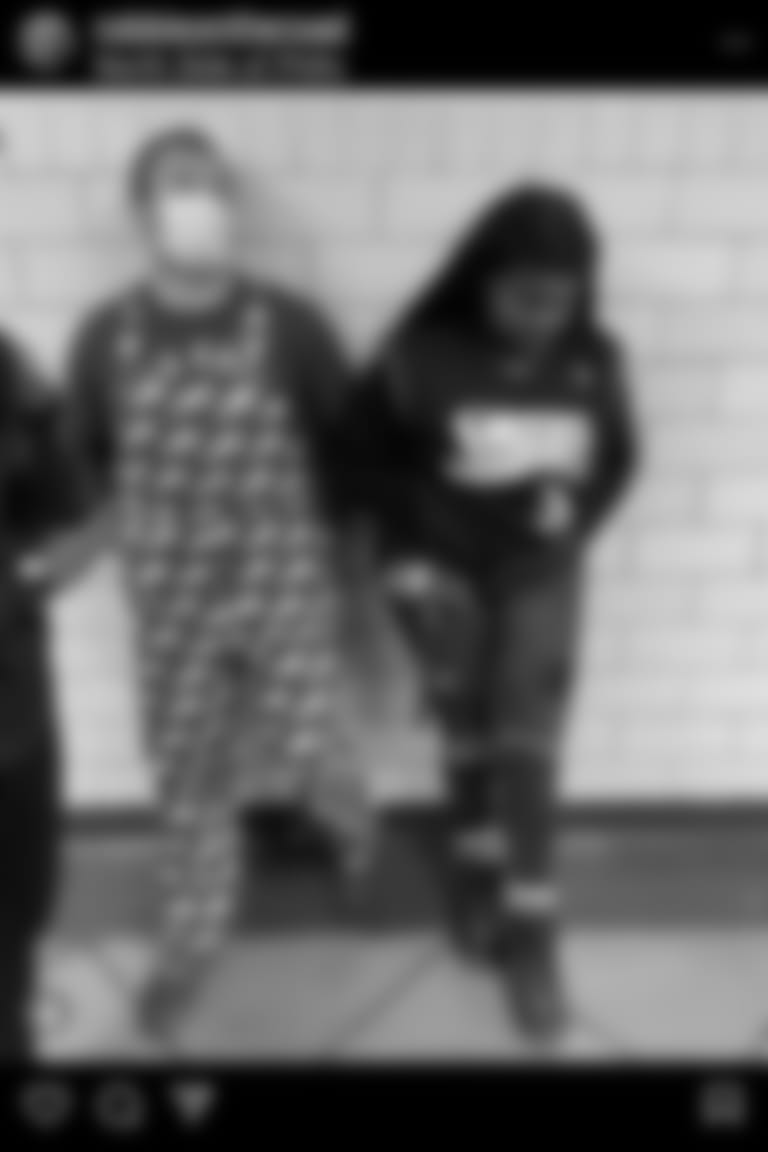 He loves his job and his students – it's exactly what led him into his role as Vaux's first head football coach.
"I never wanted to be a head coach. I'd be totally fine volunteering as an offensive line coach off into the sunset somewhere," he said.
"The reason I wanted to pursue this opportunity is because I fell in love with the school. I fell in love with the kids. I wanted to provide that experience and an opportunity for kids that I already care about in the classroom."
Vaux was established in 2017 with the goal of creating an academic atmosphere that promotes career preparation, personalized learning, and meaningful connections to ensure success. By 2020, the school was finally filled with freshmen through senior classes, meaning it was eligible for athletic programs. Marsden was the logical candidate to lead the football team.
Vaux is a small Single-A, underfunded public school in a Philadelphia football market saturated with powerful programs; the team's roster only boasts 28 student-athletes. The absence of comparable school funding is a problem that bleeds into the community surrounding the school. According to the Philadelphia Housing Authority (PHA), the Sharswood neighborhood of North Philadelphia, which is the community that Vaux primarily serves, has a 52.5 percent poverty rate, and more than 45 percent of its residents are youth under the age of 18. PHA also lists the neighborhood as one of Philadelphia's highest crime areas.
"I got a text message from one of my best players saying that he didn't think he would be able to make it to practice because there was a shooting around the corner from his house. I think an awful reality of Philadelphia-specific athletics right now is the gun violence epidemic. Some of my kids genuinely don't feel safe coming to practice and going home from practice," Marsden said.
Marsden's time is committed to making both the classroom and football positive spaces despite grim circumstances.
"We're trying our best. Lack of resources is a challenge, and also the problems and the issues and the real life trauma that a vast majority of my kids go through every single day that I never had to think about when I was in Delco. I feel like 90 percent of the time I'm not even coaching football. I'm worried about the kids as human beings and getting them into a mental space where they can play. And it's been hard to build norms and build culture," Marsden said.
Vaux isn't able to fund many extracurricular leadership positions, so Marsden is responsible for nearly every aspect of the program's function. From scheduling to equipment to transportation – he had to take his athletes on SEPTA to make it a game this season – Marsden wears every hat imaginable.
He says he couldn't do the job without the help of Jordan Holbert. The two met by happenstance – both on a walk with their respective American Bulldogs near the team's field, Jefferson Street Grounds. They quickly transitioned from talking dogs to talking football; the conversation ended with Holbert offering to volunteer his time to the program. He aided the team for two years before the school was able to contractually add him as an assistant coach for this 2022 season.
"There's just a mountain of obstacles," said Marsden. "I'm practicing on a field that is one of the most historical fields in the country. This is where the first interracial baseball game was ever played. A field where it's made possible for Black and white people to be on the field at the same time," said Marsden.
Jefferson Street Grounds once played host to the most monumental events in baseball history. Throughout its operation from 1864, it hosted games of indescribable influence, including the sport's first interracial baseball game. It was a competition between the all-white Philadelphia Olympic Ball Club, often regarded as the first organized team in baseball history, and the Philadelphia Pythians, one of the oldest Negro League baseball organizations, led by civil rights crusader Octavius Catto. The first National League game was played at Jefferson Street Grounds as well.
Now, the location's importance is only signified by a lone tall blue marker.
"It's the same field that me, as a stereotypical white man, gets to coach and pour into my Black and Brown student-athletes, and there's barely any grass on it. I've got to pick up trash and empty bottles every day," Marsden said.
The obstacles are challenging. The day-to-day is difficult. But Marsden wants to provide the best opportunity for his student-athletes; it's what drives him to fulfill the role each day.
"The successes, the things that even on a rainy day, or even on a depressing day, I cling on to, is that core group of kids that really buys in," he added.
Guiding his student-athletes towards success amidst a city that harbors inequity, poverty, and violence is his greatest devotion. It explains the tears streaming down his face when his team etched the first tally in the win column.
Last Wednesday, before the team's win, he posed Eagles quarterback Jalen Hurts as a role model for his students.
He asked his students, "Does anyone know why Jalen Hurts gets so much better? Why does he continue to get so much better? What's his motto?"
He continued, quoting Hurts.
"'Rent's due every day, not just on gameday, rent's due every day, or you don't get better.'
No more than 24 hours later, the team was celebrating in the Eagles High School game of the Week, nonetheless.
The Eagles made a donation to Vaux's program following the win, and Marsden already has a few things in mind. The program has a laundry list of needs – one of which is a blocking sled, which is something he hopes to save for, despite the exorbitant cost.
But for now, Marsden is eyeing sets of Vaux gear for the team, including a sweatshirt, shorts, and T-shirt.
"If we can create Vaux Football as a prideful and a positive identity for our kids, that's a small thing that can go a long way."
For his commitment and deeply rooted care about the well-being of his students and his athletes, Marsden has earned the Eagles Head Coach of the Week honor, presented by Hyundai.