On a warm Friday afternoon, students from Northeast and George Washington High Schools made their way to the former's gymnasium to participate in the newest Eagles community initiative. A panel of stars was waiting for them including Eagles quarterback Jalen Hurts, International Boxing Hall of Fame World Champion and WSF Past President Laila Ali, two-time World Cup Champion and two-time Olympic Gold Medalist Carli Lloyd, and Women's Professional Tackle Football Pioneer and Philanthropist Qiana "Star" Wright. They were all in attendance to promote FLY:FWD, born from the partnership between the Eagles and Operation Warm.
FLY:FWD is an innovative new sports bra that has been conceptualized, engineered, and manufactured specifically for young girls and women. Supported by the Women's Sports Foundation and in recognition of Women's Equality Day on August 26, two sports bras were handed out to each high school student who attended the launch event.
"It is important for everyone to have access to sports bras," Wright said. "As young ladies growing up, you need that support no matter what sport you play. It makes you feel comfortable and confident in your own skin."
"It is amazing that we are taking initiative like this to do something in the community," said rookie safety Sydney Brown, who also attended the event. "We do not realize the necessities it takes to play sports. A lot of the stuff is just given to us, so we do not value how much of a need sports bras and proper equipment are to play sports." 
The Eagles and Operation Warm announced their partnership on February 1, expanding on the team's unprecedented $100,000 equipment donation last year in support of area-based girls' participation in youth sports. 
Operation Warm is a national nonprofit organization committed to ensuring equitable access to food, healthcare, education, and in this case, sports equipment.  
"We are proud to align ourselves with Operation Warm on a long-term initiative that will provide young girls and women with the confidence, equipment, and support needed to succeed both on and off the playing field," said Jeffrey Lurie, Chairman and CEO of the Eagles. 
"We envision the FLY:FWD initiative as a beacon of change, a spark that will ignite a transformation in the lives of young athletes," said Grace Sica, Executive Director of Operation Warm. 
An initial pilot program was introduced when the partnership was first announced to test out the distribution and use of the sports bras.  
Teams in the Eagles Girls Flag Football League were some of the first to test out the tops. Amongst that group was the Cheltenham girls high school team, coached by Wright. After receiving the sports bras, her team could not wait to get their hands on more.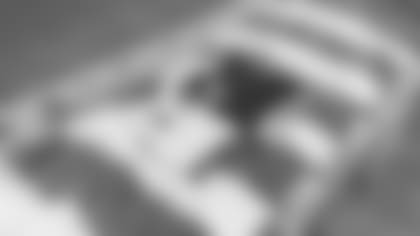 The sports bra is an essential part of a female athlete's uniform. Ali knows that well as a Hall of Fame boxer.
"I would not have been able to compete without one," Ali said. "It really is important to have what you need."
Lloyd knows how important a sports bra is for female athletes and what role it played in her career.
Lloyd decided she wanted to represent her country when she witnessed one of the most powerful moments in women's sports history.
Brandi Chastain scored the winning penalty kick for the United States in the 1999 World Cup. In celebration, she took her jersey off, leaving only her sports bra underneath.
"It makes you feel comfortable," Lloyd said. "We look good, we feel good, we play good."
The Eagles are the first NFL team to support female youth athletes through the donation of sports bras. The goal for FLY:FWD is to get sports bras in the hands of 30,000 young female athletes across the Delaware Valley this fall.
However, the overarching objective is not just to hit that number, but to continue getting young women involved in sports and providing them with the necessary equipment to play.
"This is so much progress that we are making," Hurts said. "We want young female athletes to be equipped to play the games they love." – Written by Owen Boyle