The 2017 NFL Draft kicks off tonight at the Philadelphia Museum of Art as over 200,000 fans are expected to take over the Ben Franklin Parkway over the next three days. Our live coverage begins with Eagles Draft Central presented by Dietz & Watson at 7:30 p.m. with Eagles Insider Dave Spadaro embedded in the draft room, Alex Smith at the NFL Draft, and Chris McPherson, Ross Tucker, Fran Duffy, and Greg Cosell at the NovaCare Complex.
For the first time since 1961, the NFL Draft is in Philadelphia. Outside of New York City, Philadelphia has hosted the annual selection meeting more than any other city. In addition to showcasing some of the landmarks that make this city so great, there will be family-friendly fan activities spread out over the Ben Franklin Parkway the size of 25 football fields to enjoy.
"It's going to be absolutely incredible. This city has really embraced the NFL Draft," said Eagles Hall of Fame quarterback Ron Jaworski, who was a huge advocate of bringing the NFL Draft back to Philadelphia. "It was a long process, but the beauty of it was that the league understood the passion of the Philadelphia football fans. It's going to be a great event."
Howie Roseman received a text message from Villanova head men's basketball coach and die-hard Eagles fan Jay Wright about how much energy there is downtown with the draft about to start.
"The city is electric," Roseman told NFL Network's Good Morning Football. "We are so excited to have everyone in Philadelphia. We got the restaurants. We got the parkway."
But the draft isn't the only event that's going on this week: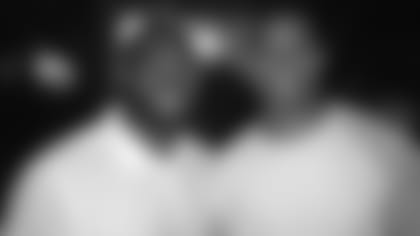 Brandon Graham (left) and Jordan Matthews attended the NFL Draft Eve Party at The Fillmore on Wednesday.