Alumni Alley runs every week on PhiladelphiaEagles.com and features a former Eagle who writes about his time in Philadelphia and his perspective after his NFL career ended. This week: Seth Joyner, an eighth-round draft pick in 1986 who played with the Eagles through 1993. He was a Pro Bowl linebacker twice as an Eagle. Joyner now lives in Arizona and runs a football academy, coaches his 11-year-old son's football team and appears on a weekly television show on WMCN in Philadelphia. Follow Seth on Twitter @SethJoyner.*
I'm watching the Eagles with great interest with Chip Kelly as the head coach. It's been an up-and-down start, as it usually is with a new head coach. I've been through it before, where you are a player and the coach who has had success and who many in the locker room love is replaced. I went through it with Buddy Ryan leaving and Rich Kotite coming in back in the 1990s. A coaching change means an entirely new culture and some players have trouble adjusting to new schemes and new styles.
Chip is a lot different than Rich Kotite. Chip had a lot of success in college and he is learning his way around the NFL. He's going to make his mistakes, and he's already talked about that. I like his style. He doesn't beat around the bush. He made some errors late in the San Diego game and acknowledged them. Against Kansas City, I didn't understand the reasoning for going for the two-point conversion early in the game, but Chip is an aggressive guy and he is going to take his shots. I like that.
Even at 1-2, I think the Eagles are in a much better place than they were last season. Andy Reid is a great head coach, but he needed a change of scenery and the Eagles needed some new direction.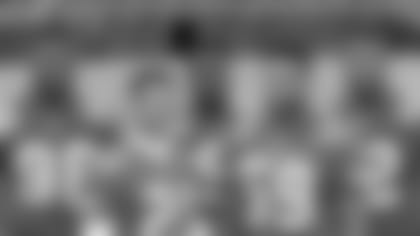 Now it's Chip's team. The Eagles are playing hard and they're learning how to do things the way Chip wants them. The only thing that matters in the locker room is to win games and to keep performing. That's the challenge the Eagles have in front of them.
I'm looking forward to the next phase of what Chip has in mind with the offense. I know he's got more in his brain than just playing fast. We haven't seen all of what he has in store for the offense. He has some players in DeSean Jackson and LeSean McCoy who can make every defense pay, but the Eagles really miss Jeremy Maclin. His speed is missing from the offense.
I'm enjoying the ride for the Eagles. It's fun to stay in touch with Eagles fans and the team. The Eagles will always be in my heart. I watch the NFL today and I can't believe what I'm seeing. It's a lot different than when I played. I agree with doing what is necessary for player safety, but this has gone beyond that. Football is a physical game. Everyone who plays the game knows what he signed up for. The defense doesn't have a chance with the rules the way they are now.
But we know that the league wants scoring. That means the rules change in favor of the offense, and in favor of coaches like Chip Kelly. The Eagles have an offensive personality, something that they will have to expand to become a dominating team. Even though the rules are different, the teams that win the Super Bowl make key stops on defense. The Eagles are building on defense, and they are missing some pieces. The offense is carrying them now, and that is something different from when I played in Philadelphia.