Alumni Alley runs each Monday throughout the offseason on PhiladelphiaEagles.com and features a former Eagle who writes about his time in Philadelphia and his perspective after his NFL career ended. This week: former tight end Keith Jackson, the team's first-round draft in 1988 who in 1992 helped kick off the advent of NFL's free agency when he left the Eagles for Miami in free agency. Today, Jackson oversees P.A.R.K. (Positive Atmosphere Reaches Kids), an after-school ministry he started in his hometown of Little Rock, Arkansas. As the NFL begins free agency on Tuesday, Jackson talks about his decision in 1992 and the impact it has had in the league …
Let me begin by saying this: I loved my time in Philadelphia – the fans, my teammates and when I was drafted it was my goal to have a career like Mike Quick and that was to end my career with the same team that drafted me. But by 1992, it became a "forced" issue for me: I didn't feel like I was being treated fairly, and I felt the need to stand up and make my case.
I knew I was in a unique position in that I had an opportunity to challenge the system. I was a marquee tight end at the time and it was not fair, I felt, to have restraints because I played a certain position. It was important to have an opportunity to create more financial reward instead of being placed in a "tight end bucket," which is what they did then. You played a position and you were told, basically, how much money you could make and that was that.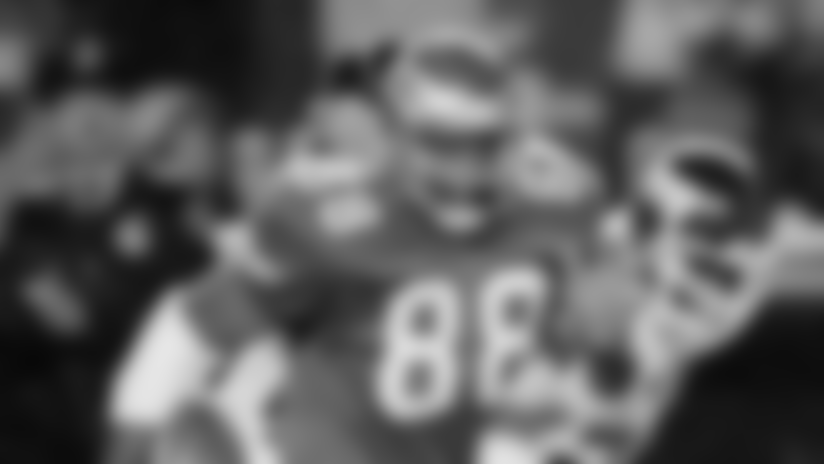 No doubt it was a scary time. I was a four-year player and someone like Reggie White, the greatest of the great, was in his fifth NFL season and he would soon face a similar decision. My faith overcame my fear, and I felt in my heart that it was the right thing to do, to make the stand and challenge the system.
What really convinced me was a conversation I had with Norman Braman, the team's Owner. We talked about how much money I deserved to make, and he felt one way and I felt, being a Pro Bowl player, that I was entitled to a different package. The Eagles put a number on a position, and that time teams felt, or at least the Eagles felt, that they couldn't pay a tight end over $1 million a year. I felt that the impact I made on the field – being in the Pro Bowl, being Randall Cunningham's main weapon in the passing game – exceeded being placed in a category.
The reaction I had from around the league was very positive. Players saw that free agency was going to be a reality for everyone after a certain number of years in the league. They would have a chance to help themselves financially and they were really happy that we helped set the tone.
The sad part was that we felt we had a really special thing going in Philadelphia. It was hard to hear Andre Waters say that my decision cost the Eagles a chance to win the Super Bowl. I understood what he was saying, but it pained me. We had a good team and the locker room was special, but once free agency came and so many players in Philadelphia felt they weren't being treated properly, it kind of tore that team apart. We looked at a franchise like San Francisco and appreciated the way the 49ers treated their players and, of course, they won all of those Super Bowls.
I have mixed emotions over the whole thing now that I have some perspective. I run a charity now and I see how rewarding it is to gain traction in the community and see what a difference you can make. I missed that, and I see how the league is now and see how few players finish their career with the teams they started with. As a player and as a fan, I kind of like to see "my guys" finish with the same team that drafted them.
But I like seeing how guys are being compensated and I have a sense of pride seeing how much money tight ends are making now, rather than having them put in a box. I only wish my mother would have had me 20 years later.
And as far as the Eagles fans and the organization, I've always felt a connection. The fans respected me and, while I knew they weren't happy that I left, they knew I worked hard and played hard and was productive during my time there. I played for four seasons with the Eagles, three in Miami and two in Green Bay, and I'm associated more with the Eagles than with any other team. I've always loved Philadelphia and I enjoy coming back to visit and see friends and enjoy the culture.
Going back in the 2013 season as an Honorary Alumni Captain was a great, great time. The honor at halftime gave me chills and hearing from the fans was special. I spent Monday walking around the NovaCare Complex seeing some of the administration and head coach Chip Kelly and I was accepted with love. It was a great feeling being an Eagle for a few days again.