Fletcher Cox is a one-man wrecking crew and when opposing coaches turn on the game tape to watch the Eagles, they notice No. 91 and plan to do everything it takes to neutralize his abilities to turn an offense upside down. That Cox is able to do what he does against constant double- and triple-team blocking, then, is even more impressive.
As the Eagles laid out their blueprint for the 2019 offseason, they made upgrading the spot next to Cox one of extreme importance. That's why the addition of Pro Bowl veteran Malik Jackson, who agreed to terms on a three-year deal with the Eagles on Wednesday, helps so much. Entering his eighth NFL season – four with Denver and three with Jacksonville – Jackson is a big, powerful inside force at 6-5, 290 pounds who should complement Cox nicely as the Eagles begin revamping their defensive line.
We know how critical it is for the Eagles to get better up front defensively. They took a step back in 2018 when Tim Jernigan missed most of the season recovering from an offseason back injury and free agent signee Haloti Ngata battled a calf injury and had a limited impact (17 total tackles in 13 games), leaving Cox to fend off blocking schemes designed to take him out of harm's way.
Enter Jackson, who was a high-level free agent signee of the Jaguars four seasons ago after blossoming with Denver and starring on the Broncos' Super Bowl 50-winning team. A fifth-round draft pick of the Broncos out of the University of Tennessee in 2012, Jackson signed a reported six-year, $85.5-million contract with Jacksonville that made him one of the league's highest-paid defensive linemen.
Jackson played well for the Jaguars in 2016 (6.5 quarterback sacks) and in 2017 (eight quarterback sacks), but his playing time was more limited last season. He understood the business of the game might mean the end of his time in Jacksonville given his reported $15 million cap figure.
"We really don't have any control right now; the ball is in the Jags' court," Jackson told reporters after the Jaguars' season ended. "We'll have to see what they want to do with me. We saw the decline in play time. If we're looking at that I think it would make sense (to part ways). I would still love to be in Jacksonville and, of course, have what I had two years ago like a starting role, a chance to play and a chance to be on my own accord, but we'll see."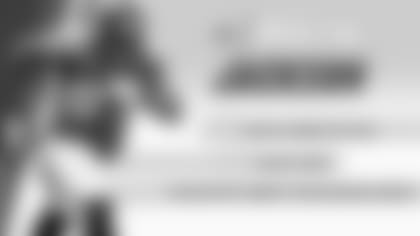 New defensive line coach Phillip Daniels wants the Eagles to be mean, nasty, and physical inside and the addition of Jackson helps. He's a penetrating player who will give Cox some breathing room and allow the Eagles to have versatility in their personnel groupings along the defensive line. Adding Jackson is a big plus, but it doesn't necessarily mean the Eagles are finished addressing the defensive line. They've retained Brandon Graham at end with a contract extension and now they've added Jackson.
Given what everyone is saying about the draft class and the riches along the defensive front, it's very possible the Eagles continue to add to the defensive line in late April.
For now, the addition of Jackson, who was eligible to sign with any team after Jacksonville released him on March 8, is a very significant boost to the interior of the defensive line. The Eagles like what they saw from Treyvon Hester last year, so he's in the mix, along with Bruce Hector. But the Eagles need depth and they want to have the flexibility to change up their personnel packages on the fly. The Super Bowl team of 2017 was deep and continually rotated up front with great success.
That's the goal for 2019.
Jackson helps that. A lot.
Adding Jackson is a fantastic way to start free agency. Those whose contracts expire on Wednesday are eligible to be signed starting at 4 p.m., so we're about to get pretty darn busy as the Eagles' plan unfolds. Staying fluid is important, as Howie Roseman explained at the NFL Scouting Combine in Indianapolis a couple of weeks ago. Things change quickly. When Jackson was released by the Jaguars late last week, the Eagles had their scouting report ready and they quickly went into motion and got their man, who had a lot of interest from around the league.
Consider this, then, Day 1 of 2019 Free Agency. The Eagles just improved their defensive line, with more to come in the days and weeks ahead.