The action continues Wednesday at the NovaCare Complex as the Eagles prepare for Sunday's battle with the winless Tampa Bay Buccaneers. We'll have you covered from every angle. In 5 Things To Know Today, check out our live broadcast schedule, learn about the Eagles-Bucs series and find out what some of the Eagles players did before they reached the NFL ...
1. OUR LIVE COVERAGE BEGINS AT 10:40 AM TODAY
Head coach Chip Kelly will provide an update on quarterback Michael Vick's status and preview Sunday's matchup against Tampa Bay during his press conference which we will air on PhiladelphiaEagles.com at 10:40 AM.
At Noon, Dave Spadaro brings you the latest news on Eagles Live! Kelly will join us in studio for his weekly one-on-one interview presented by Gatorade. We'll connect with Eagles fans all over the world, host a live chat and take your predictions for the Eagles-Bucs matchup as well as hear from the players themselves as the big game is quickly on the horizon. At the end of the team's practice, we'll have LeSean McCoy's and DeMeco Ryans' live press conferences.
Wednesday's Broadcast Schedule
Time
Event
10:40 AM
Chip Kelly Press Conference
Noon
Eagles Live!
Post-Practice
LeSean McCoy, DeMeco Ryans Press Conferences
2. WHERE THE EAGLES RANK ...
The Eagles are five games into the 2013 season and it's time to see where they stack up from a numbers standpoint. Here are some stats to consider ...
• The offense ranks first in rushing yards per game and rushing yards per play, is second in total yards per game and is third in yards per play.
• LeSean McCoy leads the NFL with 514 rushing yards and 700 total yards from scrimmage and is second with 34 first downs gained.
• The Eagles have a plus-2 in turnover difference, tied for 11th in the NFL.
• The defense is 31st in yards permitted per game and 17th against the run and tied for 29th in the league against the pass.
• Linebacker Mychal Kendricks has 3 fumble recoveries, the most for any defender in the NFL.
3. BEFORE FOOTBALL, HUMBLE BEGINNINGS FOR PLAYERS
Now they are in the NFL, and the paychecks are very healthy and the lifestyle is professional and enviable. It wasn't always that way for Eagles players. Many started their working ways the same way we all did – taking any job available as a teenager to make some money. We take a look at some of the players and the first jobs they had.
Bennie Logan, DL: Mowing grass for $10 a yard
Colt Anderson, S: Mowing lawns for $5 apiece
Kurt Coleman, S: Watching kids at an elementary school, making $10 an hour
Riley Cooper, WR: Mucking stalls in the horse barns at his house in Clearwater, Fla.
Vinny Curry, DE: Stocking milk in a grocery store at age 16 and washing dishes at a nursing home at age 17
Bradley Fletcher, CB: Ice cream server at Handles
DeSean Jackson, WR: Washing cars and cutting lawns at age 12
DeMeco Ryans, LB: A cashier at Waccamaw's Home Place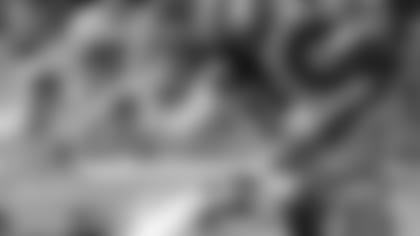 4. A LOOK AT EAGLES-BUCS SERIES HISTORY
As Ray Didinger explains in his piece today, the history between the Eagles and Tampa Bay hasn't necessarily gone according to plan. The series between the teams began in 1977 and only a couple of years later the teams met in the postseason, with Tampa Bay knocking off the Eagles.
Philadelphia has won the last two games and leads the series, 9-7. Last year, of course, Nick Foles threw a touchdown pass to Jeremy Maclin to win the game for the visiting Eagles, 23-21.
How much has the Eagles' roster changed since that Dec. 9, 2012 game? Only eight of the 22 players on offense and defense who started that game are expected to start on Sunday. Nick Foles started at quarterback that day and could start Sunday, dependent upon Michael Vick's health.
The other starters from then to now: guard Evan Mathis, tight end Brent Celek, wide receiver Riley Cooper, defensive lineman Fletcher Cox, linebacker Trent Cole, linebacker DeMeco Ryans and safety Nate Allen.
On special teams, placekicker Alex Henery is the same, long snapper Jon Dorenbos is the same and Damaris Johnson returns kicks.
5. DOWNLOAD YOUR EAGLES APP NOW
Have you downloaded your official Eagles app? Are you one of the 500,000 Eagles fans watching our live shows, live press conferences, checking out the real-time statistics scores from around the league and all of your fantasy football needs? If you haven't downloaded it before, do it now.