A win over the Giants on Sunday plus the Dallas loss to Denver puts the Eagles in first place in the NFC East through five games. That, of course means very little, but as we start the week it's something to feel good about. We take a look at 5 Things To Know Today ...
1. NFC EAST STANDINGS: EAGLES ARE IN FIRST PLACE
There is still a long, long way to go in this 2013 season, but the Eagles are 2-0 in the division and by virtue of that have the edge on Dallas, also 2-3. Here is a look at the NFC East with a schedule peek at the next three weeks for each team ...
NFC EAST STANDINGS
Team
Record
Next Three Opponents
Eagles
2-3
At Tampa Bay, Dallas, New York Giants
Dallas
2-3
Washington, at Eagles, at Detroit
Washington
1-3
At Dallas, Chicago, at Denver
New York Giants
0-5
At Chicago, Minnesota, at Eagles
2. FOLES CONTINUES TO PUT UP STRONG NUMBERS
Nick Foles compiled a passer rating of 114.9 on Sunday, the highest rating of his young NFL career (he compiled a rating of 155.2 in late duty against Denver, so that doesn't really count) and in a very short period of time, Foles has made his mark in the Eagles record books. In his rookie season, Foles set franchise marks for rookies in passing yards (1,699), passing attempts (265) and completions (161).
"He does his work and sometimes that means he is on his own," said center Jason Kelce. "He's a hard-working guy who stays sharp and understands the offense. Smart guy. Hard worker. Obviously very talented. We're lucky to have him here as part of our pieces at quarterback."
3. CHIP KELLY: MICHAEL VICK IS OUR QUARTERBACK
Head coach Chip Kelly praised Foles' performance on Sunday, but firmly stated that quarterback Michael Vick will be the team's starting quarterback when he's healthy.
Vick suffered a hamstring injury in the second quarter of Sunday's win, but tried to play through it before leaving just before the end of the first half.
Following the game, Vick said that he was sore and that his status for next Sunday's game in Tampa Bay was uncertain. Vick will undergo further examination on Monday and Kelly will update the quarterback's status on Eagles Live!
4. EAGLES LIVE! COMES YOUR WAY AT NOON
Tune in as Eagles Live! comes your way at Noon on PhiladelphiaEagles.com and then listen in at 5 p.m. on Sportsradio 94 WIP for The Howie Roseman Show. LeSean McCoy is on the air on Sportsradio 94 WIP at 6 p.m. Then at 7:30 p.m. it's Eagles Prime Time Live on WXTU 92.5 FM featuring offensive linemen Todd Herremans and Jason Kelce.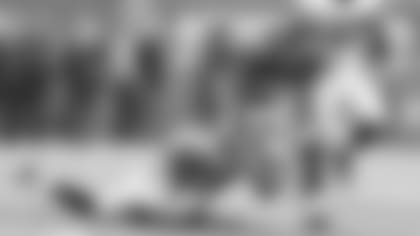 5. ALL-AROUND PLAY FROM BRANDON BOYKIN
Brandon Boykin has one of the hardest jobs on the team. He is the nickel cover player, usually on a slot receiver. He also plays gunner on kick coverage and is ready, willing and able to return kicks.
"I just try to do what I can, whatever the coaches want me to do," he said.
In Sunday's win over the Giants, Boykin had a sensational diving interception and helped limit the dangerous Victor Cruz to just 5 catches for 48 yards. Cruz was a target for quarterback Eli Manning 12 times. The Eagles did a nice job containing the Pro Bowl receiver.
"It was everybody, really," said Boykin. "We all took turns. Cruz is so strong and is a great player but we were determined not to let him get behind us and beat us. We played a good game against him."
"I didn't give up on it," he said. "I just kept after it and had good leverage and wouldn't let go."