DeSean Jackson's punt return for a touchdown against the Giants in 2010 was another Eagles "Miracle" of the Meadowlands, and to this day Jackson is reminded of the play. Plus, Eagles Live! wraps up the week at 11 a.m. with running back Chris Polk our studio guest ...
1. A PLAY THAT WILL LIVE ON FOREVER
The situation: The Eagles rally furiously in the final quarter and are tied with the Giants in a late-season game and somehow, some way, New York's Matt Dodge punts the ball inbounds. DeSean Jackson catches the punt, drops it, picks it up and, well, the rest is Eagles history. No, NFL history. NFL.com voters named the 65-yard punt return as the greatest play in NFL history and Jackson is reminded of the game-winning moment just about every day.
"I hear from fans all the time, especially Giants fans. That's all they remember me for," said Jackson. "They tell me that I broke their hearts – catching the ball, taking it to the end zone, throwing the ball – they tell me they felt like their lives were going to be over.
"Sometimes I post pictures of the play on Twitter or Instagram and I hear from Giants fans immediately. They say, 'That was one of the greatest returns in history. I love you as a player, but you broke my heart on that play.' They respect me, but they feel the hurt still from that play."
"It was a blessing for myself. I've worked so hard to get to where I am and to have that kind of play, that early in my career, being so young, I'm very appreciative and it shows how much hard work I've put into it," said Jackson.
2. BIG-GAME MOMENTS AGAINST GIANTS
Playing the Giants has meant great things for some Eagles players. Here's a look at a few Eagles who have come up with masterful performances against New York ...
• LeSean McCoy has four career 100-yard rushing games against New York, including 113 yards on 23 carries in the team's most recent win over the Giants at MetLife Stadium on November 20, 2011.
• Twenty-four of DeSean Jackson's 33 career touchdowns have covered 30 or more yards, and four of those scores have come against the Giants. Jackson has had two punt returns for scores (72 and 65 yards) and he has two touchdown catches (60 yards, 54 yards, both from Donovan McNabb) against New York.
• In that remarkable comeback win over the Giants in 2010, quarterback Michael Vick completed 21 of 35 passes for 242 yards and three touchdowns and he also ran for 130 yards and a touchdown.
3. TODAY: EAGLES TALK ON THE AIR
Eagles Live! wraps up a busy week with a great show starting at 11 a.m. from the NovaCare Complex. Running back Chris Polk, fresh off of a strong game in Denver, is our studio guest, and Brian Baldinger from the NFL Network stops by to provide his analysis of the 1-3 Eagles as they head into Sunday's big game. We break down the difference between the 4-3 defense and the 3-4 as well. Also, catch Eagles Insider Dave Spadaro on Philadelphia's Comcast SportsNet for his weekly appearance on Philly Sports Live at 5 p.m.
4. EAGLES-GIANTS: A RIVALRY THAT MEANS THE MOST?
The NFC East offers a lot of rivalries, and while many Eagles fans look at Eagles-Cowboys as the most intense, some players feel otherwise. Former Eagles linebacker Ike Reese always thought that games against the Giants were the most heated.
"I loved the rivalry. It meant so much to both teams every year," he said. "The Giants were the hated rival, in my opinion. It was the most intense two games of the season for me. We didn't like each other. In those days, the Eagles and the Giants battled for NFC East crown, so I was always pumped up for games against the Giants. They were hard fought, close games and we always had weird streaks – they had something like eight straight wins against us and then we would win a bunch of games against them. I always felt that I had better get some extra rest that week because I know I was going to need it.
"I think a lot of guys felt that way. They won two Super Bowls, and that always got to me, too. There was a mutual dislike. They didn't like us, either. They had the Michael Strahans, the Jeremy Shockeys ... those were guys who were easy to hate."
5. SNAPSHOTS OF A RIVALRY'S GREAT MOMENTS
New York leads the all-time series against the Eagles 84-76-2 in a rivalry that began in 1933. The Eagles have faced the Giants more times (162) than any team in the history of the franchise. Philadelphia has won 8 of the most recent 10 meetings against the Giants.
Here are some of the great moments from the games in New York captured in a photo gallery ...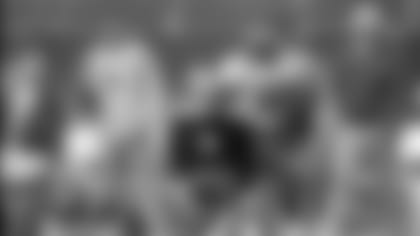 ](http://www.philadelphiaeagles.com/multimedia/photo-gallery/Great-Moments-From-Eagles-Giants/14b47614-06db-48b2-8c1a-c5d47e0d0b03)