It's Wednesday, and yeah, that's hump day in the NFL, too. Everyone has sights set on the Dallas Cowboys on Sunday and we are filled with coverage on this busy day.
1. TODAY'S BROADCAST SCHEDULE
Here is what we have in store for you with our live coverage on PhiladelphiaEagles.com and our official Eagles app.
Today's Broadcast Schedule
Time
Event
10:40 AM
Chip Kelly Press Conference
Noon
Eagles Live!
1 PM (Approx.)
LeSean McCoy and DeMeco Ryans Press Conferences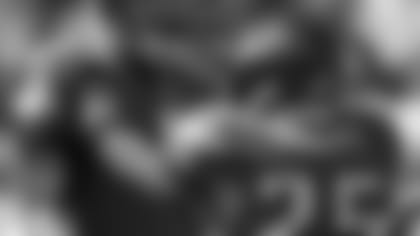 2. VOTE FOR FOLES AND McCOY AT NFL.COM NOW!
The terrific games by both quarterback Nick Foles and running back LeSean McCoy were noticed by the rest of the National Football League. In fact, both Foles and McCoy have been nominated for the weekly FedEx Air and Ground awards, voted on by the fans at NFL.com/FedEx.
Foles has competition from Cincinnati quarterback Andy Dalton and Carolina quarterback Cam Newton, while McCoy is being challenged by New England running back Stevan Ridley and Green Bay running back Eddie Lacy.
3. STATISTICS YOU NEED TO KNOW
We're six games into the season and the facts and figures of the campaign will change, but here are some numbers you can gnaw on as you count down the minutes until Sunday's kickoff against Dallas ...
• NFC East QBs have posted a combined 66.6 quarterback rating against the Eagles defense, completing just 54 of 101 passes (53.5%), while throwing 5 interceptions ... The Eagles defense has also limited NFC East teams to 127 rush yards on 35 attempts (3.6 ypc) and an average of just 63.5 yards per game
• The Eagles rank t-4th in the NFL with 38 total points scored off of 10 defensive takeaways
• This is just the 4th team in NFL history to accumulate at least 1,800 passing and 1,200 rushing yards through the first seven games of the season - 1951 LA Rams (1,933 pass; 1,265 rush); 1954 LA Rams (1,888 pass; 1,314 rush); 2011 Philadelphia Eagles (1,886 pass; 1,259 rush); 2013 Philadelphia Eagles (1,628 pass; 1,071 rush – 6 games)
4. WHAT THE COWBOYS ARE SAYING ...
Meanwhile, in Irving, Texas the Cowboys are weighing in on the Eagles' quarterback situation. Will Michael Vick get the start on Sunday? Or will it be Nick Foles? One player expressed his preference for Foles.
"I would like to see Foles," said Cowboys defensive tackle Jason Hatcher. "Vick is like a rabbit. He's all over the place. Foles is more like a stationary guy in the pocket. Both of them are awesome quarterbacks. Foles is playing his butt off these last couple of games. Either one, but I would take Foles over Vick. Foles can throw it. It's going to be a challenge either way."
Head coach Jason Garrett said that both Vick and Foles present challenges.
"I think they're both good quarterbacks, and I think they've proven that over their careers, and I think they've proven that in this offense," said Garrett. "They've both been productive. Again, they do it a little bit differently. You don't see Foles make the dynamic plays with his feet that Michael Vick has become known for, but Michael Vick can throw the ball from the pocket, he can make those plays, and Nick Foles shows he can move the ball around the field. He's a mature quarterback. He showed that last year in the time that he played and he's certainly shown that this year in the couple chances he's had to play."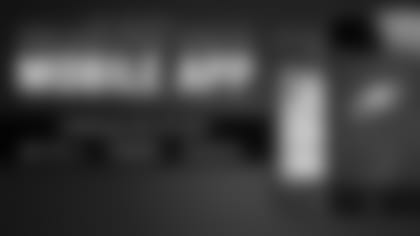 ](http://www.philadelphiaeagles.com/fanzone/mobile.html)
5. EAGLES OFFICAL APP: IT'S A MUST FOR EVERY EAGLES FAN
We have more than 500,000 fans who have downloaded the official Eagles app, and if you are one who hasn't, here is what you are missing …
Fans who log on to the team's official mobile app at Lincoln Financial Field will also be able to enjoy new features, including streaming of the NFL Red Zone and a live camera feed of the Eagles tunnel and video board.
Download or update your Eagles Official Mobile App to experience these new App features on game day:
The Eagles Official Mobile App has been upgraded with improved navigation and exclusive content for you to enjoy at the stadium. The new features of the Eagles App include:
NFL RedZone – You will be able to stream the popular NFL Red Zone Channel for free, allowing you to follow action from around the NFL.
Live Cameras – Access to exclusive content including a live feed of the Eagles tunnel pre-game as well as the ability to view replays as they appear on the video board.
Statistics – Keep track of your fantasy team with a live channel that provides you with dynamic in-game stats, as well as videos of big plays.
Social Media Hub – This area will present one-click access to Twitter, Facebook and other social platforms, allowing you to interact on all of your favorite social media without having to leave the Eagles app.