It's gameday as the Eagles are in Tampa Bay to take on the 0-4 Buccaneers. Kickoff is slated for 1 p.m. which fans can watch on FOX or listen to on 94WIP. Our coverage on PhiladelphiaEagles.com begins at 11 a.m. Check out all of the gameday details you will need below in our 5 Things To Know Today ...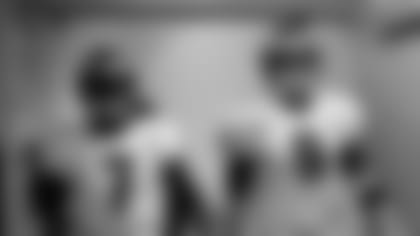 1. WHEN WILL WE KNOW FOR SURE WHO IS PLAYING QUARTERBACK?
There are 53 active players on an NFL roster, but the roster dwindles on game day. The Eagles are permitted to have 46 players active on gamedays and the active roster is turned in to officials 90 minutes prior to kickoff.
So, at 11:30 a.m. on Sunday, or very shortly thereafter when it reaches public consumption, we will know the official plans at quarterback for the Eagles. Michael Vick, the starter, is listed as questionable, which means by official NFL injury language that there is a 50/50 chance that Vick will play against Tampa Bay.
If Vick doesn't play, Nick Foles would make his first start of the season after replacing Vick in the second quarter of Sunday's game at the Giants. Rookie Matt Barkley, then, would likely be the backup.
Then again, the Eagles could make Vick active and have him as a viable option at quarterback, even if he doesn't start.
2. WEATHER FORECAST: HOT AND HUMID IN TAMPA
Philadelphia has experienced a beautiful fall with moderate temperatures, beautiful sunshine and low humidity. As the team arrived in Tampa on Saturday, it was greeted by a dose of Florida reality: It still feels like summer in Florida.
The temperature for today's game, between 1 p.m. and 4 p.m., is slated to be between 83 and 85 degrees, with humidity in the low 40s and a light wind, according to Weather.com.
In other words, the weather is going to be perfect, but it's also going to be considerably warmer than the conditions in which the Eagles have played since Week 2, when San Diego played at Lincoln Financial Field on a beautiful late summer afternoon.
Today's conditions will be a test of the hydration levels for the players, who have been preparing for these temperatures all week.
3. BROADCAST SCHEDULE FOR TODAY
Our coverage on PhiladelphiaEagles.com begins at 11 a.m. as we air our three Eagles Television Network shows (Inside the Season, Unscripted and Game Plan). At 12:30 p.m., we're live from the NovaCare Complex and from Raymond James Stadium with the Kickoff Show as the Eagles get ready to play New York. Bo Wulf and Adam Caplan host the Kickoff Show and the Halftime Report, and then are joined by former Eagles quarterback A.J. Feeley for our Post-Game Show, presented by Ricoh, that begins immediately after the contest.
PhiladelphiaEagles.com's Broadcast Schedule
Time
Event
11 AM
Eagles Television Network shows (Gameplan, Inside The Season, Unscripted)
12:30 PM
Kickoff Show – Live from NovaCare Complex and Raymond James Stadium with Bo Wulf and Adam Caplan
2:15 PM (Approx.)
Halftime Report – Recaps first half. Live from NovaCare Complex with Bo Wulf and Adam Caplan
4 PM (Approx.)
Post-Game Show, presented by Ricoh – Complete coverage from Raymond James Stadium and NovaCare Complex of Eagles-Bucs game. Live press conferences, interviews, exclusive behind-the-scenes footage
4. IT'S GAME DAY; CONNECT WITH FELLOW EAGLES FANS!
Fans can email gameday photos to pix@philadelphiaeagles.com. These photos will be shared with Eagles fans everywhere and can be viewed on our gameday page as well as PhiladelphiaEagles.com/virtuallinc. Fans can follow the #PHIvsTB action on PhiladelphiaEagles.com/social, which features all of your favorite social media platforms. Twitter has real-time team updates, Instagram has behind-the-scenes photos and Facebook is a great place to interact directly with other fans.
5. A STAR AT SAFETY FOR TAMPA BAY
A first-round draft pick in 2012 (7th overall), safety Mark Barron is on the way to stardom in Tampa, as the Tampa Tribune features in its Sunday edition.
"More than a year later, the Bucs are quickly erasing any concerns they might have had a about Barron's coverage skills. In fact, they're beginning to realize he might be a more complete player than they first thought.
"Sometimes, when you're big and physical, they say, 'You can't play the deep ball,'" Bucs coach Greg Schiano said when asked about Barron's progress as a pass defender. "But he can. He's gifted that way.
"Mark's got all the makings of an elite guy. I think just time and reps is going to be the only thing (that stands) between him (becoming an) elite (player) — that and staying healthy."
Barron has certainly had a healthy impact on the Bucs' defense. He will go into today's game against the Eagles with a team-leading 30 tackles, including one for a loss and a quarterback sack.
The Bucs aren't surprised by that. Their intention all along was to have Barron play a role similar to that once played by Bucs great John Lynch, who often served as an extra linebacker near the line of scrimmage.
"He's a natural at that," Schiano said of working Barron as an extra linebacker on obvious passing downs. "He plays very well as a run-support safety, but he's a much better deep defender than people give him credit for."