The Eagles players are off for the bye week, but there are plenty of things to analyze. In 5 Things To Know Today, see where some of the Eagles rank in various statistical categories and celebrate the 35th anniversary of one of the greatest plays in Eagles history ...
1. WHY TEMPO MATTERS FOR THE OFFENSE
Head coach Chip Kelly likes his offense to play fast, to establish a rhythm in practice and have that carry over into the games. Why is faster better for the Eagles? Kelly says it's a matter of routine.
"I just think, honestly, it's about getting into a rhythm," said Kelly in his exclusive one-on-one interview with PhiladelphiaEagles.com, presented by Gatorade. "We practice at a certain rhythm and we want to play at a certain rhythm and I think when you get knocked off that rhythm and don't play at the rhythm that you've practiced at and that you're used to ... It's no different from people who get up every day and do the exact same thing and they're productive at work. When you get knocked off your routine, you kind of aren't as successful.
"It's the same thing with us. We have a rhythm that we practice with and one that we execute with and we know that when we carry that over from the practice field, you see it with the results that we're getting."
2. PRACTICE SCHEDULE: FOR THE PLAYERS, IT'S TIME TO RELAX
The Eagles practiced on Tuesday and then were given the rest of the week off. They report back to the NovaCare Complex on Tuesday to prepare for the December 1 game against Arizona. Only players who are receiving treatment for injuries will be present at the NovaCare Complex in the course of the next week. The remainder of the players are scattered far and wide ...
"I think it's a great time to get some down time," said linebacker Connor Barwin. "We all know we have a lot of work to do, but this gives everyone a few days to rest and recover just a little bit. We are going to come back refreshed. I know it's good for me. We've been going at it hard since training camp opened. Having a few down days is very much appreciated."
The Eagles have several players who rank at or near the top of their respective statistical categories in the NFL. Here is the list ...
SIMPLY THE BEST
Category
Player
Stat (Rank)
Passer Rating
Nick Foles
27.9 (1)
Yards/Attempt
Nick Foles
9.6 (1)
TD Percentage
Nick Foles
9.9% (1)
INT Percentage
Nick Foles
0% (1)
Rushing Yards
LeSean McCoy
1,009 (1)
Rushing Attempts
LeSean McCoy
213 (1)
Yards From Scrimmage
LeSean McCoy
1,408 (1)
First Downs
LeSean McCoy
62 (2)
Receiving Yards
DeSean Jackson
985 (3)
Interceptions
Brandon Boykin
4 (T-3)
Punts Inside The 20
Donnie Jones
22 (T-3)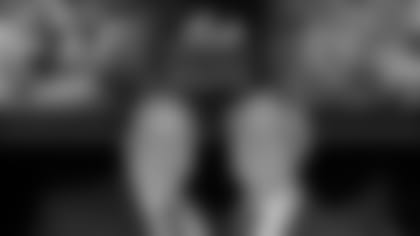 4. A NIGHT TO REMEMBER THE MIRACLE OF THE MEADOWLANDS
Thirty-five years ago the Eagles beat the New York Giants thanks to a last-play fumble recovery and return for a touchdown by cornerback Herman Edwards that was so remarkable it was deemed, as we all know, The Miracle Of The Meadowlands. On Tuesday night, exactly 35 years to the day after the Miracle, the play was celebrated at the 15th Annual Otho Davis Scholarship Foundation Awards Dinner. Nearly a dozen former Eagles who played in that game, plus head coach Dick Vermeil, were on hand to honor Davis, the former head athletic trainer of the Eagles from 1973 through the 1995 season. Davis passed away in 2000.
Edwards was the keynote speaker of the program, which awarded two $10,000 college scholarships. The dais included former Eagles quarterback Ron Jaworski, wide receiver Harold Carmichael, quarterback Joe Pisarcik, Vermeil, former general manager Carl Peterson, agent Jim Solano and emcee Sal Paolantonio.
Also on hand was current Eagles head coach Chip Kelly, who spent the night enjoying the stories and the memories of the remarkable play and game, one that helped turn Vermeil's Eagles into Super Bowl contenders.
5. THE COMMUNITY QUARTERBACK
Quarterback Matt Barkley's job as a backup means he must be ready at a moment's notice.
Barkley's father, Les, emulates the same quality in a much more serious manner. Following the devastation of Typhoon Haiyan, one of the most powerful storms ever with wind gusts of over 230 miles per hour which wreaked havoc on the Philippines on November 8, Les Barkley made the overseas trip to volunteer by helping provide aid to those who survived.
Barkley is certainly not surprised that his father went to where help is needed.
"That's the type of man he is. He's looking to serve first," Barkley said. "He's blessed to be able to do that at a moment's notice, to be able to go out there and help in any way he can."
Barkley said that communication has been extremely limited and he doesn't know the full details of his father's service. The devastation is too severe for Barkley to make a short trip to help during the bye week, but it is something he will consider in the offseason.
Service missions are nothing new to Barkley. In fact, if he wasn't playing football, Barkley said that he would probably do some sort of philanthropy work. Barkley's parents started the Monarchs for Marines campaign which renovated youth areas near Marine Corps Base, Camp Pendleton. In 2010, Barkley spent 11 days in Nigeria to do construction work and distribute supplies and gifts. Following the earthquake in Haiti, Barkley led a contingent of 16 USC Trojans who spent five days on the island building houses and delivering more than 2,000 pounds of supplies.
"You can only sit on your butt for so long before you feel the need to do something greater," Barkley said.