Eagles fans are waking up feeling good after Sunday's 24-16 win over Washington. The best part is the good feeling will last for two weeks with the Eagles on the bye this weekend. In this edition of 5 Things To Know Today, find out how to get your free coffee from Dunkin' Donuts and feast on some amazing tidbits from the win ...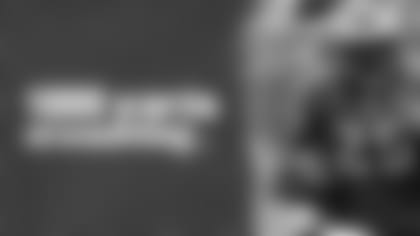 1. LeSEAN McCOY SURPASSES DUCE STALEY
Not only did running back LeSean McCoy become the first NFL player to gain 1,000 rushing yards in 2013, he also one-upped his position coach Duce Staley.
McCoy leaped over Staley to become No. 3 on the franchise's all-time rushing list with 4,875 career yards. McCoy reached the plateau in just his 69th career regular season game. McCoy didn't know that he cracked the 1,000-yard mark for the third time in his career, but he was well aware of where he stood in comparison to Staley.
"I did know this though, I had 10 yards to pass Duce," McCoy said. "So I knew that was going to happen."
Next up on the leaderboard is Hall of Fame running back Steve Van Buren, who has 5,860 yards. At McCoy's pace, he could slide past "Wham Bam" early in 2014. Wilbert Montgomery holds the mantle of the franchise's all-time leading rusher with 6,538 yards.
2. PETERS BATTLES VALIANTLY THROUGH INJURIES
Four Eagles were listed as questionable heading into the Eagles' 24-16 victory over the Washington Redskins on Sunday. Of the four, only one, left tackle Jason Peters, played for the Eagles and, according to Peters, that was never a sure thing.
"I was about 70 percent right before the game and I was like, 'You know what? I'm going to go.'" Peters said. "It's a grind. It's a long season. You're going to get banged up, you just have to keep going."
Peters has been battling injuries to both his quadriceps and pectoral. The quad, he said, was the more debilitating of the two injuries.
"It pinched on me a little bit in the first quarter, but I just fought through it," Peters said. "It calmed down and I just kept pushing."
For Peters, the bye comes at a great time.
"Rest, get it treated, come back for Arizona," Peters said when asked his plans for the upcoming week.
After missing all of the 2012 season with a torn Achilles, Peters said he feels extra motivation to play every Sunday, no matter how banged up he may be.
"I'm going to be out there," he said. "If I don't have anything broke or torn, I'm out there on the field."
3. BOYKIN: "IS THIS REAL LIFE?"
Cornerback Brandon Boykin couldn't believe it.
Quarterback Robert Griffin III felt the pressure from defensive end Fletcher Cox and heaved a desperation pass into the end zone. The problem for Griffin III was that there were none of his teammates in the vicinity of the pass. The only player nearby was Boykin.
"We just had tight coverage and we were scrambling. They were going no-huddle, and we were kind of in a double-team on my side so when the receiver went out I was free, and I just saw the ball floating in the air and I was like, 'Is this real life? Wow.' I didn't care if I had to run into my own teammate, I wanted to go up and try to make a play and end the game, and that's what happened."
Boykin made a beautiful over-the-shoulder grab for his team-high fourth interception of the season. In fact, it was the second straight week Boykin made a crucial interception in the end zone. The Eagles defense, which held their seventh straight opponent to 21 points or fewer, forced a pair of turnovers in the red zone.
"I couldn't believe it. I don't know what happened," Boykin said. "I think Fletcher Cox disrupted it and it kind of helicoptered out, so definitely a great job by him getting it out. That's how we get turnovers- the defensive line.
"When the ball was in the air, it was really slow. A lot of thoughts when through my head. When I got it, I tried to make sure my feet were inbounds so I looked down, and I was good. I heard everybody cheering so it was good."
Yes, Boykin sent the 69,144 fans into jubilation with the 24-16 win.
4. FOLES BEATS RG III AT HIS OWN GAME
Is there anything Nick Foles can't do?
He's thrown seven touchdowns in a single game. He's won all three of his starts on the road this season. He's guided the Eagles to a three straight wins and first place in the NFC East.
Oh, and he even outgained Robert Griffin III on the ground.
Foles had nine rushes for 47 yards, both career highs, while Griffin III had 44 yards on 10 carries. For Foles, this is the second straight week he has set new career highs in rushing attempts and yards after gaining 38 yards on eight carries in the win over Green Bay.
"It was just sort of a byproduct of what they were giving me and they presented it and I was just trying to get as much as I could and get down. The big thing I talked to (LeSean McCoy) about is I don't know how you run this much because it's a different game than dropping back. You know running, trying to get first downs and stuff, so it's something I am continuing to get used to.
"I am having fun with running and I am starting to get used to it. I have never really been a running quarterback, so it's fun going out there start running and getting the feel for it because it is something different. I feel like week to week I am getting more and more comfortable with it. It is really helping us get first downs and before long they will really have to account to me and it will open up."
5. COLE'S HARD WORK PAYS OFF
In his first season playing exclusively as a linebacker, Trent Cole has acquitted himself nicely. In fact, Pro Football Focus, which grades each play, ranked Cole as the top run defender among 3-4 outside linebackers and as the fifth-best player at his position in the entire league through the first 10 weeks of the season.
However, Cole has not filled up the stat sheet, especially in the one category which helped him earn his nickname - The Hunter. Cole entered Sunday's game with one sack. He's had four seasons with double-digit sacks and ranks third in franchise history.
Well, Cole had his breakthrough performance of the year - from a sack standpoint - with two takedowns of Robert Griffin III. It was his 17th career multi-sack performance and his first since December 2011 in Miami.
"I know everybody is tracking Trent with his number of sacks, but it's not how we track it," said defensive coordinator Bill Davis after the game. "We know all season that Trent has had that consistent pressure and put stress on the quarterback and tackles he's going against. It's nice to see him get rewarded with the final sacks, but that's not how we judge him. This game doesn't change how we look at Trent just because he had two sacks. We are very happy with Trent."
Cole now has 74 career sacks, which is just 2.5 behind defensive end Clyde Simmons for second in franchise history.
Griffin III is the 44th quarterback Cole has sacked in his career and the 15th he's brought down at least twice.