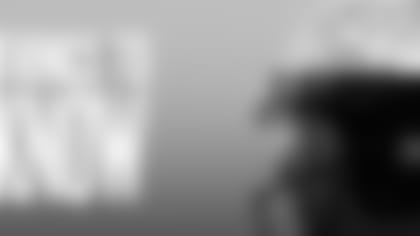 The Eagles were back on the practice field for the first time since departing for the bye week on Tuesday. It wasn't a full training session, but a positive sign nonetheless that everyone except for tackle Jason Peters (back) was able to participate. Sunday's primetime showdown with the Dallas Cowboys is fast approaching.
Our live coverage begins later this morning at 10:30 AM as offensive coordinator Pat Shurmur and defensive coordinator Bill Davis meet with the media. Following the team's training session at around 1:15 PM, you can watch the press conferences for quarterback Sam Bradford and linebacker DeMeco Ryans. The day wraps up at 5 PM as Dave Spadaro and Joe DeCamara bring you insight, analysis and all of the news of the day on Eagles 360. Until then, here are the 5 Things to Know Today for Wednesday, November 4.
1. Will The Offense Take Flight Vs. Dallas?
The Eagles' offense doesn't want to recall the Week 2 matchup with Dallas.
"The numbers weren't pretty," Dave Spadaro wrote. "In a painful 20-10 loss, the Eagles gained just 226 total net yards, converted 2-of-11 third downs, rushed for 0.4 yards per rushing and possessed the football for only 19 minutes, 30 seconds. Head coach Chip Kelly said the day after the loss that he was "embarrassed" by the paltry offensive output that marred a strong defensive effort."
Said tight end Zach Ertz, "We sucked that game. That's the bottom line."
The offense has had some bright spots since that loss, but Dallas' defense is playing well despite the team losing five straight games. Defensive end Greg Hardy and linebacker Rolando McClain are on the roster as both were suspended for the first showdown.
2. Ertz Healthy, Ready To Dominate
This was supposed to be THE year for tight end Zach Ertz. He dedicated himself this offseason to improving as a blocker so he could be on the field more to utilize his abilities as a mismatch weapon in the pass game. Unfortunately, a core muscle injury required surgery that eliminated his entire preseason. Ertz was on the field for the season opener in Atlanta, but he told our Julie Bacanskas on Tuesday that he wasn't 100 percent - until now.
"I feel better running, that's for sure," Ertz said. "Breaking into my routes, I feel more comfortable and more confident in that regard. I think I'm 100 percent healthy now and I think that's the big difference."
His improved health has showed up on the stat sheet. In the last three games, Ertz has 14 receptions for 166 yards. And he's hungry for more.
"I want to be a focal point of this offense. I worked so hard over the offseason to be a focal point in this offense and someone that the coaches can trust to put in the forefront of this offense," Ertz said. "I know we have a lot of weapons with the running backs, receivers and the tight ends, but I put a lot of pressure on myself to go out there and make the plays. I expect that of myself."
3. Maxwell Previews Matchup With Dez Bryant
The first meeting between the Eagles and the Dallas Cowboys didn't include wide receiver Dez Bryant, who suffered a broken foot in the season opener against the Giants.
Bryant returned to the lineup this past Sunday against Seattle and was shut down by cornerback Richard Sherman to the tune of two catches for only 12 yards. Cornerback Byron Maxwell offered this as a scouting report of Bryant ahead of the Week 9 matchup.
"He has all the dimensions to him. They didn't get the ball to him this week, but they were going after him. It seemed like he was healthy," Maxwell said. "He's an excellent athlete. His ball skills are crazy. He's a great player in this league."
4. Alonso Says He Will Play Vs. Cowboys
The bye week offered more time for linebacker Kiko Alonso to rest the knee injury he incurred in the first meeting against Dallas. There was no timetable for his return, but after he was asked on Tuesday when he will play again, he responded, "this weekend." Alonso expects to practice fully all weekend and said that he's "anxious" to get back out on the field with his teammates.
"Our guys have really stepped up and done a good job," Alonso said. "Jordan Hicks has done a great job. But, yeah I want to get in there and help the team."
Head coach Chip Kelly said on Tuesday that he will not have a game plan for the inside linebacker rotation until he has a better understanding of who will be able to do what on Sunday night. Find out why Alonso thinks he will be able to hit the ground running once he's back in game action.
5. Eagles Stand Pat At Trade Deadline
The Eagles didn't make a move at Tuesday's 4 PM trade deadline. In fact, the only trade around the league that was consummated was done on Monday when the San Francisco 49ers sent Pro Bowl tight end Vernon Davis to Denver as part of an exchange of draft picks.
It should not come as a surprise from an Eagles standpoint that nothing was brewing as the clock struck 4 PM since head coach Chip Kelly said that nothing was going to get done earlier in the day. The Eagles have made just one deadline deal in Kelly's three seasons with the team, and it was one that sent Isaac Sopoaga to the Patriots and opened the door for then-rookie Bennie Logan to become a starter.