Are you in need of a little inspiration today? Yes, I think we all can use something to get our minds off of Sunday night's tough defeat. With that in mind, learn about a boy who continues to play football despite what most would consider insurmountable odds as well as a history lesson that should bode well for the Eagles in this edition of 5 Things To Know Today ...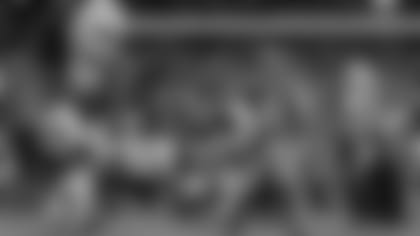 1. Who Led The Eagles Out Of The Tunnel?
No, you are seeing the picture correctly. Deven Jackson is a youth football player from Shermans Dale, Pa., whose love for the game allows him to suit up despite being a double-amputee. Jackson celebrated his 11th birthday at Lincoln Financial Field by leading the Eagles out of the tunnel on Sunday night. Jackson nearly lost his life two years ago to a bout with bacterial meningitis. Doctors gave him a 10 percent chance to live. He survived, but doctors had to amputate both legs below the knees. Thanks to the help of carbon fiber running blades, Jackson was cleared to play football this summer and recently scored his first touchdown since the life-altering event.
2.  Kelly: Nick Foles Out Vs. Washington
Head coach Chip Kelly said Monday afternoon that Nick Foles' exam on his collarbone revealed that the bone is not yet healed. Foles will miss Saturday's game vs. Washington. This will be the seventh game that Foles is sidelined for after suffering the injury on November 2. Kelly added that Foles will be able to do more throwing this week, but can't have contact on the bone yet.
3. Polk Keys Red Zone Success
Lost in the shuffle of Sunday's loss was the Eagles' performance in the red zone. After going 1 of 5 in the Thanksgiving win, the Eagles were a perfect 3 of 3 and have scored a touchdown on each of their last four opportunities overall. Running back Chris Polk had his first multi-touchdown game as he punched the ball in from 5 yards and 1 yard out. However, Polk took no solace in his individual performance.
"There's nothing I wanted more than to win and clinch the division," Polk said after the game.
Polk has four total touchdowns this season (three rushing, one kickoff return). For his career, Polk has scored seven times on just 68 touches - or once every 9.7 touches.
4. If Eagles Win Out, History Is On Their Side
In 2009, the Eagles won 11 games and made the playoffs as a Wild Card team. There's a good chance that the same can happen again this year.
If the Eagles can win their final two games at Washington and at the Giants, they will reach the 11-win plateau. Dallas has a one-game lead in the NFC East and controls its own path to the postseason, but history shows that 11 games is usually good enough to make the tournament.
5. Turnovers Prove To Be Recurring Theme
After four more turnovers Sunday night, Kelly called the team's penchant for giving the ball away a "broken record."
"We can't turn the football over and expect to win football games," Kelly said.
A year after setting a franchise record for fewest turnovers in a season with 19, the Eagles have the most in the league this year with 34. The Eagles' -9 turnover ratio is tied for 26th in the NFL.
The Eagles had two lost fumbles, including one of the game's opening kickoff. Quarterback Mark Sanchez also threw two interceptions. The Cowboys scored 17 points off the first three turnovers and were able to take a knee to run out the clock after the final one.