Well, it's not exactly algebra, but in 1974, wide receiver Charles Smith put two and two together and became an Eagle.
"When I first came out of Grambling, I signed with the Rams [in 1973]," said Smith. "And at the beginning of the season, they released me, but then wanted to sign me for the next year. I said, 'Well, heck, I didn't make it this year and they've got the same receivers coming back next year.' Plus they had Lance Rentzel, who had been suspended for a year and he was coming back. And so I thought my chances would be better over in Philadelphia. Harold Carmichael and I were rivals because he went to Southern and I was at Grambling. Plus, I played with [defensive end] Ricky Harris, who was in Philadelphia, so at least I knew some people there."
The two former rivals became the Eagles' starting receivers in 1975 and complemented each other very well. Combining for 13 of the team's 22 offensive touchdowns, they were bright spots in an otherwise drab 4-10 season.
And even though Philadelphia repeated that record the following season, Smith was excited about the direction of the team under first-year head coach Dick Vermeil.
"He was an intense guy, a hard worker. I admired him for that hard work. You're not going to get anything unless you work for it and hard work doesn't hurt," Smith said. "Plus, he was a heck of a coach! He knew football! He had a way to get the best out of each player. And I really, really, really, truly believe Coach Vermeil really cared for his players. All he ever wanted was the best for you. I saw that in the passion he had for football.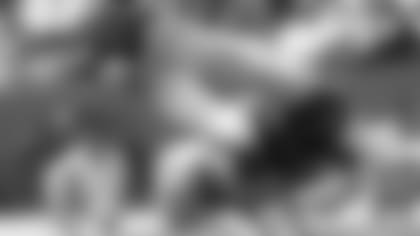 WR Charles Smith
"If you were coached under Vermeil, you're going to become a better football player. Dick came in '76 and in '78 we were a playoff team. Each year we got better and in 1980, we made it to the Super Bowl."
That, they did. After posting a 12-4 record, the Eagles won the NFC title, but then fell to the AFC Champion Oakland Raiders in Super Bowl XV.
"I didn't know what the Super Bowl would be like," said Smith, who caught two passes for 59 yards in the title game. "One of my friends, Sammy White, who played with the Vikings, played in Super Bowl XII, and he said, 'You've really got to experience it for yourself.'
"I really enjoyed myself because hey, this is what we played for. This is the epitome of football and we were able to make it there. I thought we were the best team in the league that year. I thought we should have won, but football's a funny sport and sometimes the ball bounces funny, which it did. We just didn't capitalize. We scored a touchdown, but it was called back. Who knows what that touchdown would have led to?"
What made the Super Bowl a unique experience for Smith was that it was played back in Louisiana – at the Superdome in New Orleans.
"My family was able to come and I had friends there," Smith said. "And I played with and went to school with a lot of people from New Orleans and Baton Rouge, so you know everybody pulls for the people from your home state. It was really exciting for me."
After hauling in 218 passes for 3,349 yards and 24 touchdowns over eight seasons with the Eagles, Smith's career path led him back to his hometown of Monroe, La., where beginning in 1985, he would spend the next 20 years as a football coach, mostly at Wossman High School. And while Smith was successful in his own right along the sideline, he said he used some of what he learned as an Eagle while playing under Vermeil.
"I took his leadership abilities and he how he treated people and that you're not going to get better if you don't practice. He believed in getting something out of practice," said Smith. "When I was the head coach in football, I'd tell my kids, I want to improve on something, improve in some area. If you're a receiver, maybe it's your pattern running. If you're a lineman, maybe it's your footwork. A defensive back, maybe it's your drops. Something! We wanted to improve on something each day. That's what makes you become a better football player."
Smith, who is still at Wossman as its track coach, a position he has held since 1988, is clear about what he enjoys about his second career.
"The kids. I love kids," Smith said. "I had people that helped me when I was coming along, people that really cared about me. Some of them were my teachers. They really cared and I learned that from them and I wanted to pass that on to these kids. I'm teaching kids that I taught their parents. I enjoy kids and I think we enjoy each other."
It's equally clear that while he feels the students should enjoy competing in sports and their time on the fields, they should concentrate on excelling in the classroom as well.
"I was able to play [in the NFL] and I wasn't drafted, and I use that with the kids. I tell them, 'It's not how you start, it's how you finish,'" Smith said. "Everybody gets a chance. But the most important thing you can do is get your education. And you might get a chance to be a professional athlete, but don't count on that. Don't put all your eggs in one basket. You've got to get your education."
Smith and his wife, Bernice, have two sons: Charles II and Eric; and five grandchildren.