Deuces were wild for Vyto Kab in 1982.
Chosen out of Penn State in the third round of that year's draft, he was actually the second tight end selected by the Eagles. Lawrence Sampleton was picked one round earlier.
"In high school, I had a guy named Tommy Vigorito, who played for the Dolphins. Both of us vying for the same position," Kab said. "In college, I had different challenges, so it just was another challenge for me."
Having met that challenge, the NFL players went on strike after two games. At that point, did Kab even know why he was hanging up his helmet and picking up a picket sign?
"In very broad and general terms," Kab said. "You have to remember, rookie year was just like I guess it was for the guys this year. The only difference is we missed a lot of games. You're just getting used to the whole NFL thing, and then all of a sudden there was a complete walkout that affected both veterans and rookies. It was especially a little bit shocking for rookies because we just didn't know what to expect."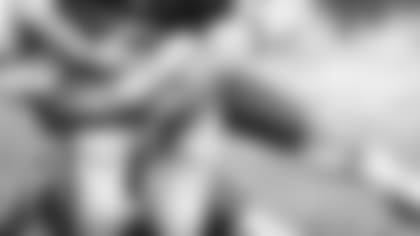 Another thing that Kab wasn't used to occurred following the 57-day strike when he would actually run pass routes.
"Penn State was not a big throwing team. (Receiving passes) was something I had to learn how to do," Kab said. "Coming to Philadelphia, obviously learning the passing game and learning how to be a receiver was a big part of my first year. Initially, I think I was one of the few guys that got a lot of playing time primarily because of my blocking, complementing (starting tight end John) Spagnola, and just doing what I could do as a second tight end and on special teams to help the team."
Later during his rookie season, Kab accomplished something that few backup tight ends have ever done. After playing in just five games for the Eagles, he was on the December 6 cover on Sports Illustrated.
"I was sitting in the training room with (longtime trainer) Otho Davis taping my ankles, and Harold Carmichael was on the table next to me getting his ankles taped," Kab said. "Coach (Dick) Vermeil came down and laid a magazine on Harold's table. He said, 'Harold, how did this happen that you've been in the league this long and a rookie gets on the cover of Sports Illustrated?' I didn't know what he was talking about. And then Vermeil threw the magazine on the table I was getting taped on. It was a pretty fun experience."
A fun experience even though Kab's cover shot was titled "The Undefeated." Unfortunately for Kab and his teammates, that wasn't referring to the 1-3 Eagles. It was intended for the 4-0 Washington Redskins, who had won a game between the division rivals a week earlier.
"The copy wasn't my favorite copy to be affiliated with. But it's funny, once you get on these covers; I get probably two or three magazines sent to me a month with people requesting signatures," Kab said. "Some of them end up on eBay, I don't know why, but most of them are just kids that want signed copies."
Little did people know at the time, but the writing may have been on the wall in Vermeil's mind. That's because following the season finale, he resigned as the head coach, and was replaced by his defensive coordinator Marion Campbell.
"That was a very emotional time for both Dick and for the team," Kab said. "It was difficult not only for the players, but it was tough for management and the coaches. And being in the city of Philadelphia, there was a lot of intensity on the whole labor issues.
"And then for him to resign was somewhat traumatic. Coming in that year, he was very much a coach and almost like a father figure-kind of guy that really cared about his players. So it was very tough to see him go, and also not clearly knowing what was going to be the next step. Even with Coach Campbell coming in, whom we knew."
Kab would play two seasons under Campbell before being traded to the New York Giants early in the 1985 campaign. And then following a five-year football career, Kab became involved in the health care field. He and his wife, Patricia, co-founded SleepTech, a company which set up and ran sleep centers for hospitals in New York, New Jersey and Connecticut.
Before selling the company in 2005, Kab was involved in a study that was published in the New England Journal of Medicine. It tested hundreds of NFL players for sleep apnea, a condition that interrupts breathing during sleep and at times produces an irregular heartbeat.
"It showed that the bigger guys, the offensive and defensive linemen, had a much higher percentage than the general population for sleep apnea," Kab said. "Part of that was attributed to the fact that back when I played in the '80s, there were just a few guys over 300 pounds. Now there are 400 to 500 guys that are over 300 pounds-plus. And even though they're young and in shape, just because of the size of their neck and their chest, they have sleep apnea, and that could have a lot negative affects on their awareness and the ability to concentrate. And also if they don't deal with it, it can have real affects after they retire."
The Kabs, who have two daughters, Devon and Dillon, have homes in New Jersey and Long Island, New York. He is a principal with Regent Real Estate Partners.
"We develop medical office buildings, working with hospitals and with doctor groups," Kab said. "I'm been doing that for about four years, involved in both development and ownership of those buildings."