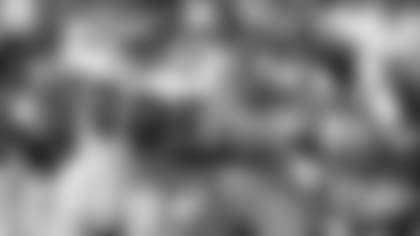 Rookie tight end John Spagnola, a recent graduate of Yale, didn't actually need his Ivy League education to realize what he should do after New England released him during its Training Camp in 1979.
"I had a tryout with the Eagles," Spagnola said. "They worked me out, made an offer and then they sort of backed up a little bit and reconsidered. And then Miami was on the phone with me.
"(Philadelphia's director of player personnel) Carl Peterson said, 'We're going to sign you. Miami's going to work you out. You decide what you want to do. But if you go down there, we pull the offer.' So I said, 'Okay, I'm on my way, Carl.'"
Joining the team he had followed as a kid, the Bethlehem, Pennsylvania native became part of a two-tight end formation with Keith Krepfle, and helped the Eagles post a 12-4 record in 1980 and reach Super Bowl XV.
"I think it was a bit maybe overwhelming and surreal," Spagnola said. "Overwhelming in the sense that the magnitude of the game was so great that you either win or you become just kind of an also-ran.
"And it's a little bit surreal in that there's so much going on, there's so much attention to it. I'll never forget being there for media day and just seeing a stream of writers and reporters, it was endless, coming down the stadium steps to meet us on the field.
"To have a team that really was so driven and not necessarily laden with talent, but laden with really talented people and good players, to achieve the kind of things we did that year, in hindsight, is pretty remarkable. There's a bond there. We're not ashamed to call one another, talk to one another and tell one another we love them. That bond just seems to get stronger and stronger in time."
The same, actually, can be said about Spagnola's career.
During his first four seasons, from 1979-82, he caught 52 passes for 613 yards and five touchdowns. And then after missing the 1983 campaign because of a cervical spine injury, Spagnola gathered 204 receptions for 2,220 yards and nine touchdowns from 1984-87.
While Spagnola was statistically more productive toward the end of his Eagles career, it was just the opposite as far as the team was concerned. The team did not post a winning season from 1982-87. Frustrating?
"Yeah, it was," Spagnola said. "It was frustrating for a number of reasons. (Dick) Vermeil's a heck of a coach. So when he left (following the 1982 season), things changed. We had a really good team in '85, but we just got off to a bad start. And we had a new owner (Norman Braman) and we had a coach (Marion Campbell) who wanted to kind of do what the owner wanted to do, and he put (rookie quarterback) Randall (Cunningham) in instead of (Ron) Jaworski.
"That was unfortunate. Not because Randall wasn't going to be a good player some day, but he wasn't ready at that time. We started at 1-4 before we put Ron back in, and we kind of lit it up there for a while. That was a really good team that was somewhat mismanaged.
"And then once Buddy (Ryan became the head coach in 1986), he sort of tried to run Chicago's offense and we didn't have the personnel. There were a couple years of underperforming teams. By the time I got let go, the teams got better, but they never had the offensive structure they needed to get past just getting into the playoffs."
After being released by the Eagles, Spagnola wrapped up his playing days with Seattle in 1988 and Green Bay in 1989. And while nothing came easy for him as a player, just being able to do so, and for so long, is part of what makes him most proud of his career.
"I was an above average Ivy League player, playing mostly wide receiver and I had to make a transition to tight end," Spagnola said. "I had to put on weight. I had to get stronger. I had to play at a much higher level. So personally, I'm proud of being able to make the transition, not only physically, but mentally and emotionally.
"I see the game today and I say, 'I can't believe I did that. I can't believe I played at that level.' I'm proud of the fact that I accepted the challenge and through the great motivation of a man like Dick Vermeil and teammates, I was able to just sort of ramp up my athletic ability, ramp up my toughness, ramp up all the things you have to do to play in the NFL.
"I was sort of a bubble guy for years until I finally worked my way into being a starter. So I look back and feel as if I rose to a challenge and I did something that most people don't get to do."
Now wearing a suit and tie instead of a uniform, Spagnola continues to face challenges.
Spagnola began a second career in financial business by working on New York's Wall Street during the offseasons while he was still playing for the Eagles. He's now a managing director at Public Financial Management (PFM) in Philadelphia.
"We manage institutional assets for clients, mostly pension assets," said Spagnola, who has been with PFM since 2003. "I head up our multi-asset class management. It's institutional, so I don't deal with any individuals. It's all pension funds and endowment funds, foundations, union funds.
"I enjoy the fact that every day you have to wake up and find out what's going on in the world. The jobs numbers are strong for February. Unemployment's down. So what are the implications of that? What are the implications for the dollar? What are the implications for our clients' portfolios both in fixed income and equities? Every piece of information you sort of filter. It's kind of being in the game every day.
"I like it because at the end of the year, you have your performance. So it's black and white. It's very similar to football. You win, you lose. You beat your benchmark; you don't beat your benchmark. You sort of keep a long-term attitude, so there are a lot of similarities to sports. I enjoy the aspect of competing, trying to win business, retain business, build relationships. It's all part of what I do."
Spagnola and his wife, Kathy, make their home in the Philadelphia suburb of Bryn Mawr. They have three daughters. Nicole works for GQ Magazine in New York; Megan works for eMoney Advisor in Conshohocken, Pennsylvania; and Kelly, who is a senior at Delaware, majoring in sociology.