The Eagles added depth at tight end prior to the 1985 season with the signing of David Little, a free agent from the Kansas City Chiefs. And surprisingly to Little, he added depth to Philadelphia's special teams as well.
"I played tight end in college and they didn't want me to be on special teams. But obviously that's what happens to your linebackers and tight ends (in the NFL)," said Little. "You have a little bit of speed and can hit people; I guess that's kind of the benefits.
"And I was pretty fortunate to be able to deep snap. In Kansas City, I didn't think about it too much. And in Philadelphia, it just came up that they needed somebody and someone said, 'Hey, David can do it,' so I started doing that. I was covering kicks and all that anyway and I realized that here's a big part of the game that I can be a part of and it was fun, too.
"The group of guys that were playing on special teams, we knew we had a big role and it worked out great. I wanted to do anything that I could do that helped benefit the team and be able to stay in the league. And my opportunity as far as deep snapping, I never really realized the benefit of having that skill until I got to Philadelphia."
Another skill that Little discovered after becoming an Eagle was that he could purposely hurl his body into the paths of opponents.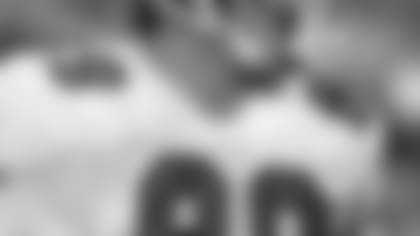 TE David Little
"(During the third preseason game which was against the then-Los Angeles Rams) I was trying to impress the coaches and was running down on a kickoff and was the first player down there to break the wedge. I ran into two of them and I felt like I separated both of my shoulders," Little said. "And I did have separations and was out for two or three weeks. So after trying to impress the coaches about how good I was on special teams covering kicks, I jacked up both of my shoulders and missed the first game. But I survived."
With a 7-9 record, Little and his teammates survived the 1985 campaign, the team's fourth consecutive losing season. But the coaching staff did not. The Eagles hired former Bears defensive coordinator Buddy Ryan, fresh off of a Super Bowl championship, as their new head coach.
Ryan began to make sweeping changes to Philadelphia's roster for the 1986 season - 20 new players in all. Little, however, was among the holdovers, and he was excited about the Eagles' future.
"It was kind of neat because now it's all a fresh start for me – being able to prove myself for Buddy and not have a coach there that would already have a preconceived idea of who else was playing there," Little said. "I got to be on the same playing field as everyone else.
"The players that he got as far as the defensive players were incredible. They were a group of the best defensive players that I've ever seen in the league. Obviously, there were some great offensive players, as well. They were grooming (quarterback) Randall Cunningham. And (Ron) Jaworski was still there.
"There were some neat players on the offense that were from the 1980 Super Bowl team. For me, it was a thrill just to be there and be able to talk to them about what it was like to be in the Super Bowl. So that was kind of neat having that experience on the offensive side and then just having some of the depth and talent on the defensive side was the key."
Spending five of his eight NFL seasons with the Eagles, Little looks back at his time in Philadelphia with fond memories.
"It's not necessarily the games that I remember so much as I do the guys that were there, the camaraderie," he said. "And it was kind of cool being in Philadelphia. It was really enjoyable while I was there. I had a lot of fun. It was a different culture for me coming from California."
After retiring from football, Little, who is back living in his home state with his wife, Laura, and their children, Gunnar and Lauren, spent several years in the health club industry. Following that he was involved in the mortgage business. And in late 2008, he and Laura started their own company – Atlas Scale Services, Inc. They sell, install, calibrate, repair and offer maintenance programs for industrial scales of all sizes.
"Our market is mostly feed mills and slaughterhouses. So it's kind of a dirty job really. We'd definitely qualify for the *Dirty Jobs *[television program]."