 Setting the Eagles' rookie rushing record with 586 yards in 2001, Correll Buckhalter could not have hoped for a much better start to his career.
"It was great because that's the part of Coach (Andy) Reid's career where it started to take off," said Buckhalter, who was drafted in the fourth round that year out of Nebraska. "We were winning a lot and having a lot of success, so it was a lot of fun."
It was much less fun for Buckhalter the following season. During the first day of mini-camp, he tore the ACL in his left knee.
"We were practicing and I caught a screen (pass) and just turned up field," he said. "I went to make a cut and just heard something pop. My ACL just went out like that."
Missing the entire 2002 campaign, Buckhalter came back with a solid season in 2003. Making five starts at halfback as part of the "Three-Headed Monster" with Brian Westbrook and Duce Staley, he rushed for 542 yards and scored nine touchdowns. His teammates voted for him to receive the annual Ed Block Courage Award, which honors players who exemplify commitment to the principles of sportsmanship and courage.
"It meant a lot and just kind of confirmed to me that the progress that my teammates saw with me as far as my getting back from the injury, working hard and having a lot of success on the field," said Buckhalter. "It was almost like I picked up right where I left off after my rookie year."
That, unfortunately, would not be the case for long. In 2004, Buckhalter tore the patellar tendon in his right knee during a preseason game. After undergoing surgery, he was placed on Injured Reserve and had to sit out the entire season, one that ended with a trip to Super Bowl XXXIX. He suffered the same injury the following season.
"People would see me at the complex and they would always say, 'Man, you're just always smiling,'" Buckhalter said. "I kept that positive unity around me even though sometimes inside I felt like I was in probably some of the darkest places in my life. But I never showed that.
"I always approached it with a positive attitude, with an attitude to be determined and be diligent in my work because I always envisioned myself back on the field playing. Even though I was out those two years, in my mind, I was always running the football on the field.
"(Throughout the two years of rehab) I always felt a part of the team. But you still don't feel all the way a part of it because you're not helping your team on the sidelines. You're not producing for them so it's kind of like a bittersweet deal. All the guys knew that in previous years how much I helped the team. They just knew that I was going through a rough time. And they were all there for me just like I was still out there playing.
"Having those injuries, most people according to the doctors wouldn't be able to play football again. Your career is supposed to be over, period. And for God to bestow his grace on me and allow me to not only overcome that, but play five more years pretty much injury-free, all I can do is give Him praise because it's truly amazing."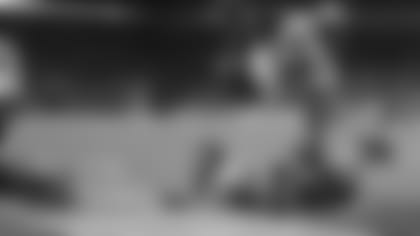 The amazing photo of running back Correll Buckhalter's touchdown vs. Miami in 2003.
Following the back-to-back missed seasons, Buckhalter played three more years with the Eagles before concluding his career with the Denver Broncos for two seasons. He is 18th on Philadelphia's all-time rushing list with 2,155 yards on 476 carries, an impressive 4.5 yards per carry average.
Buckhalter and his wife, Nikki, make their home in suburban Dallas with their 7-year-old son, Correll Jr.
Opening a real estate investment business, Sorbies Properties, in 2011, Buckhalter also finds time to help out as a volunteer football coach at Covenant Christian Academy in the Dallas suburb of Colleyville, Texas.
What does he enjoy about now wearing a headset instead of a helmet?
"Seeing their development," said Buckhalter, who was an intern coach for the Eagles through the Bill Walsh Minority Coaching Fellowship in 2012. "Showing them things they would never see unless they actually played at the NFL level. Just trying to help them get an edge; help them understand just how to use their body in a different way. I helped so many kids gain confidence. I helped them believe in themselves and their game just increased week after week. It was fun."