 AAA provides home, auto and life insurance, but what interested Eagles head coach Dick Vermeil heading into the 1980 season was quarterback insurance. The policy had a name: Joe Pisarcik.
After becoming available once the New York Giants chose to commit to their second-year quarterback Phil Simms, Philadelphia traded its 1981 sixth-round draft choice for the veteran.
"At that point, I wanted to go to a team that maybe needed a quarterback and that I could get a chance to play," said Pisarcik, who had spent three seasons with the Giants and three seasons with the Canadian Football League's Calgary Stampeders. "Ron Jaworski was the starting quarterback for two or three years, and I knew I would be more or less in a backup role, primarily the backup quarterback. That's what he brought me in there to be. Very upfront from day one. That's Dick Vermeil, for sure."
Vermeil was surely familiar with Pisarcik. As New York's starting quarterback, he faced Philadelphia five times over the previous three seasons and, in 1979, passed for an impressive 274 yards the final time he faced the Eagles.
And of course, in 1978, Pisarcik was also on the losing end of the "Miracle of the Meadowlands."
With only 31 seconds left in the November 19 game, the Eagles trailed by five points when Pisarcik fumbled while trying to hand off to fullback Larry Csonka. Herman Edwards picked up the loose ball and ran 26 yards for the touchdown. Philadelphia won, 19-17, and made the playoffs for the first time in 18 years.
As a result of that play, was there a white elephant in the Eagles' locker room after he joined his new teammates?
"Yeah, a little bit. It was there. It was brought up in a kind of a kidding around basis, in a way," Pisarcik said. "It was brought up, but you're playing ball there. You've got a game to play that week. You can't live in the past, something that happened more than a year before. It is what it is."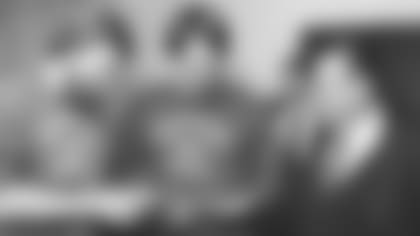 As Jaworski's "eyes on the sideline," Pisarcik signaled the plays and helped break down opponent's game film. The two veterans worked well together and helped the Eagles win the 1980 NFC Championship.
The longevity of playing in the NFL for nine seasons with the Eagles, Giants and Miami Dolphins, along with playing three seasons in the CFL, is what makes Pisarcik most proud of his football career.
His second career in football began in 2012 when he became the president and CEO of the NFL Alumni Association.
"The goal of the NFL Alumni is twofold," said Pisarcik. "We're raising money for Caring for Kids as a 501(c)(3) and also we're trying to do something to help our players and their families in their post-playing years.
"I get a chance to help people and change people's lives. We have 25 chapters throughout the United States and we give about $1.2 million per year to children's charities. When you do it for years and years and years, that adds up.
"Our mission is to help and to serve, assist and inform players and their families about the various varieties of medical, financial and social programs that we have to help the guys out with. If we can help the kids and help our own, that excites me. I'm happy to do that and I welcome to do that."
Making his home in Mt. Laurel, New Jersey, Pisarcik is the father of five adult children: Kristin, Lindsey, Joseph, Katelyn and Jake. He'll become a first-time grandfather in November. !