 N.D. Kalu's rookie season with the Eagles in 1997 was, well, it didn't go as he hoped it would. It was not, however, for a lack of trying.
"I was doing some extra work after practice," recalled Kalu, a defensive end from Rice. "I was trying to do a rip move on another player who stayed after with me and I ended up breaking my thumb. And being a rookie and being underweight, I had to try to play and be effective with a thumb cast. It set me back.
"But I'm not about excuses. I was given a lot of opportunities, especially as a fifth-round pick, but, yeah, (the injury) did stop my growth my rookie year."
Appearing in just three games that season, Kalu was released late in the 1998 Training Camp and signed by Washington. But after three seasons, he made his way back to Philadelphia in 2001.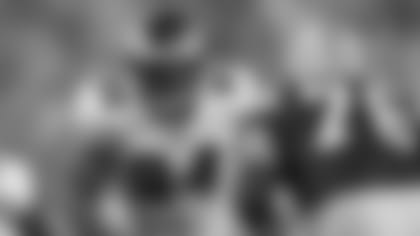 "My dad always told me, 'Don't burn bridges,'" Kalu said. "When I left (the Eagles), I said thank you for the opportunity. And after my three years in Washington, I had about four or five teams offer me a contract. Philadelphia, I just felt like the team was on the up and up.
"It was ironic that it was the team that released me, but at the same time, I felt like I had to step away to grow as a player. And I felt like there was a role and a place for me when I came back."
When Kalu returned, there wasn't just a different head coach, Andy Reid, or a different training facility, the NovaCare Complex. There was also a different attitude in the locker room.
"When I was there as a rookie, we were just trying to get by," Kalu said. "But when I came back, the expectation was to win every single game that we stepped on the field. It wasn't just a situation where we were plugging in different quarterbacks.
"No offense to the guys who were there my rookie year. But when you have a guy like Donovan McNabb at the quarterback position, you go into every game knowing that you should win. Not hoping to win, but knowing that you should win."
Kalu helped Philadelphia reach the NFC Championship Game in each of his first three seasons back with the team. Kalu posted a combined 13.5 sacks in 2002 and '03 and became a full-time starter in the process. What was the key behind his ability to contribute?
"Just growth. Being able to watch the game and learn from some of the vets," Kalu said. "When I was in Washington, I was backing up Bruce Smith and trying to take something from his game. (In Philadelphia,) I had a chance to back up Hugh Douglas and in my rookie year, I was backing up Richard Dent. I was trying to learn from those guys. So by the time I had a chance to start and play for the Eagles, I took a piece of all their games and tried to implement them into my own."
Kalu missed every game of the 2004 season because of a torn ACL in his right knee. The Eagles, meanwhile, won the NFC title and met New England in Super Bowl XXXIX.
"It was bittersweet," said Kalu. "I wish I could sit here and say I had as much fun as if I was playing in it, but to go through what I went through early on and then the year that we actually get over the hump, to have to watch it, that was very tough. But it was still fulfilling because the team made me feel from what they said, what they did, that I helped get to that point.
"You're not supposed to second guess what could have been, but I truly felt like at that Training Camp, I was really coming into my own. Everything was coming together. The game slowed down for me. I learned a lot from it, but it was very tough to make it through that 2004 season."
Kalu played one more season for Philadelphia before concluding his 12-year career with the Houston Texans.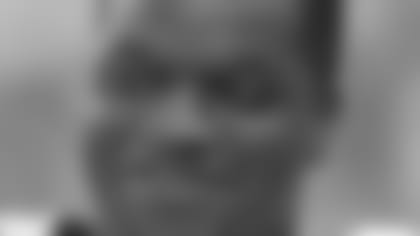 "Am I going to lie to my kids and say I had a Hall of Fame career? Maybe," laughed Kalu, who spent a total of six seasons with the Eagles. "One of the best feelings was at the end of Training Camp when they announced the 53-man roster. Every year that I made it, knowing that you weren't going to get cut and thinking, you know what; I'm going to be an NFL player for another year.
"That was always special to me. I never took it for granted. I never complained, 'Oh, I should be starting this year or I should be getting more reps.' Just knowing that you're a football player. You're on an NFL team."
Making his home in Houston with his wife, Dana, and their five children, Kalu now captains his own property management team, The Kalu Group. A licensed Texas real estate broker, his company owns 64 and manages another 59 residential properties. It's a profession that has interested him for years.
"Football's always been my first love, my first passion, but ever since I was a teenager I've always had a special interest in residential real estate," Kalu said. "My buddies used to get so annoyed. I was the only one with a car, we'd go look at model homes. I don't know what it was, but I was always attracted to residential real estate.
"During one of my offseasons, I went to class and became an agent. And later I passed my broker's exam and became a broker. I've always liked taking something that's been dilapidated and bringing it up and making it nice. And I've always appreciated home ownership."
Kalu also co-hosts a daily radio show – "In the Trenches" – on Houston's SportsTalk 790 with former Green Bay Packer Greg Koch.
"It's the only show, if I'm not mistaken, that's hosted by two former players," said Kalu. "And what's funny about that is I said I would never do radio and I would never coach when I was done playing because it just seemed too stereotypical. But it kind of fell in my lap and I really enjoy doing it. It's something that keeps me close to the game and keeps my name relevant." !