 If the NFL's Scouting Combine was an Olympic event, Mike Mamula would have gone home with a gold medal in 1995.
The Boston College defensive end capped off a 17-sack senior season and being named MVP of the Aloha Bowl, where he collected four more sacks, with an impressive performance at the league's annual event.
"I knew I was going to do well," said Mamula. "In years past, we would do Combine drills during spring practice and all the drills that were practiced when I was in college, I would always excel at. I ran a 4.49 (40-yard dash) and I knew that I had all the athletic abilities to do everything the way (the scouts) wanted. It was easy for me because I'd already done these drills 1,000 times. So I understood what was needed from me and I got it done."
So did the Eagles. Captivated with what they witnessed, Philadelphia traded its first-round pick, 12th overall, and two second-round draft choices to Tampa Bay in order to move up to the seventh spot in the opening round and select Mamula, making him the team's highest-chosen defensive player in 24 years.
"I really didn't know what to expect because I'd never been to Philadelphia, but I was excited and just ready to go," Mamula said. "There was obviously pressure, but there was pressure on everybody."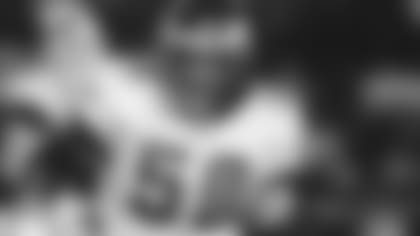 Mamula became a starter at right defensive end and collected 13.5 sacks during his first two seasons to go along with 130 tackles. Philadelphia finished both years with a 10-6 record, but couldn't advance past the second round of the playoffs.
"It seemed like our defense was always good, but we just couldn't get over the hump. We couldn't put up a bunch of points," Mamula said. "One playoff game I remember, we played against San Francisco (in 1996) and we lost (14-0). It was like we could never get over the hump with the offense."
In 1998, the fourth-year veteran experienced a setback when he suffered a season-ending right knee injury during a preseason game against Pittsburgh. To make matters worse it occurred on his 25th birthday.
"I blew my knee out. It was the first series. It just went. It was crazy," he recalled. "My fiancée at that point and my parents were in town and they had my whole house dressed up for my birthday and I had to wait to blow out the candles the next day because I immediately had surgery."
Unfortunately for Mamula, he needed to make a return trip to the operating room before the following Training Camp began.
"I actually had surgery on my ankle to clean out bone chips," said Mamula. "As soon as I got those taken out, I felt like a new man. I went out there and had one of my better seasons in '99. It was like I was a rookie again. It was great."
During Andy Reid's first season as head coach in 1999, the born-again rookie posted a career-high 8.5 sacks. Three came during a game against New England on December 19, which led to him being named as the NFC's Defensive Player of the Week.
Following a bye week, the Eagles hosted St. Louis in the season finale, and Mamula intercepted Rams quarterback Kurt Warner and returned the ball 41 yards for a touchdown in a 38-31 victory over what would be that season's Super Bowl champion.
"I had dropped into coverage and the ball was just dumped off to the running back and I caught it with my left hand, pinned it on my leg and ran for a touchdown," Mamula said. "It was awesome."
Concluding his six-year career following the 2000 season, Mamula, his wife, Chantal, and their 16-year-old twins Milton and Luca, make their home on the Main Line in Philadelphia.
He co-owns and is the director of business development for Comprehensive Screening Solutions (CSS Inc.), an employment screening company in Gibbsboro, New Jersey.
"We are a consumer reporting agency," said Mamula. "We provide background screening and drug testing services for pretty much every industry that's out there. We can pull information nationally, globally. If there's information to pull, we can pull that. We're basically a national company.
"We have Fortune 500 companies. It really runs the gamut from large to small (companies). We're actually one of (less than) 10 percent in our industry that are accredited by our compliance governing body, NAPBS (National Association of Professional Background Screeners). So that really puts us head and shoulders above the competition in the industry.
"And it's a growing company. We're in a market that is really exploding at this point. A lot of different verticals are not only doing pre-employment screens, but then they want to know what their employees are up to after the fact. So we have monitoring products that are available for different industries like finance and health care. There's a lot that can be done. It's exciting."