After 10 seasons in Atlanta, defensive end Claude Humphrey would have rather been in Philadelphia, too. Humphrey earned All-NFL or All-Pro recognition eight times and was selected to play in six Pro Bowls during his stint with the Falcons, but he retired four games into the 1978 season.
"I wanted to get out of Atlanta at the time. I kind of got in there and pushed for the trade," said Humphrey, who was acquired by the Eagles in 1979 for two fourth-round draft choices. "I had been stuck in Atlanta for a long time and I didn't feel like my career was going anywhere there. I just needed to get away, get a change of scenery, and play with somebody else.
"Philadelphia was the specific place that I wanted to go due to the fact that coach Dick Vermeil was there (along with defensive coordinator) Marion Campbell, who had been my head coach and my defensive coordinator (in Atlanta). I just wanted to reunite with Marion and see if he couldn't help boost my career at that time."
Campbell provided the boost that Humphrey needed. During the 1979 season, he led the Eagles with 31 quarterback hurries. The following year, he had a team-leading 14.5 sacks.
While collecting sacks wasn't anything new to Humphrey, being on the right side of the scoreboard when the games ended was. During his time in Atlanta, Humphrey experienced just two winning campaigns and never made the playoffs. Playing for the Falcons then was akin to being a member of the Washington Generals and losing to the Harlem Globetrotters on the basketball court every night.
After arriving in Philadelphia, the Eagles went 11-5 during Humphrey's first season, and then posted a 12-4 record and won the NFC championship in 1980.
"We played together. A lot of teams in the NFL, I thought, were a little bit more talented than we were, but none of those teams played together any better than the Eagles did," Humphrey said. "Those guys really felt for each other.
"I ran into a camaraderie there that I had never experienced before. We had some good players down in Atlanta, but it was more of an individual thing than anything else. We didn't have a lot of players that really, really, really played together. And that's what Philadelphia had going for them that so many other places didn't. We played together in Philly."
The Eagles played together and aside from Super Bowl XV, won together. Oakland earned the Lombardi Trophy with a 27-10 victory. Humphrey retired after the following season.
"Being with the Eagles was the way I thought football was going to be," Humphrey said. "I just hate that it came so late in my career. But playing with Philadelphia was one of the best things that ever could have happened to me."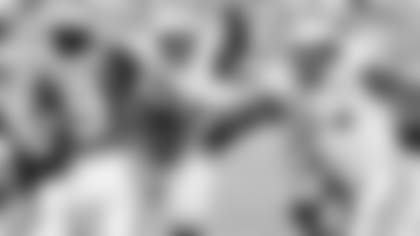 Well ... "Playing with Philadelphia" would have company as one of the best things that ever could have happened to Humphrey. That's because in 2014, he was voted into the Pro Football Hall of Fame.
"It was very emotional," said Humphrey. "If you made the Hall of Fame, they were going to call you at 1 o'clock. My daughter, Claudia, and I were in New York, in the hotel, waiting on the call. Well, when 1 o'clock came along, nothing happened. Then 2 o'clock came up, and I told my daughter, 'Let's call everybody and tell them that we didn't make it.'
"And just as I got that out of my mouth, the phone rang. They told me I made it. Man, I'll tell you what, I almost passed out. I didn't know I had those kinds of emotions inside of me."
Humphrey traveled to Canton, Ohio, last August and became the 20th player who has worn an Eagles uniform to be enshrined into the Hall of Fame.
"Everything was just so fantastic, but there was a lot of stuff and it went pretty quickly," Humphrey said. "When I think back on it, I don't really remember half the stuff that I participated in. But it was great. Getting on TV and getting a chance to thank a lot of people, to me, you never get anywhere without somebody helping you.
"A lot of people helped me and I just wanted to thank them. I couldn't thank everybody. There just wasn't enough time. But I wanted to pay homage to the people who helped me when I couldn't help myself.
"You work all those years and you work hard and you try to be the best at what you do. And then to finally get the recognition and be thought of in the same category with some of the guys that are already in the Hall of Fame, it's a great experience. It's a once-in-a-lifetime deal. I cherish the memories of it very much."
Making his home in Memphis, Humphrey is enjoying retirement. He follows the Eagles and is impressed with Chip Kelly's the-traffic-light-is-always-green offense.
"I think it's fantastic," said Humphrey. "He's a guy who did that in college, and you just wouldn't think that would work in the NFL. But, hey, it's probably working in the NFL better than in college. Guys are not used to that fast pace. They're used to going in the huddle on defense and talking about what's going on and all that. And then just to play one play after another, just constantly, sometimes you don't even get a chance to huddle up. It's great. They're going in the right direction. I think that coaching staff is doing an outstanding job. I love it." !