 After UCLA stunned No. 1 ranked and undefeated Ohio State in the 1976 Rose Bowl, its Dick Vermeil headed east to become the head coach of the Eagles.
UCLA's quarterback and the game's MVP, John Sciarra, headed north to play for the British Columbia Lions of the Canadian Football League instead of the Chicago Bears, who had selected him in the NFL Draft.
"To be quite frank, there was such a difference in the compensation package that it would have been really stupid of me to turn it down," said Sciarra. "And I thought, you know, I'm young and exploring and living in a new country may be a pretty cool thing."
During his first season in the CFL, Sciarra suffered an injury that made it very difficult to grip a football. While not an ideal injury for a quarterback, it was manageable for someone playing at slot back, which is where the Lions moved him. Sciarra played well at the new position and also as a punt returner, and was named as the league's Rookie of the Year.
Tearing a hamstring in the 1977 season opener, Sciarra missed the next nine games. That would basically conclude his Canadian exploration, but not his playing career.
In a series of moves that could cause a computer screen to freeze, Sciarra's NFL rights transferred from Chicago to Tampa Bay to settle an unsuccessful trade. The Buccaneers then forwarded the rights on to Philadelphia to fulfill the future considerations part of an earlier deal they used to acquire quarterback Mike Boryla.
If nothing else, Sciarra proved to be versatile in 1978, his first year in Philadelphia, by seeing playing time at quarterback, free safety and punt returner. And he also held for kicks.
"I think Coach Vermeil had in his mind, 'Look, we can run short-yardage plays using John to run the option. It will give us the opportunity to get that 2, 3 yards and we can use him in goal line situations,'" said Sciarra, who had eight carries for 11 yards and two touchdowns as a rookie.
"What caused Coach Vermeil to change the short-yardage 'Wildcat,' if you will, with me playing quarterback, had a lot to do with Ron Jaworski. I think Ron was feeling, 'Gee, I'm losing the continuity of the game coming out in these short-yardage situations.'
"I knew exactly what he was saying. Although I think if you look back at our converting percentages while we were doing it, they were pretty high. But I also understand that you could still possibly get that done by keeping your starting quarterback in there and game planning accordingly. So that whole short-yardage strategy was basically eliminated and then I was focusing strictly on the safety positions and special teams."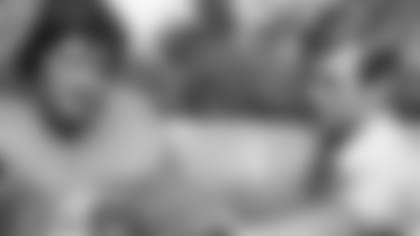 Sciarra and Vermeil had success together at UCLA and reunited in Philadelphia
Sciarra collected three interceptions and was the Eagles' punt return leader in two of his first three seasons and again in 1983, and helped them close the 1980 season by reaching Super Bowl XV.
Much has been said about Vermeil's heavy practice schedule leading up to Super Sunday. However, for Sciarra, who had been through it before when the coach prepared UCLA for the 1976 Rose Bowl, it was a case of been there, done that.
"Coach Vermeil was really working us hard," Sciarra recalls of the bowl game practices. "To the point where it was almost like players were starting to say, 'Wow! What's going on?' He kind of got upset with us for that. He said, 'We have a job to do and the only way we can get this job done is by paying attention to what we've got to do. We're going to work our butts off to get this thing done.'
"Sure enough, we upset Ohio State and he gets the job with the Eagles. In his fifth year we're in the Super Bowl, and he took the same approach. And meanwhile, the Raiders are out there partying on Bourbon Street. A lot of people thought that we were uptight, that we basically left our game on the practice field.
"I'm not sure I buy into that. I can't speak for everybody, but I didn't feel like I was tired or worn out going into the game. Physically, the Raiders didn't have anything on us. The problem is that their scores happened on three or four really big offensive plays.
"It wasn't one of those games that you go, 'Wow, they're just getting blitzed.' We had a touchdown called back because of a forward motion penalty. They get three picks. Everything that could go wrong went wrong. It wasn't our day."
Before Sciarra spent one day in the NFL, he had already made plans for his days after football. Becoming an insurance agent during the CFL offseason in 1977, he would focus on business insurance and eventually on qualified retirement plans.
Sciarra is the majority partner of National Retirement Services. Headquartered in Huntington Beach, California, there are two other offices in California, and another in Charlotte, North Carolina.
"We are kind of a niche business and most people really don't understand what we actually do," Sciarra said with a laugh. "When you have a qualified retirement plan, there are rules and regulations. The difference between a qualifying plan and a non-qualifying plan is that when you make a contribution to a qualifying plan, you're making that contribution on a pre-tax basis. And so when you're not paying taxes, there's going to be a whole boatload of regulations both from the IRS and for non-discrimination rules, the department of labor.
"So the reason why most people don't know what we do is that they're typically participants in plans, either in a pension plan or a profit-sharing plan or a 401(k) plan. To them, these plans are all about retirement funds. What we do is work with the plan sponsor who is the business owner typically in a small plan market.
Sciarra and his wife, Michele, make their home in Newport Beach, California. They have three adult children: Kristin Martin, who is a lawyer; John "J.P.," a vice president with Lazard Asset Management in New York; and Justin, who works in a financial consulting group for C.B. Richard Ellis. They also have three grandchildren.