It's not always who you know. Sometimes it's where they're at. When fourth-year veteran defensive back John Booty became a Plan B free agent in 1991, his former coaches with the New York Jets were in Philadelphia. And soon, Booty was as well.
"(Head coach) Richie Kotite, (defensive coordinator) Bud Carson and a few other coaches were with the Eagles," said Booty. "There were some other teams that I had an opportunity to sign with, but I knew the coaching staff very well. They brought me in and (Kotite) said, 'We have a grand opportunity. This team is very talented. Defensively, these guys are relaxed and know how to play football. And we've got power on offense.'
"So I wrote down the teams that I was choosing from and I said it's a great opportunity for me to go to Philadelphia and be with the Eagles because I knew the staff and I admired the team."
Booty was joining a team with a secondary that featured a mix of young players like Eric Allen and more experienced veterans such as Andre Waters and Wes Hopkins.
"I enjoyed listening to and watching those guys," Booty said. "And what I really admired about their play was that they knew how to have fun. They knew how to play extremely hard and they knew how to put themselves in position by studying film and being on top of their game, knowing the game plan. So they fired me up coming off the bench as the nickel back and I said, 'I want to make something happen!' And they weren't afraid to share the knowledge to help put us in position to become the No. 1 rated defense in the league that year. That was a big plus, how these guys put themselves in position to make big plays or make big hits and help the team win."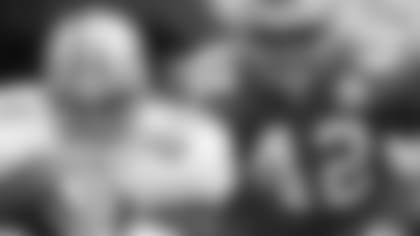 DB John Booty
The Eagles were 10-6 during Booty's first season and followed that up with an 11-5 mark and a Wild Card playoff berth in '92. But after beating New Orleans to secure the team's first post-season victory in 11 years, Philadelphia fell to the Dallas Cowboys, its division rival and that season's eventual Super Bowl champion.
"We had a sense that we were right there," said Booty. "It seemed defensively we were there. Offensively, we had Randall Cunningham and some power. But for some reason we just couldn't get over that hump. We beat the Cowboys (in the first regular-season meeting) and they came back and beat us (in the second meeting). We couldn't make those plays that we needed to in the playoffs. We came from behind to beat New Orleans, but we just couldn't pull it off (the following week in Dallas). There were just inconsistencies there."
After leaving the Eagles, Booty played three more seasons with the Cardinals, Giants and Buccaneers before retiring from the NFL and returning to Texas Christian University to earn his degree. He then owned and operated a health club in Largo, Texas, before heading to Maryland five years ago to work as a personal trainer and case manager at the Physical Therapy and Sports Assessment Center in Silver Spring.
"I do some training with athletes that need to get tutelage from an old pro like myself in physical fitness and how to work out, how to concentrate, how to control their bodies," Booty said. "And then we have athletes who want to get some extra work ... I will sometimes go off-site and take them on a football field and teach them how to come off the hash and how to control their bodies and how to run. And not just athletes, I've trained women who are in their 60s and young ladies that want to lose weight. I'll motivate them and put them through a workout.
"As a case manager, I call attorneys or insurance companies about our billing to generate and get the revenue to come in as quick as possible. I've learned to be a better communicator and be on top of my game with people because there are times when I talk with folks who may not be having a good day and they can take it out on you. That's the good thing about being a case manager, being able to communicate with people when they're not in the best of moods. Or if I'm training someone on the floor and feel like they're not having a good day, it's my responsibility to learn who they are and approach them and communicate with them so that we're really in this together."
Booty, the father of daughters Johne and Lisette, is putting his communication skills to good use in other ways as well.
"A gentleman by the name of Bill Denk and I have developed this business that's called Fantappers," said Booty, who is also completing an autobiography. "We talked to (NFL Films') Steve Sabol about it, talked to NFL Development about it. We're taking video of the guys who've played and we're putting an application on the iPhone and iPod Touch and we're building a virtual card. The fans can tap in and see their favorite player's highlights and the team or teams they've played for and get their stats and have it interactive where you can see what the players are doing now. And if they're available for speaking engagements, you'd see that. We're in the embryonic stages.
"And I'm an NFL analyst on a local cable station here in DC, News Channel 8. It's on during the football season once or twice a week, I'll be on talking about my take on what's happening, in particular with the Washington Redskins. But we'll talk about each team, what its highlights are."