In a roundabout way, Joe Scarpati traveled on a familiar path to the NFL. Successfully recruited out of high school by North Carolina State assistant coach Pat Peppler, Scarpati was recruited by the same man again four years later. Only this time Peppler was the personnel director of the Green Bay Packers.
"When I graduated from State [in 1964], he said, 'Why don't you come to the Packers as a free agent? I think you've got a shot to at least be one of the reserve defensive backs. And if it doesn't work out, usually other teams look at who we release,'" recalled Scarpati, who had been selected in the AFL draft by the Boston Patriots. "That was when [legendary coach Vince] Lombardi was there. So that's what I winded up doing, signing with the Packers as a free agent.
"I stayed with them during training camp, started the exhibition season and then got released and picked up by the Minnesota Vikings. Then I was the last cut at the Vikings' camp. But a defensive back had gotten injured on the Eagles and they picked me up. So I went from Green Bay to Minnesota to Philadelphia with the same suitcase."
Able to unpack his bags and stick around for a while, Scarpati played strong safety for the Eagles during his first season and collected three interceptions, one of which he returned 24 yards for a touchdown. He picked off three more passes the following year. And then after moving to free safety in 1966, he doubled those two previous seasons combined and led the Eagles with a career-high eight interceptions. The key?
"Well, we had a better team. In other words, in '64 and '65, we were a competitive team, but we didn't win a lot of games. In '66, we had some good defensive players and got good pressure that we hadn't gotten a couple years before that," said Scarpati, who recorded three interceptions during a 31-3 victory over the New York Giants on Oct. 23, and led the league with 182 return yards. "I became a free safety and kind of fit that position better.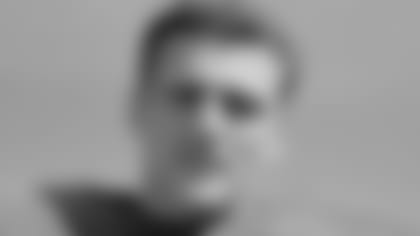 DB Joe Scarpati
"And we had a good offense that would hold their own. We were better on defense because of the offense controlling the ball better. We didn't give the ball up as much as we did in the past. A lot of times we made mistakes and we helped the other team beat us rather than the other team beating us by themselves. So we won nine ballgames that year out of the 14."
One of those victories came against the rival Dallas Cowboys on Nov. 6 at Franklin Field. It is a game that Scarpati will never forget.
"It didn't show up as an interception, but I stole the ball," Scarpati said. "Dan Reeves was a halfback for Dallas and they were moving the ball in the last couple minutes of the game and went into a double-wing. I played man-to-man against Reeves and he came in the slot and ran an out. They threw him the pass and I went over to make the tackle. He's running and gets to about the 10-yard line and another defensive back hit him and he went to avoid the tackle and stuck the ball out. The reaction naturally when you're the secondary tackle is to just go for the ball.
"You don't usually get it out, but in this particular case, I took the ball out of his hand and started running the other way and preserved the game, 24-23. I've still got that ball. That was a day when our offense did absolutely nothing. I think we had seven first downs. The 24 points were [from] two Timmy Brown kickoff returns, Aaron Martin had a punt return [for a touchdown], and we had a field goal. So it was kind of a big win for us in Philly."
The longest interception return of Scarpati's career occurred the following season when he picked off Dallas' Jerry Rhome in the Cotton Bowl on Dec. 10, and ran the ball back 67 yards for a touchdown. The Cowboys, however, won the game, 38-17.
Scarpati would collect six more interceptions over the next two seasons, totaling 24 for his career, before he was traded to the New Orleans Saints prior to the 1970 campaign.
"The only good thing about that was I was the holder of the ball for Tom Dempsey's [NFL-record 63-yard] field goal," said Scarpati. "I kind of inherited that job when I got to Philly [as a rookie]. Don Burroughs was the holder and he was the free safety. So when I moved to safety when he retired, they just gave me that holding-the-ball job, which is a thankless job, really. You don't get any extra money for it and you don't get any credit for it, only bad things can happen. But I held the ball the whole time I played."
After one year in New Orleans, Scarpati returned to Philadelphia in 1971 for his eighth and final season.
Scarpati and his wife, Angela, have remained in the Philadelphia area since his playing days and make their home in Marlton, NJ. They have two children: Joe and Stephanie; and two grandchildren.
Scarpati makes his living as a real estate developer/builder and is a licensed real estate broker, as well.
"I've built retail shopping centers, small strip centers, townhouses and single-family houses," said Scarpati, who is also a consultant for Central Parking in New York. "And I develop properties where I get the approvals for single-family houses or townhouses or apartments, and then sell them to other builders."