The author of the original "Miracle of the Meadowlands" explains his decision to jump back into the coaching ranks.
Nine years as an NFL analyst on ESPN didn't suppress former Philadelphia Eagles defensive back Herm Edwards' desire to become a head coach again. He had previously patrolled the sidelines for eight seasons: five with the New York Jets, 2001-05; and three with the Kansas City Chiefs, 2006-08.
He was named the head coach at Arizona State University last December.
"I knew that if the right situation presented itself, I was going to go back. And there were some that came about, but never interesting enough for me to go, 'Yeah, I'm going to leave.' This one was when you think about the vision," Edwards said.
"You know, you missed it. You missed being in the bubble. You miss the competition. You miss developing the young guys and the men. TV was great. Trust me; I loved every moment of it. But my competitive juices got going when I coached the Under Armour All-America (high school all-star) Game. Every time I coached one of those games, some of those kids would say, 'Coach, you need college football.' And I said, 'Well, the right opportunity maybe.' It came about, and here I am."
As a rookie in 1977, Edwards faced the difficult challenge of making the Eagles. They had drafted three defensive backs that year, and he wasn't one of them.
"My whole goal at that point was to make sure that every day in practice, I made a play," Edwards said. "Some kind of play where the coach would go, 'Hmmm. That guy's making another play.'"
Edwards made enough plays to not only make the squad, but earn his way into the starting lineup and tie for the team lead with six interceptions. He led the Eagles with seven the next.
"When you're a young player, people come at you," Edwards said. "The thing I think I could do probably the best, and it was just a talent that the good Lord blessed me with, was being able to catch. I mean, I could catch a football. So, most of the time, if the ball was in my vicinity, if I could get my hands on it, I was going to catch it.
"I never went to knock a ball down. I always went to catch it. That was something that I always prided myself on as a player."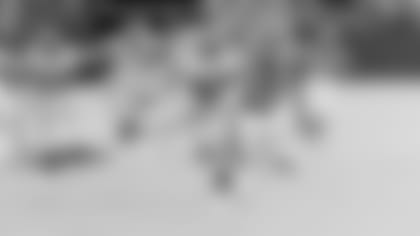 Besides collecting 33 interceptions during his nine seasons with the Eagles, another moment that Edwards had to be proud of occurred during the 1978 season with a play that became known as the "Miracle of the Meadowlands."
With only 31 seconds left in the game and the Eagles trailing by five, New York Giants quarterback Joe Pisarcik fumbled while trying to hand off to fullback Larry Csonka. Edwards picked up the loose ball and ran 26 yards for the touchdown. Philadelphia won, 19-17, but more importantly, it helped propel the team to its first winning season since 1966 and into the playoffs for the first time in 18 years. Two seasons later, the Eagles beat the Dallas Cowboys for the NFC Championship. Unfortunately, they fell to the Oakland Raiders in Super Bowl XV.
And now 37 years after that Super Sunday, Edwards is facing his next test at Arizona State.
"I think the biggest challenge for me when you come back to coaching is the players," Edwards said. "People say the millennials, they're a different kind of players. Look, all players want to be coached in the matter of, 'Can you make them better?' That is something I strive to do. And I think that any player I've ever coached will tell you that. So, that wasn't so difficult. I think the recruiting part of it is different than when I was at San Jose State (1987-89 as a defensive backs coach).
"Recruiting is year-round. Not in my wildest dreams did I ever think I'd be looking at a kid that's leaving the ninth grade, going into the 10th grade, and going, 'Ah, we may have to offer (a scholarship to) this guy,' And the thing that I laughed about, especially our first signing day, was you sit here and go, 'My whole life for the most part in pro football, 30 years, we always drafted players. Now they pick you! You don't get to pick them.'"
So, what does Edwards hope that his players will take away from being on his team?
"If they don't leave here as better men, I've failed them," Edwards said. "I think the experience of football is a lot like life. There's a lot of things you learn from this game of football, and if you use those to your advantage, you'll be successful. And I've always told them this, 'Use football. Don't let football use you. Let football be your vehicle.'
"When you think about what's required out of these guys, there's a lot on the table. They're student-athletes first, and I never lose sight of that. You want guys to walk out of here with a degree. If they have the aspirations and the talent to be a professional athlete, they'll be coached that way. They're going to be coached like their professionals, but they're going to be mentored like they're young men."