It's not how you start; it's how you finish.
Jamaal Jackson began in 2003 as an undrafted free agent center who was placed on the Eagles' practice squad. Nine years later, he left the game as a five-year starter with 93 career games under his belt, including playoffs.
Coming out of Delaware State, Jackson chose to sign with Philadelphia because, well, he was in the neighborhood.
"I was a local guy, I guess you could say, by playing my college ball at Delaware State," Jackson says. "It was an opportunity that I felt was hard to pass up. I kind of wanted to be close to an area that I was familiar with, coming from Miami. They had a couple of scouts come down and they offered me a contract."
The Cowboys tried to do the same only a few weeks into Jackson's stint on Philadelphia's practice squad.
"Dallas contacted my agent and they wanted to put me on their active roster. I stayed with the Eagles because (Offensive Line Coach) Juan Castillo, he kind of did some persuading," Jackson laughed. "Just kind of telling me that the system would be new and I've been here for one offseason and one Training Camp and that he just needs a little bit more time with me.
"I trusted him. So, that was pretty much that. He kind of persuaded me on staying because of my familiarity. I didn't want to be trying to learn two different offenses in one year."
The one year on the practice squad was followed by one year on Injured Reserve after he suffered a torn triceps muscle during the 2004 preseason. That, however, offered Jackson an extended chance to learn Philadelphia's offense and about life in the NFL before he was actually able to play.
"It gives you the opportunity to learn from the older guys and sit back and watch how people carry themselves at a professional level. I was injured that second year and at a crossroads," Jackson says. "I didn't know what was going to happen the following year. And being an undrafted guy, you don't get too many opportunities to show your worth. So, being injured in that second year after being on the practice squad that first year, it was the path less taken, so to speak."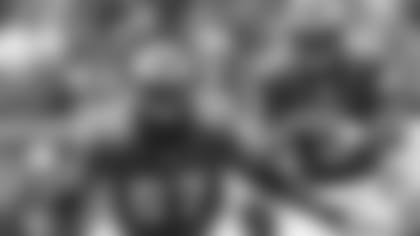 Jackson's path to playing during the regular season was reached midway through the 2005 campaign. After being inactive for the first eight games, he stepped into the starting lineup for an injured Hank Fraley when the Eagles hosted the division-rival Cowboys before a national TV audience on Monday Night Football.
After everything he went through, did Jackson have an aha moment when he stepped onto the field at the Linc?
"I wouldn't say it was an aha moment. It was a, 'What the hell is this moment,'" he said with a laugh. "I wasn't prepared for it at all. Monday night, my first start, it was nerve-wracking. But after the first snap, it's football. Ultimately, my first snap was a false start. First start, Monday night, my first play in the National Football League. It was a false start."
Things, of course, got better for Jackson, and he became a fixture at center for the next four seasons. But after suffering another torn triceps in the 2010 season opener, Jackson concluded his time with the Eagles following the 2011 season.
In 2012, Jackson chose to attend the Giants' rookie minicamp on a tryout basis, but ...
"At the end of the day, I just looked at it as I was a guy who not a lot of people expected me to make it to the NFL, and that's fine. I always had a dream and a vision for myself to compete at the highest level of professional football, which I did," says Jackson, who retired after 77 starts, including playoffs, for the Eagles.
"I'm just thankful that for the opportunity that Mr. (Jeffrey) Lurie, Coach (Andy) Reid, and ultimately, Juan Castillo gave me. So, I have no regrets about my playing days and the retirement. I actually had a blast."
Jackson, who makes his home in South Jersey with his wife, Daira, and their seven children, is still having a blast as an Eagles postgame analyst on SportsRadio 94WIP.
"I've been doing it ever since I retired," Jackson says. "I like to talk football. My biggest thing was trying to pick up blitzes and strategizing. People think that the game is the most rewarding part, but for a guy like me who, my job was to pretty much be the quarterback of the offensive line, it's trying to figure out defenses and trying to find holes in coverages.
"It's a way for me to stay involved with the team and with football in general because once you leave the game, it's kind of hard to get back in it. So, just being in it from afar, that's good enough for me."