Brian Westbrook undoubtedly will spend part of the next few months down on his horse farm in Maryland. Don't worry, this thoroughbred is not ready to be put out to pasture. He just needs some time to relax and recuperate from a season that really took a toll on him physically.
Battling an assortment of injuries, notably those to the ribs, ankle and knee, Westbrook just wasn't himself for much of the 2008 season.
"It was disappointing," said Westbrook at the end of the season. "It didn't go the way I wanted it to. Every player in the NFL battles injuries at some point in their career or their season and I tried to cut through those things and tried to help this team win, but some games were better than others."
Westbrook's numbers themselves in the regular season were down. For the first time since 2006, he failed to crack the 1,000-yard rushing barrier. He was limited to just 233 carries, his lowest number since injuries stunted his 2005 season to 12 games and 156 carries. He also caught just 54 passes, the fewest for him since the 2003 campaign. Perhaps the most alarming drop in his numbers was the yards per catch: 7.4 yards on average. That is a total nearly 3 yards off his career best of 10.1 yards, set in 2005, and is the lowest total of his career.
Westbrook averaged 4.0 yards per carry in 2008 and he contributed nine touchdowns on the ground and another five touchdowns receiving, and there were times when he was absolutely electrifying. But as the team came down the stretch, Westbrook practiced very little, if at all, during the week. Sometimes, it didn't matter, like when he rushed for 131 yards and a touchdown and caught six passes for 72 yards and a score in the December win over the Giants. Following that game, though, Westbrook had the following numbers: 16 carries, 53 yards against the Browns; 12 carries, 45 yards against the Redskins; and 13 carries for 50 yards in the blowout win over Dallas.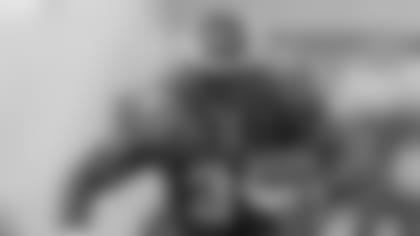 Westbrook's coaches and teammates believe he wiil be all the way back in '09
In the postseason, Westbrook delivered one of his trademark back-breaking plays when he took a screen pass and zig-zagged 71 yards for the game-clinching touchdown against the Vikings. But as the playoffs concluded for the Eagles, Westbrook's three-game totals were not close to his normal standards: 50 carries, 119 yards and zero touchdowns to go along with seven receptions for 119 yards and the score in Minnesota.
"I think what happened with Brian was he had the high ankle sprain (against the Steelers, Sept. 21) and that's where things went south for him a bit," head coach Andy Reid said. "And those last a long time, especially at that position. I thought he looked and ran as well as he had run in the last month or so. He just looked like he had some zip (against the Cardinals) and really was playing well."
Seventy-one yards of offense - 45 yards on 12 carries and two receptions for 26 yards against Arizona - is not exactly a typical Westbrook output.
Still, when he was on the field Westbrook gave it 110 percent and then some. And though his numbers weren't always there in 2008, the potential threat of number 36 commanded the attention of opposing defensive coordinators.
"Twenty-two eyes on 36," former Giants defensive coordinator and now Rams head coach Steve Spagnuolo preached to his players before the Eagles-Giants divisional playoff.
Westbrook's 2008 campaign, and how he figures into 2009, has to be front and center for the team's coaches and personnel people. The ground game ranked 22nd in the league, and the short-yardage success was sporadic and the red-zone running wasn't nearly as productive as the Eagles need it to be. The success or lack thereof does not fall squarely on Westbrook's shoulders. There are more than Westbrook's injuries that hampered the Eagles' running game this season. Dan Klecko was new to the fullback position and the offensive line had its ups and downs creating running lanes each week.
"We did a lot of good things this year, so in that aspect of course it's a success," Westbrook said. "We didn't achieve our ultimate goal, which was to win the Super Bowl. We fell a little bit short. We fought as a team, we came together as a team, we just didn't play well enough to get to our ultimate goal."
In early September, Westbrook will turn 30, an age when some running backs historically fall off the NFL map. Reports indicate that Westbrook had knee surgery following the season, but the Eagles have not made any official announcement. The Eagles did allow Westbrook's backup, Correll Buckhalter, to sign with the Denver Broncos.
Yet his head coach firmly believes that Westbrook can return to the Pro Bowl form he showed in 2007, when he led the NFL with 2,104 yards from scrimmage.
"I think Brian will have a good off-season and he'll come back ready to go," said Reid. Left guard Todd Herremans agreed: "He just needs a little R&R. It's been a long season."
Questions about Westbrook's durability have been raised since the former Villanova standout came into the league and emerged as the team's do-it-all back.
Although he has yet to make it all the way through a season without missing at least one game due to injury, the 5-10, 203-pound Westbrook appeared to silence his critics in 2007 with one of the best seasons by a running back in Eagles history as he broke franchise records in receptions (90) and yards from scrimmage (2,104), while also leading the NFL in that category. Westbrook was named as a starter to the NFC Pro Bowl squad and also earned a first-team Associated Press All-Pro selection, becoming the first Eagles running back to receive that honor since Wilbert Montgomery did so in 1979.
Last August, Westbrook inked a six-year contract extension that will keep him in Philadelphia through 2013. Westbrook is one of the very best running backs in the game when he is healthy. There is no argument there. He remains the catalyst for the team's ground game, which must be better in 2009.
Meanwhile, Westbrook continues to rewrite the franchise record books. With a 203-yard game at the Giants in December, Westbrook surpassed Harold Carmichael to become the franchise leader in scrimmage yards with 9,330. With 36 yards in the playoff win over the Giants, Westbrook surpassed Montgomery (518) to become the franchise leader in postseason rushing with 546 yards in his career.
The numbers are remarkable for someone who takes so much abuse. And he is far from done.