Over a year in the works, Cheer Tyme's Team Inspiration dreams came true. Eagles Cheerleaders recently brought their poms and team spirit to Mechanicsburg, Pennsylvania, to host a surprise cheer clinic for the cheerleaders on Team Inspiration. The Inspiration cheerleaders' smiles grew when they saw Eagles Cheerleaders walk into their gym.
"Being a part of Team Inspiration's practice was a night I will never forget. A sense of belonging was immediately felt. From the very moment our team walked in, we were surrounded by such positive, eager, and hardworking cheerleaders. As I led the team through a warm-up and stretch, I looked around the room, seeing a smile on every child's face," Eagles Cheerleader Lucia Petrongolo said. "One special moment was interacting with one of my new non-verbal cheer friends. I danced next to her, and her poms did all the talking as she cheered the night away! I am grateful I was given this incredible opportunity which will forever leave an imprint on my heart."
Team Inspiration is a cheer-ability squad at Cheer Tyme's gym. Cheer Tyme started the competition team a couple of years ago to give children with intellectual disabilities an opportunity to be a part of cheerleading like any other child. Not only does Team Inspiration provide these cheerleaders with a fun extracurricular activity, but it also allows the parents to watch their child grow.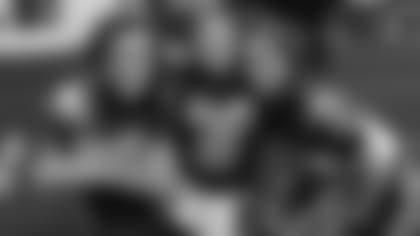 "To my daughter, it's been the world, and to me, it means everything. It's the improvements from her social skills and friendships to everyday things. She used to be scared of the dark and loud noises, and cheer competitions are super loud and half the time in the dark with the lights on the team," said Matthew Fagan, team dad for Team Inspiration. "Now, she doesn't freak out over stuff like that anymore. She's improved dramatically through this program."
"Team Inspiration truly is appropriately named for all of the outstanding athletes and staff they have as a part of their team. They are inspiring. The atmosphere was filled with so much positivity, support, and care, which is synonymous with our organizational values as we always aim to create an environment of inclusion," added Eagles Cheerleader Christine Deskovic. "In addition to being an Eagles Cheerleader, I am also a gymnastics instructor, and I was able to combine my love of children, teaching, and dance working with Team Inspiration on this night. My favorite moment was when I gave a pair of poms to one of the young cheerleaders I met there, and she asked if she could keep them. When I replied, 'Yes, of course, they're a gift for you!', her face lit up and it showed just how excited she was to be a cheerleader. Those moments are priceless."
The cheer clinic lasted for an hour and a half, as Eagles Cheerleaders taught them cheers and displayed their dance routines. The Eagles Cheerleaders were more than ecstatic to work with such an inspirational team.
"They showed up on the bus, and I can tell you the kids' reactions were just amazing," Fagan said. "These kids, you see them run around; it looks like they're just running around like mad but having fun the whole time. We kept it a surprise for our cheerleaders. They all sat down, the Eagles Cheerleaders came in, and their eyes and faces just lit up. My daughter asks me every Monday if the Eagles Cheerleaders are going to be at practice."
"It was incredibly rewarding to experience the team spirit, positive energy, and sense of community at Cheer Tyme with Team Inspiration. Watching them perform gave me a feeling of pride to see how confident they were. We felt all the love and inclusion from the cheerleaders and their families. These young athletes are so inspiring and have made a tremendous impact on not only myself and my teammates, but also their community," expressed Eagles Cheerleader Mya Sims. "They taught us many things about life. One of my favorite memories of the night was bonding with my new friend, Dennis. He was so excited to interact with SWOOP and learn about gameday from us. I'll never forget his big smile and how thrilled he was to learn. He also presented a handmade poster to us from Team Inspiration. We now keep that poster in the Eagles Cheerleaders locker room at Lincoln Financial Field so that we can look at it and be inspired by each game before we take the field!"