Following his senior season at the University of Cincinnati in 2005, Trent Cole battled not one, but two, bouts of pneumonia while preparing for the Senior Bowl and the NFL Scouting Combine.
"I got sick from training so hard and I lost a lot of weight," says Cole, who announced today that he will retire as an Eagle on Christmas night when he's set to be the Honorary Alumni Captain presented by Santander. "I went to the Combine and I couldn't participate. I was so sick that I couldn't focus. It was so bad that when I went to the meetings they told me just to go back to the (hotel) room and take care of myself."
A two-time All-Conference USA defensive end, Cole's draft stock dropped along with his weight. He was chosen by Philadelphia in the fifth round with the 146th overall selection.
"It didn't matter who I was going to, it was just great to have the opportunity to start somewhere in the NFL. And getting picked by the Philadelphia Eagles, I was ecstatic," says Cole, who estimates he lost 35 pounds from his illnesses. "Going through the process of the draft, anybody who has been in the NFL and had the opportunity to get drafted knows the feeling on that day, just the nervousness. Your life is going to change that day. You don't know what's going to happen.
"You think you're going to go on the first day and then you go on the second day because different things were supposed to happen. Some people didn't get who they wanted and things change. You're nervous, but at the same time, when you get drafted it was like, 'Oh, man, this is awesome. I'm getting the opportunity to go play in the National Football League.' As a kid, I was the type of guy that didn't really watch football and now here I am. I'm playing football for the Philadelphia Eagles. It's crazy."
Becoming a mainstay at defensive end beginning midway through his rookie season, Cole earned two trips to the Pro Bowl and the solid reputation of playing with seemingly limitless heart and energy on every play. His relentless work ethic was widely respected by players, coaches, and fans alike.
"When I'm lining up against somebody, I'm not worried about him, I'm in competition with myself. I'm not in competition with an opponent," says Cole. "I remember when Chip Kelly (became the Eagles' head coach in 2013) saying something like, 'We won the war, but we have to win the battle.' And when he said that, I already had that mentality and it kind of brought me back to where I come from and coming into the league and playing football, in general.
"I was always a tougher guy from grade school, all the way through high school to college to the NFL. I competed against myself. I was going to see how far I could take myself. I wanted to be successful as much as I can and there was no limit to how much I could be successful. That was just something that was instilled in me.
"That's how I thought. Every day's a new day. Every game's a new game. If I did good this game, OK, I'm going to outdo what I did this game going into the next game and try to outdo that performance."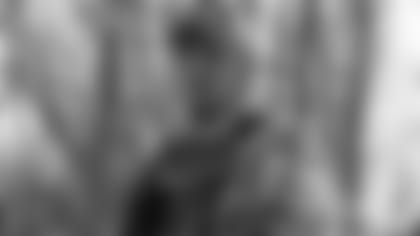 Cole would play 10 seasons for the Eagles from 2005-14, eight at defensive end and two at outside linebacker, and record 85.5 sacks, good for second most in franchise history behind Pro Football Hall of Fame defensive end Reggie White. He also had one interception, a pick-six in 2006 off of New York Giants quarterback Eli Manning, which he returned 19 yards for a touchdown.
What makes Cole, who spent the 2015 and 2016 seasons with the Indianapolis Colts, most proud of his NFL career?
"As a person playing ball, I'll never be satisfied," says Cole. "I'm going to move on to the next thing. It was a great career, but it just doesn't stop there. Being successful is never going to stop me. I'm not going to stop being successful. I'm going to go on to the next thing and try to be successful."
One of the next things is actually something Cole has been doing most of his life – hunting. He is a co-host of the national television outdoor hunting show called Blitz TV outfitted by Cabela's. It airs on Destination America, the Pursuit Channel, and the Hunting Channel.
"We hunt all over the United States and in Canada," says Cole, whose work can also be found on Coleoutdoors.com. "We're really big into hunting for white-tail deer. And we do hunt other game. We hunt bears, elk, almost all of America's big-game animals that there are. We're an outdoor show that shows normal people who work regular jobs and balance hunting with their jobs and family.
"We pretty much educate the viewers in different things and a lot of them can relate and we want them to relate. That's how we built this show, so people can relate. It helps them out with what they're doing out on the field and try to help them be successful, as well."