*Welcome to The Big Question. Every Monday during the offseason, Dave Spadaro, Chris McPherson and Bo Wulf will debate one of the hot topics surrounding the Philadelphia Eagles. We invite fans to continue the discussion in the comments section. Enjoy ...  *
CM: Last week, we delved into rumors. Let's look ahead to the 2015 season with an eye on the young players on this Eagles roster. Which of those players do you think takes an important step forward to make a bigger impact on the team in the upcoming year?
DS: I'm really excited about this young roster. I think the Eagles have a chance to have an impressive wave of younger players take that next, very crucial step into the category of "impact" players. I'll begin on offense. Tight Zach Ertz wasn't as involved in the pass-catching game as many expected until later in the 2014 season, and I think in 2015 he gets to the next level. He's improved as a blocker, but he's really not on the field for that, anyway. He's on the field to create matchups. And the Eagles, I think, are going to take more advantage of what he does well. They saw what New England did with Rob Gronkowski throughout the 2014 season and in the Super Bowl, and I expect a lot of Ertz moving around the formation, getting down the field and making big plays in the passing game.
He's heading into his third season and I think we're going to see Ertz blossom. He'll be bigger, stronger, faster and wiser in '15. Look for him to be a go-to weapon from Week 1 this season.
BW: I think there are a few different levels of "jump" you can expect a player to make. On the good-to-great front, in the mold of what Fletcher Cox did this season, the two obvious answers are Ertz and Lane Johnson. Unshackled by the prospect of a four-game suspension, Johnson will be counted on to help carry this offensive line into the future. He and Jason Kelce are the only members of the starting five under 30, so he'll carry a lot of responsibility over the next few seasons.
For a player jumping from bit player to solid contributor, my focus is on Josh Huff, who showed his explosiveness and willingness to dish out contact in his rookie season. I like Jordan Matthews just as much as the next guy, but I actually think Huff can be the more dangerous of the two in the open field and I'm interested to see what Chip Kelly draws up to utilize Huff's talents this season.
Finally, I think Jaylen Watkins is the obvious candidate to go from non-entity to contributor in 2015. With a secondary that could see some turnover this offseason, Watkins will have every opportunity to force his way into the rotation.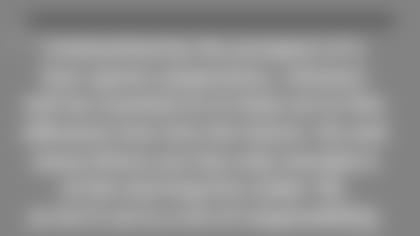 CM: This is a fascinating topic because there are so many different ways you can go with this.
I'll start with Bo's good-to-great discussion and throw my vote in for nose tackle Bennie Logan. I will agree with Bo's notion that Ertz and Johnson are the two obvious candidates, but it seemed each week this past season Logan was wreaking havoc in the backfield. I was actually surprised when I saw that he had only three tackles for loss during the season. He certainly was a catalyst for the defensive line's outstanding play.
As for the jump, let's face it, all eyes will be on last year's first-round pick Marcus Smith II. Physically, he has all of the tools. He played 3-4 outside linebacker at Louisville so it was easier to project how he would play in this defense. Would we have liked to have seen more from him as a rookie? Sure. But with Trent Cole, Connor Barwin and Brandon Graham, he wasn't expected to be counted upon as a rookie. He had a chance to learn, hone his craft. I can't wait to see what he looks like come April when the players return for the start of the offseason workout program.
BW: Also put me down for interest in the improvement of Taylor Hart, coming off his "Feeley." Stuck behind a remarkably healthy and productive defensive line, Hart never got a chance to see the field in the regular season, so we'll see how much help a year in the weight room will be for the former fifth-round pick. As much as the defensive line rotates, though, if Hart works his way into the rotation, he'll see plenty of playing time.
CM: I'm scanning the roster, looking at the players who are currently 25 years or younger, to see if there's anyone else who could become a more integral part of the team in 2015. I'm looking at the offensive linemen other than Johnson like Matt Tobin and Josh Andrews. Can one of them solidify the depth behind the starters? The other name on offense I'll note is Chris Polk. He has a hard-nosed running style with a nose for the end zone. He wasn't healthy all of the preseason and it seemed to linger throughout the year, but he still made plays when called upon.
Defensively, there are two other linebackers to watch. One is Travis Long, who showed promise last preseason before an unfortunate ACL injury ended his year. Then, there's also Najee Goode, who would have had a prominent role a year ago if it wasn't for his season-ending injury.
DS: OK, so now that virtually everyone under 25 on the roster has been named, let me throw this name out there: Cornerback Brandon Boykin. He enters his fourth season, part of that 2012 draft class that has proven so productive with Fletcher Cox, Mychal Kendricks, Vinny Curry, Nick Foles and Dennis Kelly. Boykin had such a brilliant 2013 season and then didn't get his hands on as many passes in 2014, but I wonder if new defensive backs coach Cory Undlin will see if Boykin can play a more substantial role in the secondary. He's athletic, he's a playmaker and the Eagles need to be better at the cornerback - both outside and inside - in 2015. What if Boykin moves outside and challenges for playing time and Watkins proves he can handle the slot? Would that be an upgrade?
CM: Spuds is piloting the Boykin bandwagon. That would be brilliant Wulf's Den Photoshop job. Bo? It is a good perspective to view Boykin as someone who can still make a jump even though he was tied for second in the NFL in picks just two years ago. I wonder if the mere notion that Boykin could compete for an outside job would be a boost to him this offseason?
BW: I don't think bandwagons have pilots, they have drivers. But is anyone going to throw some love at Jerome Couplin III as we continue to look for answers at safety?
DS: Couplin is a player to watch, but I have no idea of his baseline. He's got size and some NFL experience and the presumption is that he'll know the scheme in the spring, but the kid hasn't suited up other than on the scout team in practice. I'll hold off on him. Excited to see him, but I don't know what to expect.
DS: And on that note, I'll say goodbye to this The Big Question. Good chat, fellas. I think we all agree that there are quite a few young players poised to take the next step, whatever that step may be. What a boost it would be to have a good percentage of these players step up their games and make this roster more competitive as the Eagles look to get back to the top of the NFC East and the NFC.