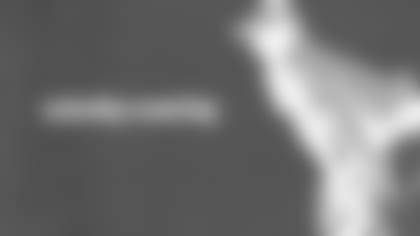 One of the first things NFL scouts do when looking at draft prospects in the spring in preparation for the NFL Draft is watch them against the best competition they faced in the previous season. How did a wide receiver fare against the best cover corner on his schedule? How did a pass rusher do when he faced a top-flight left tackle? How did "Quarterback X" perform against the best defenses he faced? This fall we're going to take a look at the best head-to-head matchups in each week's slate of college football games, and give fans a preview of the top names around the country in the process.
Another week, another set of matchups as the college football season continues. With a number of high-profile matchups on this weekend's slate, there are prime-time players who will have one-on-one battles that will help evaluators place grades on players in the offseason. This week on the Eagle Eye in the Sky Podcast, I spoke with Virginia Tech beat writer Andy Bitter about some of the top players on the Hokies' roster, focusing specifically on their character evaluation. On the College Draft Podcast with Ross Tucker, we broke down the top matchups in the top SEC game of the week, Florida vs. Tennessee as well as the top Pac-12 contest on Saturday, Oregon vs. Utah. Who else should you keep an eye on around the nation? Let's take a look.
1. Mississippi State QB Dak Prescott vs. Auburn Defense
Jordan-Hare Stadium, Auburn, Alabama - 7:30 PM - ESPN 2
One of the preseason favorites for the Heisman Trophy, Dak Prescott hasn't put up the gaudy numbers to this point that he did a year ago. Mississippi State still sits at 2-1 with a lot of football left to play in the SEC West. Mostly known for his ability to make plays with his legs, Prescott has a solid arm and is able to drive the football with velocity to any part of the field. A big kid with a quick release, Prescott shows a lot of faith in his receivers on 50/50 passes and makes a lot of back-shoulder throws to the perimeter. He'll have an opportunity to further boost his stock on Saturday against an Auburn Tigers program that is on the brink of being knocked out of the SEC title picture altogether.
New defensive coordinator Will Muschamp is regarded as one of the best defensive minds in the game, but the Tigers will potentially be without their most talented player in edge rusher Carl Lawson (hip injury). Even with Lawson on the sidelines, there are a number of upperclassmen who have NFL talent on the roster. Up front, junior college transfer DaVonte Lambert is a penetrating 3-technique defensive tackle who has the first-step quickness to consistently play on the opposite side of the line of scrimmage.
The secondary has a pair of talented, but undersized, corners in Jonathan Jones and Blake Countess (a Michigan transfer). The deepest part of this defense though, in my opinion, is the linebacking corps. Senior Kris Frost is instinctive, has good size and is a solid tackler. Cassanova McKinzy, at 6-2 and 264 pounds, is a thumper in the middle who can play downhill as well as any linebacker in the conference. With the zone read being such a big part of what the Bulldogs do offensively, McKinzy and Frost will play a big part in the Auburn game plan.
2. Toledo RB Kareem Hunt vs. Arkansas State Defense
Glass Bowl, Toledo, Ohio - 7 PM - ESPN 3
Likely the best player in the MAC this year, Kareem Hunt is a player you'll start to hear about when those mid-week "Maction" games start on ESPN later this fall. Hunt, who missed the first two games of the season due to suspension, returned last week against Iowa State and carried the ball 24 times for 129 yards, good for 5.4 yards per carry. At 5-11, 215 pounds, Hunt has a playing style similar to that of Giovani Bernard of the Cincinnati Bengals. He's got great quickness and lateral agility, and he's a true playmaker with the ball in his hands. He wasn't on the field for the Rockets' upset over Arkansas, but he'll surely be in the spotlight taking on an Arkansas State defense that is 101st in the country in stopping the run at 4.9 yards per attempt this season.
3. Auburn WR Duke Williams vs. Mississippi State CB Will Redmond
Jordan-Hare Stadium, Auburn, Alabama - 7:30 PM - ESPN 2
It's been a slow start for Duke Williams so far in 2015. Though some of it may have to do with very inconsistent quarterback play (opening day starter Jeremy Johnson was benched this week), Williams missed part of preseason camp due to a suspension and more time due to injury. Through three games, Williams has caught seven passes for 81 yards and a touchdown. At this time last year, he had 21 catches for 324 yards and two scores. Williams has good size at 6-2, 224 pounds and knows how to use it, creating separation at the catch point and winning in contested situations. With a new quarterback in the lineup for Auburn, it could be time for Williams to shine for this offense.
Perhaps one of the most talented defensive backs in the SEC, Will Redmond has good size at 5-11, 185 pounds and outstanding athleticism. According to his bio page, Redmond runs in the 4.38 range in the 40-yard dash, posted shuttle times of 6.50 and 3.92 (both very strong in regards to Combine testing numbers) and can vertical jump 35 inches. Those athletic traits transition to the field, where he can match up man to man with anyone in the country. Despite his physical skill set, Redmond entered the 2015 season with exactly zero starts on his résumé, although he was a big factor for State in its nickel package. Winning matchups against players like Williams will go a long way toward his draft placement next spring.
4. TCU WR Josh Doctson vs. Texas Tech CB Justis Nelson
Jones AT&T Stadium, Lubbock, Texas - 4:45 PM - FOX
After being left out of the playoff picture a year ago, TCU has a lot to prove in 2015. They lost a number of their defensive stalwarts from last fall, but on offense they return quarterback Trevone Boykin, running back Aaron Green and wide receiver Josh Doctson. At 6-3, 193 pounds, Doctson made a number of highlight-reel grabs last year down in the red zone because of his body control and strength at the catch point. There are a lot of areas where Doctson can improve including with his releases, route running and vision with the ball in his hands. He's still going to be one of the better "X" receiver targets in the upcoming NFL Draft from the senior class.
Doctson will see some reps against Texas Tech corner Justis Nelson, a player whom I have yet to study closely but has flashed every time I've seen the Red Raiders play. He's got outstanding size and length at 6-2, 177 pounds. It was this matchup last year against TCU where I first noticed Nelson because of his ability at the line of scrimmage in press situations. He's big, physical and has the exact frame that personnel departments are looking for around the league. I'm very excited to study this matchup as the draft process unfolds.
5. East Carolina TE Bryce Williams vs. Virginia Tech EP Dadi Nicolas
Dowdy-Ficklen Stadium, Greenville, North Carolina - 3:30 PM - ABC, ESPN2
At the tight end position, there are a number of really talented underclassmen, but the senior class is very much up for grabs in terms of the top spot. Bryce WIlliams from ECU is certainly in the conversation. He's got the size (6-5, 250 pounds), quickness (reported 4.24 in the short shuttle) and position versatility that can go a long way for an offense. Williams lines up all over the formation for the Pirates, and he has the speed to get down the seam and stretch the middle of the field. He's got solid hands and ball skills, and shows the ability to go up and win on those fade passes down in the red zone.
Williams, at times, will be matched up on one of the best senior edge rushers in Dadi Nicolas. The senior edge player group is not particularly strong this year, but Nicolas is a legitimate prospect, possessing that first step quickness, short-area burst and flexibility turning the corner that makes a dynamic pass rusher. Nicolas certainly has the length and athleticism to match up with Williams both in the run game and in the pass game, and watching them do battle on Saturday will be fun to see.
Fran Duffy is the producer of "Eagles Game Plan" which can be seen on Saturdays during the season. Be sure to also check out the "Eagle Eye In The Sky" podcast on the Philadelphia Eagles podcast channel on iTunes. Prior to joining the Eagles in 2011, Duffy was the head video coordinator for the Temple University Football team under former head coach Al Golden. In that role, he spent thousands of hours shooting, logging and assisting with the breakdown of the All-22 film from the team's games, practices and opponents.