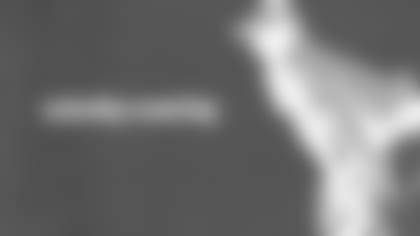 One of the first things NFL scouts do when looking at draft prospects in the spring in preparation for the NFL Draft is watch them against the best competition they faced in the previous season. How did a wide receiver fare against the best cover corner on his schedule? How did a pass rusher do when he faced a top-flight left tackle? How did "Quarterback X" perform against the best defenses he faced? This fall we're going to take a look at the best head-to-head matchups in each week's slate of college football games, and give fans a preview of the top names around the country in the process.
While the 7-0 Temple Owls continue to set the college football world on fire, there are other teams that I can analyze this week because there's more than a few big-time one-on-one matchups where NFL Draft prospects can improve their stock. This week on the Eagle Eye in the Sky Podcast, I spoke with our good friend Tony Pauline from DraftInsider.net to get the latest draft buzz from around the country, so you don't want to miss that. And this week on the College Draft Podcast with Ross Tucker, we broke down five matchups in five different games after discussing all of the top names in Thursday night's Cal vs. UCLA contest. So, who else should you be watching? Let's take a look.
1. USC QB Cody Kessler vs. Utah Defense
Los Angeles Memorial Coliseum, Los Angeles - 7:30 PM - FOX
Entering the season, there were some analysts who viewed Cody Kessler as potentially the best senior quarterback in the class alongside Michigan State's Connor Cook. My guess would be that even those few would not share that opinion at this point in the 2015 season. Kessler is a bit undersized at 6-1, 217 pounds. His arm leaves most wanting more, but his ability to accurately deliver the football, even in a muddy pocket, was his calling card a year ago for the Trojans. A disappointing season where many thought USC may contend for a playoff berth hasn't netted the same results, while questions about Kessler's upside have grown louder. He will face a stiff test against a Utah defense that forced five interceptions from the golden boy of the Pac-12, Cal's Jared Goff, two weeks ago.
Kessler will be getting a bit of a break in that senior linebacker Jared Norris, arguably the top pro prospect for the Utes this year, is likely to miss the game. Still, he'll have to contend with the likes of squatty pass rusher Jason Fanaika, the athletic linebacker Gionni Paul and senior safety Tevin Carter, one of the team leaders in tackles. This is a fast, aggressive unit, and they'll aim to give Kessler trouble all night long out west.
2. Tennessee WRs Marquez North/Von Pearson vs. Alabama DBs Cyrus Jones/Eddie Jackson
Bryant-Denny Stadium, Tuscaloosa, Alabama - 3:30 PM - CBS
Tennessee has one of the best stables of pass catchers in the SEC, and while some of them (such as sophomore Josh Malone) aren't draft eligible, there are others who may hear their names called next April. Senior Von Pearson has caught just eight passes on the year and hasn't reached the end zone, but had a lot of preseason hype as the leader of this group of wideouts as the elder statesman. Junior Marquez North has good size at 6-4, 224 pounds, and has the build of a prototypical X receiver in the NFL. He's got strong hands, is tough to bring down in the open field and is a pretty reliable route runner for a college receiver. If you're looking way down the line, the names to know are Malone, Preston Williams and Josh Smith - this is truly one of the deepest groups of receivers in the country.
That group of wideouts has a stiff test on Saturday in the form of the rebuilt Alabama secondary. Another unit leaning on underclassmen (freshman Minkah Fitzpatrick had two pick-sixes a week ago against Texas A&M), there are two draft-eligible players who I want to focus on. Senior cornerback Cyrus Jones, a former wide receiver who played hurt for a majority of 2014, is the leader of this group. A smart, competitive player built in the mold of most Nick Saban-coached defensive backs, Jones isn't a top-level athlete, but he's a good run defender, displays good awareness in coverage and has good hands at the catch point. The big knock on him will be his long speed and his ability to play with his back to the quarterback and find the ball late. He'll have a chance to answer some of those questions against the Vols' talented group of receivers. I also want to mention converted cornerback Eddie Jackson, who made the move to safety this offseason and has fit in nicely on the back end. Jackson is a superior athlete to Jones, and has the size and length that NFL teams covet. An aggressive player who isn't afraid to come downhill and lay a hit on a ball carrier, Jackson covered tight ends a year ago as a corner. He does so once again this year, but you can count on him getting matched up down the field with some of these Tennessee receivers on multiple occasions on Saturday afternoon.
3. Arkansas TE Hunter Henry vs. Auburn LBs Cassanova McKinzy/Kris Frost
Razorback Stadium, Fayetteville, Arkansas - Noon - SEC Network
Regarded as one of the best tight ends in the country, junior Hunter Henry has NFL size at 6-5, 250 pounds. He's actually pretty far along as a route runner for being 20 years old. Lining up all over the formation, Henry has the speed to get down the seam and run past linebackers. Henry has strong, reliable hands and is useful as a blocker in the run game, though he could get more consistent in that area.
Henry will be matched up a number of times on a pair of Auburn linebackers in Cassanova McKinzy and Kris Frost. In my eyes, Frost is the more talented of the two. He is second on the team with 54 tackles this year. At 6-2, 244 pounds, Frost displays solid instincts and has been a reliable tackler throughout his career with the Tigers. A decent athlete who has the motor to play sideline to sideline, Frost uses his hands well to keep himself free on the run to make plays on the football. At 6-1, 264 pounds, McKinzy isn't as dynamic an athlete as Frost, but has the strength and power you want from a thumper inside at middle linebacker. McKinzy packs a punch, and is one of the more explosive hitters in college football. Both of these Auburn linebackers will be tested by the athleticism of Henry, as well as the running prowess of Arkansas running back Alex Collins.
4. Wisconsin OT Tyler Marz vs. Illinois DL Jihad Ward
Memorial Stadium, Champaign, Illinois - 3:30 PM - Big Ten Network
Wisconsin has always been known for putting offensive linemen in the NFL, and it appears as if Tyler Marz is the next in line. A left tackle who has been in the starting lineup for the Badgers since 2013, Marz has good size at 6-7, 318 pounds. A basketball player in high school, Marz has some athleticism to his game. Some think that he could move inside to guard at the next level, which is ironic because he'll be matched up against a lineman this week who likely has a future inside as well.
Jihad Ward is perhaps the best player that no one in the country is really talking about. At 6-5, 294 pounds, he's got good size, but what's impressive about him is that he's able to line up at every spot along the defensive line and be effective. Ward frequently lines up at defensive end on both sides of the formation, and will slide inside to play as a 3-technique defensive tackle as well. The Philadelphia native has unique athleticism for the position, with the ability to win off the ball, defeat blocks quickly and make plays from sideline to sideline. Ward often plays like his hair is on fire, and makes a ton of plays in pursuit. While some may see these traits and think he's strictly a one-gap player, I think Ward has the body type to also develop into a two-gap defensive end as well. He has the ability to drop his weight and anchor against a double team, as well as use his length to lock out against offensive linemen and find the ball to make a play. Ward isn't in the public eye right now, but my guess is that he will be considered a "fast riser" as the draft process continues to unfold.
5. Ohio State OT Taylor Decker vs. Rutgers EP Kemeko Turay
High Point Solutions Stadium, Piscataway, New Jersey - 8 PM - ABC
Viewed by many to be the best senior offensive tackle this side of Notre Dame's Ronnie Stanley, Taylor Decker has NFL size at 6-7, 320 pounds. He's got a starting pedigree, having started every game for the last three seasons for the defending National Champions. Decker is light on his feet, and has the athleticism to both protect the edge as a blindside protector and get out in space both as a puller and in the screen game. The question with him has always been his consistency, as some plays he'll look like a Top 20 pick, only to get blown off the ball on the next.
Decker has a tough test on Saturday night against the junior defensive end Kemeko Turay from the Scarlet Knights. Just a redshirt sophomore, Turay is a bit rough around the edges, but his athleticism, dynamic first step and ability to turn the corner on offensive tackles is a combination that not many in this draft-eligible group of pass rushers has. A subpackage player in 2014, Turay has two sacks and a fumble recovery for a touchdown so far this season. A big day against the Buckeyes and Decker could help elevate Turay's draft stock as he continues his career in Piscataway.
Fran Duffy is the producer of "Eagles Game Plan" which can be seen on Saturdays during the season. Be sure to also check out the "Eagle Eye In The Sky" podcast on the Philadelphia Eagles podcast channel on iTunes. Prior to joining the Eagles in 2011, Duffy was the head video coordinator for the Temple University Football team under former head coach Al Golden. In that role, he spent thousands of hours shooting, logging and assisting with the breakdown of the All-22 film from the team's games, practices and opponents.