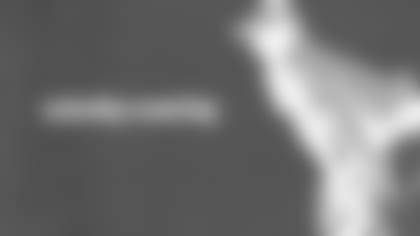 Well, this is it. The 13th week of college football action has arrived, and with it a slew of games await with Rivalry Weekend upon us. While it's depressing to know that this is the last full week of college football action on a Saturday, it's also exciting with so many big rivalry games and dynamic matchups to discuss. This week on the Eagle Eye in the Sky Podcast, I hit on a smattering of matchups involving some of the top prospects in the country, including Penn State quarterback Christian Hackenberg, Ohio State running back Ezekiel Elliott, Clemson safety Jayron Kearse among others. Plus, this week on the College Draft Podcast with Ross Tucker, we got an early opinion from NFL Network and Eagles Preseason analyst Mike Mayock on some of the top players at quarterback and on the line of scrimmage. You don't want to miss that. Let's look at four more matchups that fans should keep their eyes on today. 1. Notre Dame RB C.J. Prosise vs. Stanford LB Blake Martinez
Stanford Stadium, Stanford, California - 7:30 PM - FOX
Not many games have as big of a potential impact on the College Football Playoff as this one, as No. 6 Notre Dame travels west to take on the Cardinal. Coming into the season, many were excited about the Notre Dame run game led by Tarean Folston, but a torn ACL shelved him back in September. C.J. Prosise has taken over since. A former receiver, the long-limbed Prosise has true explosive capabilities in the open field, with the ability to go from 0-to-60 in a heartbeat. He's athletic, a natural receiver out of the backfield and he's competitive as a runner. I'd like to see him look a bit more decisive inside, but it's not a shock to me at all that some have said Prosise could go as high as the first round in the upcoming draft if he was to declare.
Prosise will be going up against a Stanford front that may not have the names that we're used to seeing in the front seven, but they're very formidable. The group is lead by inside linebacker Blake Martinez, the team's leading tackler with 109 stops on the season. At 6-1, 240 pounds, Martinez is a decent athlete, a reliable tackler and a savvy blitzer. Can he play with Prosise from sideline-to-sideline? He won't be alone in trying to stop the All-America candidate, but he'll have to help lead the charge if Stanford hopes to come out on top. Martinez is a confirmed attendee for January's Senior Bowl, where his athletic ability will be put to the test in one-on-one drills. This matchup could help serve as an appetizer for that week of practice.
2. Rutgers WR Leonte Carroo vs. Maryland CBs Sean Davis and Will Likely
High Point Solutions Stadium, Piscataway, New Jersey - Noon - Big Ten Network
No receiver in the Big Ten conference averages more than Leonte Carroo's 19.6 yards per catch. At 6-0, 211 pounds, he's not the most physically imposing figure on the outside, but he certainly has found a way to be very productive when he's been on the field. After missing two games for suspension and two more due to injury, Carroo enters the draft process with lots of questions to answer off the field. Between the lines, however, he's proven to be capable. While he's not the most explosive mover or toughest receiver over the middle, Carroo shows natural hands at the catch point and is a pretty good route runner for a college receiver. He'll go up and fight for the ball in contested situations, and he has a certain savvy to his game that not many players at his position have at this stage. This would be a good way for the Scarlet Knight to go out in his final regular season game.
Regardless of where he lines up this afternoon, Carroo will likely be matched up on one of Maryland's two top corners, and they both have legitimate NFL ability. I've been touting Sean Davis (6-1, 200 pounds) for quite some time. Davis is a safety convert who made the switch to corner just over a year ago and hasn't looked back since. His size, athleticism and ability to disrupt early in the down remind me of current Eagle Eric Rowe. Davis was one of the first players announced for the 2016 Senior Bowl. Rowe was asked to play safety down in Mobile, Alabama last year because of a lack of numbers at that position, so I'm anxious to see what chance Davis gets at the event on the outside. Opposite Davis is the undersized junior cornerback Will Likely. A dynamo as a return man, Likely has been making plays since his freshman season. Through three years with the Terps, he's racked up six special teams touchdowns (four punt return, two kick return), seven interceptions and 26 pass deflections. Likely's problem is his size, as he's listed at just 5-7, 175 pounds. Can his production be enough to outweigh his physical dimensions? We "will likely" find out.
3. Alabama TE O.J. Howard vs. Auburn S Blake Countess
Jordan-Hare Stadium, Auburn, Alabama - 3:30 PM - CBS
The senior tight end group doesn't have many standout household names, but when you look at the junior class, there are a few prospects who stand out including Alabama's O.J. Howard. The Crimson Tide tight end has been on the national radar since his true freshman season, when he took a quick slant pass to the house and ran away from the Tigers' defense. That athleticism isn't always on full display in the Alabama offense, but it's still very much a part of his game. Howard has gotten incrementally better as a blocker since that time, and he's a big part of the offense's rushing attack that has opened up holes for Derrick Henry and T.J. Yeldon in the past. The No. 1 tight end in the country out of high school, I would expect Howard to be one of the first players at his position to be selected if he declares for the NFL Draft. I should note that his inconsistent hands will be a concern for some evaluators.
Everyone's always looking for the next safety who can do everything a defensive coordinator asks for on the back end. Coming into the season, not many people expected much out of senior defensive back Blake Countess, a cornerback transfer from Michigan. He has transformed into one of those do-everything players for this Tigers defense. Though he's a bit undersized, Countess has cornerback cover skills and shows that he can be an aggressive tackler. He may not be a burner for a corner, but he should have enough range to play at safety. He's not getting a ton of buzz now, but keep an ear out for Countess moving forward throughout the draft process.
4. Ohio State G Pat Elflein vs. Michigan DL Willie Henry
Michigan Stadium, Ann Arbor, Michigan - Noon - ABC
In my opinion, the most consistent player on the Ohio State offensive line over the past two seasons has been Ohio State's Pat Elflein. At 6-3, 300 pounds, the Ohio native and former state qualifier as a wrestler has earned quality snaps at both guard spots as well as at center. He plays with a strong base, shows the potential to move people in the run game and is one of those "glass-eater" types along the offensive line. Elflein is often used as a puller in the Buckeyes' rushing attack, and he shows the ability to "search and destroy" targets in a short area. Though he's a bit late off the snap more than you'd like, Elflein generates power in his lower half, works to play with good technique and is a consistent finisher as a blocker. He'll face a good matchup this week against a Michigan defense that has a lot of NFL principles in its scheme and likes to move defenders around the formation to keep offenses guessing.
Perhaps the key piece in this Michigan defensive front is redshirt junior defensive lineman Willie Henry. At 6-3, 311 pounds, Henry is a good athlete for the position, proving to have the burst, quickness and balance to be a consistent disruptor in opposing backfields. He brings natural third-down value as a pass rusher, using a bevy of moves to attack offensive linemen and get after the quarterback. Henry has a good motor, has good play-recognition ability and while he has to improve his hand-use against the run, I think he's got the ability to develop into a pretty dynamic 3-technique at the next level.
Fran Duffy is the producer of "Eagles Game Plan" which can be seen on Saturdays during the season. Be sure to also check out the "Eagle Eye In The Sky" podcast on the Philadelphia Eagles podcast channel on iTunes. Prior to joining the Eagles in 2011, Duffy was the head video coordinator for the Temple University Football team under former head coach Al Golden. In that role, he spent thousands of hours shooting, logging and assisting with the breakdown of the All-22 film from the team's games, practices and opponents.