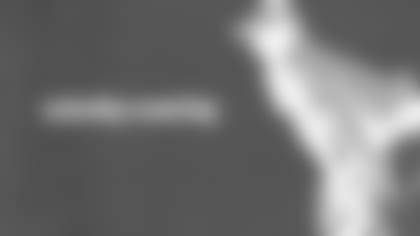 One of the first things NFL scouts do when looking at draft prospects in the spring in preparation for the NFL Draft is watch them against the best competition they faced in the previous season. How did a wide receiver fare against the best cover corner on his schedule? How did a pass rusher do when he faced a top-flight left tackle? How did "Quarterback X" perform against the best defenses he faced? This fall we're going to take a look at the best head-to-head matchups in each week's slate of college football games, and give fans a preview of the top names around the country in the process.
Another week, another impressive slate of college football games to break down as the end of the regular season sadly draws closer to an end. There are plenty of one-on-one matchups that have NFL Draft implications on Saturday, but if you're anywhere near Philadelphia then you know the biggest game of the weekend is the bout between the Temple Owls and the Notre Dame Fighting Irish. This week on the Eagle Eye in the Sky Podcast, I spoke with Pete Sampson from Irish Illustrated to get the scoop on all of the top prospects for Notre Dame. And this week on the College Draft Podcast with Ross Tucker, we broke down all the best matchups from that game (and a few others as well). So, who else should you be watching? Let's take a look.
1. Temple RB Jahad Thomas vs. Notre Dame LB Jaylon Smith/S Elijah Shumate
Lincoln Financial Field, Philadelphia - 8 PM - ABC
I broke down all of the top matchups in this game with Ross on the College Draft this week, but this battle will be the one I'm most excited to see. One of the catalysts for Temple's outstanding season has been junior running back Jahad Thomas. A former defensive back who has been a standout on special teams throughout his career, Thomas has made plays when the team needed him most in its biggest moments this season. With his combination of quickness and vision, he came up with big runs against Penn State, Cincinnati, East Carolina and Central Florida. The most talented Temple runner since Bernard Pierce in 2012, Thomas currently ranks in the Top 20 in rushing yards and seventh in the country with 12 touchdowns through seven games. This will no doubt be his biggest test on Saturday, however, because this Notre Dame defense is chock full of future NFL players.
Defensive tackle Sheldon Day has earned some comparisons to a "poor man's Aaron Donald," and he will be a force to be reckoned with up front for the Temple offensive line, but I want to focus on the two best second-level defenders for this Notre Dame defense. Linebacker Jaylon Smith is arguably one of the two or three best defenders in all of college football. He's got NFL size, top-end athleticism and his instincts against the run almost always put him in position to make the play (even when they don't, his athleticism allows him to make up for it). A junior, Smith plays sideline-to-sideline and can defend any area of the field. If he does declare for the NFL Draft, he will certainly be a first-round pick.
On the back end, not enough people are talking about safety Elijah Shumate, who for my money is one of the very best in the entire country. A big kid at 6-1, 212 pounds, Shumate plays all over the field from his free safety position. A quick thinker who loves to come downhill and lay a hit on ball carriers, Shumate also possesses the athleticism to handle playing on an island in coverage against backs and tight ends. Both Smith and Shumate have had a couple of tests already in the form of Clemson's Wayne Gallman and USC's pair of talented runners, but Thomas is right up there with them in terms of NFL ability.
2. Texas A&M RB Tra Carson vs. South Carolina LB Skai Moore
Kyle Field, College Station, Texas - Noon ET - SEC Network
Get used to hearing a lot of Tra Carson's name if you're an Eagles fan because his story is similar to players like Bryan Bennett, Arik Armstead, some guy named Mariota and many others have over the past couple of years: he was recruited by Chip Kelly to Oregon. Carson transferred after the 2011 season to get back closer to home in Texas, and has been a steady player for the Aggies since. A physical downhill runner who looks to punish defenders one-on-one, Carson isn't the best athlete, but he translates well to a zone scheme at the next level.
Carson will be lining up on the opposite side of the field from one of the more impressive linebackers I've seen all season in Skai Moore from South Carolina. Moore is undersized (listed at just 6-2, 218 pounds), but he's an outstanding athlete for the position. Now, there have been a lot of linebackers who are undersized and athletic. The ones who make it in the NFL have the instincts and physicality downhill to make them complete players (take, for instance, Telvin Smith in Jacksonville). Moore has a great feel for playing in coverage (go and check out his interception against UNC earlier this season), and he consistently is a high-motor player who looks to make plays in pursuit. I'm excited to see these two go at it on Saturday afternoon.
3. Ole Miss WR Laquon Treadwell vs. Auburn CB Jonathan Jones
Jordan-Hare Stadium, Auburn, Alabama - Noon ET - ESPN
Billed as one of the top receivers in college football and a potential Top 5 pick in the upcoming NFL Draft, I don't know if I personally see Laquon Treadwell in that light, but there's no denying his talent. Treadwell reportedly played at 230 pounds a year ago. I struggled with his evaluation due to the athleticism that he showed on tape. A devastating injury late in the year didn't help. But now at 212 pounds, Treadwell moves better, and I have been impressed with how he gets off press coverage, an area he struggled with a year ago. Treadwell plays similarly to Bears wide receiver Alshon Jeffery. Treadwell's strength is going up and attacking the ball in the air, allowing him to make a number of highlight grabs throughout his career with the Rebels.
Treadwell will be matched up for most of the game with Auburn cornerback Jonathan Jones. Undersized at 5-10 and a mere 181 pounds, Jones is likely going to struggle to outmuscle Treadwell, but he'll look to make up for it with quickness and his overall athletic ability at the catch point. Jones plays mostly off-coverage, but he's aggressive at the line of scrimmage in press situations and has a feisty play personality that I could see making this matchup fun to watch. Jones has the speed to run with Treadwell in the open field for certain, but he will need to be sound in his technique to make sure he doesn't get pushed off-balance by the physical receiver. The more I watched Jones, the more I liked him, and this will be a big test for the senior cornerback.
4. N.C. State TE David Grinnage vs. Clemson S Jayron Kearse
Carter-Finley Stadium, Raleigh, North Carolina - 3:30 PM - ABC
In a talented junior tight end group that includes the likes of Evan Engram, O.J. Howard, Hunter Henry and others, David Grinnage flies under the radar a bit, but I wouldn't disregard him. Grinnage has very good size at 6-5, 274 pounds, and his size/speed combination reminds me of former second-round pick Austin Seferian-Jenkins. A strong blocker in the run game, Grinnage made a number of plays in space as a receiver. He is tough to bring down in the open field, and he impressed me at times with his ability as a route runner in 2014.
Everyone's always looking for the next great safety, and I would be willing to bet that a lot of Eagles fans will be excited about Jayron Kearse from Clemson. Not only is he a safety from Clemson (which always gets people hankering for some Brian Dawkins highlights), but he's the nephew of former Eagle, the "Freak" Jevon Kearse. At 6-5, 220 pounds, Kearse has unique size for the position, and his ability to explode in a short area has a lot of people excited. Numerous mock draft are now putting him in the first round. I want to see more before putting him in that class of prospect, but in the cases where Kearse is matched up against Grinnage, it'll be fun to watch two big, physically imposing NFL prospects go head-to-head.
5. South Carolina OT Brandon Shell vs. Texas A&M EP Myles Garrett
Kyle Field, College Station, Texas - Noon - SEC Network
While previewing nephews of former NFL greats, South Carolina tackle Brandon Shell has a great uncle in Pro Football Hall of Fame offensive lineman Art Shell. The younger Shell made the move from right tackle to left tackle this season, and he's got an NFL frame to go along with great power at the point of attack. An effective run blocker with the ability to create holes with ease on the ground, Shell will face his stiffest competition of the season on Saturday afternoon.
Myles Garrett from Texas A&M is one of the most dynamic pass rushers in the country. He has future Top 5 pick written all over him. Nicknamed "Batman" by the Aggies' staff because of his sculpted physique, Garrett can win off the ball with speed or power, and should be able to challenge Shell in a number of ways on Saturday. If you want a sample of Garrett's athleticism, check out the interception he made last week against Ole Miss. This will be one of the games that evaluators will point to, one way or another, when it comes to discussing Shell's draft stock this offseason.
Fran Duffy is the producer of "Eagles Game Plan" which can be seen on Saturdays during the season. Be sure to also check out the "Eagle Eye In The Sky" podcast on the Philadelphia Eagles podcast channel on iTunes. Prior to joining the Eagles in 2011, Duffy was the head video coordinator for the Temple University Football team under former head coach Al Golden. In that role, he spent thousands of hours shooting, logging and assisting with the breakdown of the All-22 film from the team's games, practices and opponents.