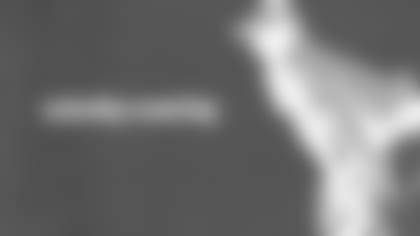 While the matchups may not be as sexy as they were a week ago, this week in college football is even bigger as the stakes continue to rise and the second-annual College Football Playoff draws closer. This week on the Eagle Eye in the Sky Podcast, I spoke with Joe Rexrode, who covers Michigan State, to talk about Connor Cook, Shilique Calhoun and some of the other top Spartan prospects. And this week on the College Draft Podcast with Ross Tucker, we broke down all the best matchups from Oregon vs. Stanford, and hit on a number of the top players who could be entering the draft with our good friend Tony Pauline. Now, let's get to five more matchups you need to watch in today's action.
1. Mississippi State QB Dak Prescott vs. Alabama Defense
Davis Wade Stadium at Scott Field, Starkville, Mississippi - 3:30 PM - CBS
At 6-2, 233 pounds, Dak Prescott entered the 2015 season near the top of everyone's Heisman predictions list. As one of the top returning senior passers in college football, Prescott helped lead Mississippi State to a No. 1 ranking in the middle of the season in 2014 before the team slid on the back end of the SEC West schedule. Their first loss of the season? November 15th, 2014 at Bryant-Denny Stadium against the Crimson Tide. I think that Prescott's come along in some areas of his game, and he's got natural tools. He's strong. He throws the ball well, and he's athletic. The issue ultimately comes down to the fact that, at times, he holds onto the ball entirely too long in the pocket.
Prescott has taken a lot of hits over his career including some against an Alabama defense full of playmakers in the front seven. Still, mobile quarterbacks and spread teams have been known to give Alabama some trouble in recent years, and historically they have struggled to follow up the LSU game with a strong performance. This may be a great opportunity for Prescott to catapult himself back into the limelight.
Alabama's defense has proven to be one of the top units in the country over the last month of the season, particularly last week against LSU and Heisman candidate Leonard Fournette. In the front seven, players like Reggie Ragland, A'Shawn Robinson, Jarran Reed and Johnathan Allen have been very disruptive. In the secondary, senior cornerback Cyrus Jones lines up on the right side and is instinctive, tough and competitive. Opposite him, redshirt freshman Minkah Fitzpatrick has been very productive on the ball and looks like a future big-time prospect, but junior safety Eddie Jackson (a converted cornerback) is athletic, rangy and has the ball skills for the position that could make him one of the best safeties available if he were to declare for the 2016 NFL Draft. Main point? This defense is full of NFL talent at all three levels, and figures to give MSU fits all afternoon.
2. Arkansas RB Alex Collins vs. LSU LBs Kendall Beckwith/Deion Jones
Tiger Stadium, Baton Rouge, Louisiana - 7:15 PM - ESPN
While Fournette and Derrick Henry sit atop the SEC in terms of rushing yards, only one other player in the conference has passed the 1,000-yard mark so far in 2015 and that's Alex Collins. A former five-star recruit with solid size and an explosive short-area burst, Collins took over the full-time running back job after an injury to Johnathan Williams in the preseason. Collins has NFL skills, but after watching him last year I felt like he danced a bit more than Williams and wasn't quite as refined in a lot of areas. He's had more than enough time to improve on that this season. With his hard-nosed running style and third-down potential, he's got the ability to be an every-down back at the next level if he continues to develop.
Collins has a strong test this week against an LSU front that, while they gave up a good amount of yardage to Henry a week ago in Tuscaloosa, Alabama, still has talent. The strength of the unit may be the linebacker duo of Kendall Beckwith and Deion Jones. The two leading tacklers for the Tigers with 61 and 60 stops respectively, both Beckwith and Jones are strong run defenders between the hashes. Jones, a senior, has the lateral agility to avoid blocks in space and make plays on the ball, something that will come in handy against the Arkansas offensive line, a group that boasts the biggest in football (college or NFL).
3. Illinois WR Geronimo Allison vs. Ohio State CB Eli Apple
Memorial Stadium, Champaign, Illinois - Noon - ABC
Despite firing their coach just days before the start of the regular season, Illinois has turned in a respectable 5-4 record with Philadelphia native Bill Cubit leading the way as interim head coach. Leading the charge for them on the outside is Geronimo Allison who, at 6-4, 200 pounds, is fifth in the conference in receiving yards. Allison made a lot of "big boy" plays where corners were unable to disrupt him at the line of scrimmage, so he ran through contact and made a play on the ball. Still, I question a lot of things about his game. He's not a great athlete, doesn't have very good long speed and his ball skills and hands are a question for me. He'll have a chance to quell those notions both at the East-West Shrine Game in St. Petersburg, Florida in January, as well as this week against the best cornerback he'll face all season long.
Cornerback Eli Apple, who grew up just across the Delaware River in Voorhees, New Jersey, is one of the most skilled cover men in the country. At 6-1, 200 pounds, Apple impressed me last winter with the job he did against Amari Cooper in the Sugar Bowl. He's showed the ability to be a lockdown corner on the outside. His combination of size, quickness, aggressiveness and fluidity in his hips make him a very impressive prospect, and while he's just a redshirt sophomore our good friend Tony Pauline believes he could be on his way to declaring for the NFL Draft. This is a good time to start watching Apple.
4. Baylor OT Spencer Drango vs. Oklahoma EP Eric Striker
McLane Stadium, Waco, Texas - 8 PM - ABC
With TCU going down last week, only two unbeatens remain in the Big 12 conference. With Baylor fighting for conference supremacy along with Oklahoma State, today's matchup against the Sooners is huge for Baylor. While the top prospect on this offense may be uber-productive wideout Corey Coleman, tackle Spencer Drango is widely thought of to be one of the top senior offensive lineman in the country. A tackle who many see transitioning inside to guard at the next level, Drango is a solid athlete. He may not have the body type to survive on the edge, his ability to recognize things quickly and his calm demeanor in his pass set give him a shot at an Andrew Whitworth-like career in the NFL if he can put it all together.
A divisive player in NFL Draft media circles, the athletic linebacker Eric Striker has a skill set that makes him a fit both as a pass rusher off the edge and as a standup, off-the-ball linebacker who lines up stacked to the formation. Some analysts believe Striker could play a Von Miller-type role at the next level, and he has the athleticism to do it. Striker, who spends a lot of time in coverage, is light on his feet and has the quickness and burst to make plays in the open field. A player with great closing speed from the back side, Striker has the ability to be impactful against the run and the pass. His ability doesn't always match his production, however, and his lack of technique and hot-and-cold motor will turn some people off. Striker only has a couple of games left to prove himself in his college career. Saturday's matchup against Baylor is as good a time as any to turn some heads.
5. Ohio State OL Taylor Decker/Pat Elflein vs. Illinois DL Jihad Ward
Memorial Stadium, Champaign, Illinois - Noon - ABC
We touched on this game earlier, but when Ohio State has the ball, try to keep an eye on the trenches despite all the talent the Buckeyes have at the skill positions (including JT Barrett, Cardale Jones, Ezekiel Elliott, Michael Thomas and Braxton Miller). Left tackle Taylor Decker has NFL size at 6-7, 320 pounds, and he has surprising athleticism for his size. Further down the line you'll find right guard Pat Elflein, who has played some center as well during his career at OSU. Elflein is a solid athlete in his own right, but his biggest strength is his ability to move people at the point of attack in the run game. Both of these players, as well as the rest of the Buckeyes' offensive line, will be in for a tougher test than people may think this afternoon.
Lining up opposite the Ohio State offensive line will be Illinois' Jihad Ward. At 6-5, 294 pounds, Ward has prototypical size for a defensive lineman, and his eye-popping athleticism will grab your attention right away. Ward has a good first step, gets into blocks quickly and does a good job working his hands to keep himself free to flow to the football. A Philadelphia native, Ward's burst, quickness, change of direction and flexibility are unique for the defensive line position. He puts that athleticism on full display play in and play out because he's got a very high motor. Ward may be the best player no one is talking about ... yet. You have a chance to watch him this afternoon against one of his biggest tests of the season.
Fran Duffy is the producer of "Eagles Game Plan" which can be seen on Saturdays during the season. Be sure to also check out the "Eagle Eye In The Sky" podcast on the Philadelphia Eagles podcast channel on iTunes. Prior to joining the Eagles in 2011, Duffy was the head video coordinator for the Temple University Football team under former head coach Al Golden. In that role, he spent thousands of hours shooting, logging and assisting with the breakdown of the All-22 film from the team's games, practices and opponents.