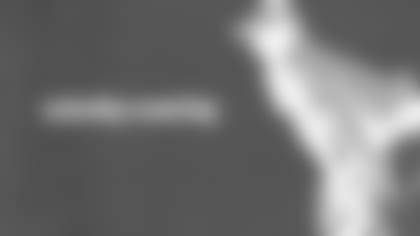 Week 6 of the college football season has arrived, and as the games go by each week becomes more and more important. With now just a couple of months left until the end of the regular season, prospects are running out of chances to impress NFL scouts (and improve their team's chances at postseason play).
There are a number of incredibly talented players who face tough one-on-one matchups on Saturday. This week on the Eagle Eye in the Sky Podcast, I spoke with Georgia beat writer Marc Weiszer about some of the top players suiting up for the Bulldogs, focusing specifically on their character evaluation. On the College Draft Podcast with Ross Tucker, we broke down the top matchups in the biggest rivalry game of the weekend, Miami versus Florida State, as well as some big matchups in the Big Ten. So, who else should you be watching? Let's take a look.
1. California QB Jared Goff vs. Utah Defense
Rice-Eccles Stadium, Salt Lake City, Utah - 10 PM - ESPN
There's been a lot of talk about the quarterbacks in the Big Ten, with Christian Hackenberg, Connor Cook, Cardale Jones and others stealing most of the headlines here on the right coast, but the signal-caller generating the most buzz right now in the media is junior Jared Goff from California.
A starter since his true freshman season, Goff has NFL size at 6-4, although he is a bit wiry at his listed weight of 210 pounds. He's got a good arm, likely stronger than Cook's but not necessarily on par with the likes of Hackenberg and Jones, but his decision-making has always been his calling card. Goff has been a great point guard in coach Sonny Dykes' system at Cal. He's light on his feet, throws with touch and has improved a great deal in how he operates in a muddy pocket since early in his career. His lower-body mechanics need work, and there are times where he throws behind his receivers, but Goff's stock is as high as any at this point in the process when it comes to media buzz right now.
Goff is going to get maybe his toughest test to date when he takes on the Utes tonight. After crushing Oregon two weeks ago, Eric Rowe's former squad had a bye week, so you can expect their best effort against Goff. Despite losing Rowe to the draft, they still have plenty of NFL talent on that unit, including linebacker Jared Norris. At 6-1, 237 pounds, Norris has solid size, but his instincts and physicality are what make him stand out. He's quick to recognize things in the run game, can work through traffic and gets ball carriers to the ground quickly. At this point, Norris is one of the more impressive linebackers in the senior class. Playing in front of Norris is Jason Fanaika, one of the more intriguing front seven players in the country because of his position versatility. A linebacker a year ago who lined up all over the formation, Fanaika made the full-time move to defensive end this offseason. He now plays up and down the defensive line for the Utes. At 6-2, 269 pounds, Fanaika is a bit of a bulldog as a pass rusher, playing with great leverage and power in his lower half. He has a number of pass rush moves that he uses to attack offensive tackles. He's not the prettiest looking edge rusher, the most flexible athlete, or the explosive prospect turning the corner, but his high motor and natural power make him very effective at getting to the quarterback.
2. Arkansas RB Alex Collins vs. Alabama LB Reggie Ragland
Bryant-Denny Stadium, Tuscaloosa, Alabama - 7 PM - ESPN
When Arkansas lost senior Jonathan Williams this summer to a foot injury (Williams, by the way, is still one of the two best seniors at the position and is a potential feature ball carrier in the NFL, in my opinion), Arkansas pinned all of its hopes on Alex Collins. It's not like the junior came out of nowhere, though. Collins ran for over 1,000 yards last year as a backup to Williams, and was ranked as one of the top running backs in the entire country coming out of high school in Fort Lauderdale, Florida. The strength of Collins' game is his short-area burst, as he's got the ability to fly through a hole in the defensive line quickly and can pull away from defenders in the open field. Collins has the athleticism to make defenders miss, has the competitiveness to stiff arm and keep them at bay, and he has the contact balance to run through arm tackles as well. Collins wasn't the most patient runner as a sophomore in 2014, but his burst through the hole makes him a great fit in a potential gap scheme at the next level.
My favorite senior linebacker in the country, Reggie Ragland has outstanding size at 6-1, 258 pounds. You would think that, at that size that he doesn't have much in terms of athleticism, but Ragland has very good play speed and his athleticism is in the upper echelon of linebacker prospects. Like Collins, Ragland too displays great acceleration over a short area, meaning that he can close ground quickly between himself and ball carriers as he pursues them downhill. He's got the athleticism to run around blocks and make the play, but Ragland also has the toughness and power to take on offensive linemen at the point of attack, shed them and flow to the ball. A player who has fully taken the reins as the leader on the Alabama defense, Ragland will have his hands full with Collins, but I expect that he'll be in on more than a few tackles on Saturday night.
3. Florida State WR Travis Rudolph vs. Miami CB Tracy Howard
Doak Campbell Stadium, Tallahassee, Florida - 8 PM - ABC
Florida State has had a steady flow of productive receivers leave campus and go to the NFL, and Travis Rudolph appears to be next in line. The true sophomore has good size at 6-2, 187 pounds, and he's been consistently productive so far in 2015, racking up at least four catches a game in every contest this year, totaling 20 catches for 201 yards and a pair of touchdowns at 10.1 yards per catch. Rudolph is trying to establish himself as one of the best underclassmen at the receiver position in the country, and he'll have a chance to make a bigger name for himself tonight on prime time against the U.
He hasn't quite had the career that many expected when he showed up on campus a few years ago as a five-star recruit, but Tracy Howard is still a very talented player. At 5-10, 183 pounds, he's a bit undersized by NFL standards, but Howard's instincts and quickness will make him a pretty sought after prospect in April. Howard displays good zone awareness in coverage, showing the ability to read route breaks, understand pass concepts and have a feel for where the ball is going as the quarterback cocks back to throw. In man coverage, Howard's ability to read receivers' route breaks serve him well, as he's got the quickness to stop and start in a hurry and explode on the football. His size will limit just how high he goes, and many will wonder why he was unable to live up to his high school résumé, but Howard's mental processing, quickness and ball skills on the back end will get him drafted in April.
4. Missouri OL Evan Boehm vs. Florida LB Antonio Morrison
Memorial Stadium, Columbia, Missouri - 7:30 PM - SEC Network
One of the best interior linemen in the entire country, Mizzou's Evan Boehm has experience at center and guard, and the four-year starter is looking to close out his career with a strong second half of 2015. At 6-3, 320 pounds, he's a bit undersized in terms of his height and length, but the former state champion high school wrestler uses his hands really well, understands leverage and displays good contact power at the snap to generate movement in the run game. A smart, instinctive player, Boehm works well in tandem with his guards in the zone run game, plays with an edge and consistently looks to finish defenders into the dirt. When he works up to the second level, look for him to meet Morrison in the hole often this evening.
I talked about Morrison a week ago in a matchup against Ole Miss tight end Evan Engram (who was held to just three catches and fewer than 50 yards last week against the Gators), but I want to talk about him in a different respect this week for his matchup with Boehm. Morrison, a bit undersized at 6-1, 225 pounds, has solid speed and he can hold his own in coverage. What makes this week so interesting though is that, despite his size, Morrison is a tough, hard-nosed player who isn't afraid to stick his face in the fan in the run game. Multiple times in 2014, I saw Morrison get into the chest of a pulling guard or center, and while there are times where he gets engulfed at the point of attack, when he's able to use his hands to keep himself free he's been very effective. This will be a big matchup for Missouri if they want to get the run game going against this tough Gator defense.
5. Georgia OTs John Theus/Kolton Houston vs. Tennessee EP Derek Barnett
Neyland Stadium, Knoxville, Tennessee - 3:30 PM - CBS
After starting a bunch of underclassmen along the offensive line a year ago, Georgia now has some seasoned vets playing for them up front, and they're lead by the tackles John Theus and Kolton Houston. Theus, the left tackle and four-year starter, is the more talented of the two and at 6-6, 313 pounds has NFL size. Houston, who may have more position versatility in that he may be able to transition to guard at the next level as well, stands at 6-5, 287 pounds. Both players are well-coached, look comfortable in pass protection and use their hands well, but they will have those hands full when they take on Tennessee this afternoon.
Despite the fact that senior linebacker Curt Maggitt, who lead the team in sacks a year ago, is out with an injury, Tennessee still boasts one of the most feared pass rushers in the SEC in Derek Barnett. Even though he only has one sack this season (back in Week 2 in the overtime loss to Oklahoma), Barnett burst onto the scene in 2014 as a true freshman and was one of the most effective edge rushers in the conference. He's a strong run defender, sports a high motor and is able to beat offensive tackles because of his natural strength and power. He's got an NFL body despite the fact that he'll be just 20 years old when next season comes around, and he'll be a name to watch moving forward in the SEC.
Fran Duffy is the producer of "Eagles Game Plan" which can be seen on Saturdays during the season. Be sure to also check out the "Eagle Eye In The Sky" podcast on the Philadelphia Eagles podcast channel on iTunes. Prior to joining the Eagles in 2011, Duffy was the head video coordinator for the Temple University Football team under former head coach Al Golden. In that role, he spent thousands of hours shooting, logging and assisting with the breakdown of the All-22 film from the team's games, practices and opponents.