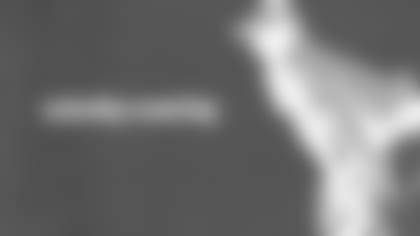 Bowl season is officially in full swing. This week's slate of matchups are a great precursor leading up to New Year's Eve. Scouts always like to see who stands out during bowl season matchups against other winning programs, and now is the time to see which prospects will stand out above the rest. This week on the Eagle Eye in the Sky Podcast, I talked about a few key players I'll be keeping an eye on this weekend. On the College Draft Podcast with Ross Tucker, we broke down even more of the top names to watch with so many talented players and teams taking the field over the next few days. Who else is worth looking at? Let's look at five of the biggest matchups that fans should keep their eyes on.
1. Indiana QB Nate Sudfeld vs. Duke S Jeremy Cash
New Era Pinstripe Bowl
Yankee Stadium, Bronx, New York - Saturday, 3:30 PM - ABC
In a senior quarterback class that, from top to bottom, is pretty solid overall (especially in terms of its depth), Nate Sudfeld stands out as one of my favorite mid-round-type talents. Whenever I've watched Sudfeld, I've come away impressed because there are lot of positive traits that I think translate well to an NFL career. He's got a good arm. He's consistently pretty accurate. He goes through his progressions quickly. He throws with some anticipation. I'd like to see him throw with a bit more touch and his lower-body mechanics will need work, but I think he has the ability to stick at the next level for a long time. Injuries have been his biggest bugaboo, but with a bowl game against this Duke defense followed by an appearance at the East-West Shrine Game, Sudfeld has just two more chances to really prove himself on the football field for NFL decision-makers.
On the defensive side of the football for Duke, you will find it hard not to notice Jeremy Cash, who plays the "Strike" position for that unit. Cash has a ton of experience near the line of scrimmage, whether it's as a run defender or as a blitzer, and he's one of the most productive safety prospects in the country when it comes to racking up tackles. A savvy blitzer who can be relied on to play man coverage against backs and tight ends, the biggest question with Cash moving forward into the NFL will be what kind of role will he be able to play.
Can he be a deep safety? He was not asked to do that at Duke. Can he play against receivers and athletic NFL tight ends in coverage? His success in that area was hit or miss in college. Some have questioned his recovery speed as well, so very much like former first-round pick Deone Bucannon coming out of Washington State, Cash may be very reliant on scheme fit once he reaches the NFL. On Saturday though, you'll see him take on blocks set the edge (watch out for potential matchups between he and Indiana left tackle Jason Spriggs in the run game), rush the quarterback and drop into short zone coverage. Cash is certainly a fun player to watch, and he'll be tough to miss on the field against the Hoosiers.
2. Texas Tech RB DeAndre Washington vs. LSU LBs Deion Jones/Kendell Beckwith
AdvoCare V100 Texas Bowl
NRG Stadium, Houston - Tuesday 9 PM ET - ESPN
Texas Tech's DeAndre Washington clearly won't be the best running back on the field in this game (because I expect Leonard Fournette to absolutely carve up this defense on the other side of the ball), but he's a solid prospect in his own right. Undersized at 5-8, 200 pounds, Washington has the look of a change-of-pace-type back at the next level. With his combination of quickness, acceleration and ability to deftly navigate through traffic, he has been very effective this year in that Red Raiders offense. His size will limit his value on draft weekend, and some have questioned his ability to head for daylight once he hits the open field, but keep a close eye on Washington in this game against a talented LSU front seven.
In that front seven, there's a lot of youth for the Bayou Bengals. Senior linebacker Deion Jones, who will be at the Senior Bowl next month, is a very solid athlete for the position and plays from sideline to sideline. The more I watched Jones the more I liked him. He has the quickness, change of direction and speed to hold up in man coverage at the NFL level. He'll have to get bigger and stronger, but he's a physical downhill player and a reliable tackler. His teammate, junior Kendell Beckwith, is rumored by our friend Tony Pauline to be weighing his options on declaring for the NFL Draft or staying in school. A former defensive end, Beckwith has good size at 6-2, 245 pounds and has the unique ability to play the run, drop in zone coverage and get after the passer from the linebacker spot. A high school quarterback, keep an eye out on Beckwith making plays between the hashes on Tuesday night.
3. Tulsa WR Keyaris Garrett vs. Virginia Tech CB Brandon Facyson
Camping World Independence Bowl
Independence Stadium, Shreveport, Louisiana - Saturday 5:45 PM - ESPN
At 6-4, 221 pounds, Keyaris Garrett is a really big kid with deceptive movement skills. A huge body with the ability to be a dynamite red zone threat, Garrett plays in a Tulsa offense that relies heavily on the quick and screen games to move the ball down the field. The big question with Garrett will be his abilities as a route runner because in that scheme he ran a very limited route tree. At his size, he isn't a very dynamic athlete. Against a talented secondary and in a game many will be watching as Frank Beamer's swan song, Garrett has a chance to make a big name for himself before heading down to the East-West Shrine Game next month.
With junior cornerback Kendall Fuller out with a knee injury (and on his way to the NFL), the player I expect to be matched up on Garrett for much of the game is redshirt sophomore Brandon Facyson. A player who caught my eye last season as a freshman, Facyson won't be a fit for everyone in the NFL, but he's got great size with the body of a prototypical press corner. At 6-2, 184 pounds, he has played all over the field for the Hokies, and with his length and ability to read routes he really reminds me of Eagles cornerback Byron Maxwell. With two big, physical players out on the perimeter, this will be one of the most fascinating one-on-one matchups on Saturday that I'll be keeping a close eye on.
4. Washington State OT Joe Dahl vs. Miami Defense
Hyundai Sun Bowl
Sun Bowl, El Paso, Texas - Saturday 2 PM - CBS
Before he was announced for the East-West Shrine Game earlier this fall, I didn't know much about Wazzou left tackle Joe Dahl. After studying him against Rutgers (and explosive pass rusher Kemeko Turay) and Oregon (against future first-round pick defensive end DeForest Buckner), I came away very, very impressed. I wasn't surprised to see him be announced for the Senior Bowl just a couple of weeks later. Dahl has the build of a guard, but I think his feet are good enough to stick at tackle. He's got pretty good athleticism and he plays with a chip on his shoulder. I was also really impressed with his consistent ability to keep himself between the quarterback and the defender. They play with those wide splits at Washington State and he consistently was able to reach defenders, get his hands in good position, show good bend in his knees and keep the quarterback upright. He's one of the prospects I'm most excited to see down in Mobile, Alabama in January.
Against the 3-4 scheme of the Miami Hurricanes, expect Dahl to get matched up with a number of different players this afternoon. Most notably, keep an eye on the two underclassmen outside pass rushers, Trent Harris and Al-Quadin Muhammad. With three and three-and-a-half sacks, respectively, these two young pieces have been at the forefront of the Miami pass rush this year, and with a new coaching staff assembling in Coral Gables, Florida you better believe they'll have something to prove down in El Paso.
5. Texas Tech OT Le'Raven Clark vs LSU EP Arden Key
AdvoCare V100 Texas Bowl
NRG Stadium, Houston - Tuesday 9 PM - ESPN
Le'Raven Clark is one of the most intriguing offensive line prospects in the draft because of his sheer physical tools. My assumption would be that there will be many offensive line coaches who will absolutely drool over his potential. He's got very good size, an outstanding frame and he's got lighter feet than you'd expect. Clark's issues are all technical, because he too often exposes his chest and his hands are all over the place. If he can get with a coach who stresses technique and gets him straightened out he could be a good one at tackle. He should at the very least be a serviceable swing backup at both tackle and guard because he's too big and too light on his feet not to be.
Clark will see a majority of his snaps against one of the most impressive freshmen I've seen while watching tape this season, LSU's Arden Key. At 6-6, 231 pounds, Key has that lean basketball frame, very much in the way of former LSU Tigers Barkevious Mingo and Danielle Hunter. Key's explosive first step, arm length and ability to anchor at the point of attack were apparent against South Carolina's Brandon Shell earlier this season, and after finishing second on the team with five sacks as a freshman, he'll be one to watch for the future in the NFL Draft.
Fran Duffy is the producer of "Eagles Game Plan" which can be seen on Saturdays during the season. Be sure to also check out the "Eagle Eye In The Sky" podcast on the Philadelphia Eagles podcast channel on iTunes. Prior to joining the Eagles in 2011, Duffy was the head video coordinator for the Temple University Football team under former head coach Al Golden. In that role, he spent thousands of hours shooting, logging and assisting with the breakdown of the All-22 film from the team's games, practices and opponents.