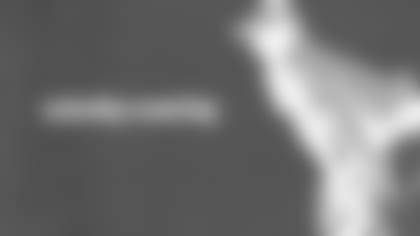 We're almost at the end of the college football regular season. With just seven days remaining until "Rivalry Weekend" across the country, draft-eligible prospects are running out of time to prove to NFL evaluators that they have what it takes to succeed at the next level. This week on the Eagle Eye in the Sky Podcast, I spoke with Tony Pauline from DraftInsider.net to sift through the buzz around the country and discuss some players who will be present at the Senior Bowl in Mobile, Alabama in January. This week on the College Draft Podcast with Ross Tucker, we broke down all the best matchups from the game of the week, Ohio State vs. Michigan State, and highlighted a couple of one-on-one matchups that intrigue me. Let's look at five more matchups that fans should keep their eyes on today.
1. Memphis QB Paxton Lynch vs. Temple Defense
Lincoln Financial Field, Philadelphia - Noon - ESPNU
This is the one I'll be paying the most attention to because, well, I'll be there. I always take an opportunity to see my Owls play, but when they have one of the top players in the entire country on the schedule, it becomes a must-see game. Paxton Lynch's star has been rising. Despite two straight losses for the Tigers, he's still regarded in media circles as a potential Top 10 pick. ESPN's Mel Kiper just moved him up to the No. 2 slot overall on his big board. He's got great NFL potential with his combination of arm strength, feet, touch and decision-making. The big question with Lynch at this point is his accuracy. He's not erratic by any means, but his placement could be better when he drives the ball. He'll have a chance to dispel those complaints this week against a Temple defense that has been making plays all season long.
There aren't too many household names on the Temple defense, but there are a handful of prospects you should be aware of who have a chance to be drafted this upcoming spring. It all starts in the front seven, where linebacker Tyler Matakevich and defensive tackle Matt Ioannidis were both confirmed as attendees for January's Senior Bowl. Matakevich is one of the most productive players in the entire country. He is the NCAA's current active leader in tackles. His physicality and instinctive play make him a very reliable player inside, but the question with him moving forward will be his athleticism. Ioannidis on the other hand doesn't lack movement skills for the defensive tackle spot. He has a good first step, shows quality quickness off the line and has been disruptive against the passing game all season long. He is a prototypical 3-technique defensive tackle at the next level.
2. Penn State QB Christian Hackenberg vs. Michigan Defense
Beaver Stadium, University Park, Pennsylvania - Noon - ABC
Paxton Lynch isn't the only potential top quarterback prospect playing in Pennsylvania this afternoon, as Penn State's Christian Hackenberg suits up to take on one of his toughest tests of the year as well. Some of the shine has worn off of Hackenberg's star, as a litany of questions surround the Nittany Lion. Hackenberg has been erratic as a passer for the last two years. Entering 2015, the hope was that improved lower-body mechanics would be able to fix some of those issues. Hackenberg has continued to struggle for the most part. This is a team that's still hurting depth-wise from recruiting sanctions and an offensive system that may not necessarily be tailored to his strengths. Still, there's no doubting his arm talent. I will stand by the flashes he showed as a sophomore and I will bet that some teams will still be able to see the potential despite what he's shown over the last 18 months.
Hackenberg faces a stiff test today with the Michigan Wolverines coming to Happy Valley. This was a unit that didn't contain much in terms of household names at the beginning of the season, but several players have taken the next step and proven to be legitimate NFL talents. Along the defensive line, Chris Wormley continues to be a steady force, but Willie Henry is a big, athletic prospect with legitimate pass rush skill for a 310-plus-pound tackle. A senior-laden linebacking corps lead by James Ross III and Desmond Morgan is physical, aggressive and instinctive. In the secondary, junior cornerback Jourdan Lewis has pledged his allegiance to the program and plans to stay for his senior season, but has been one of the most effective shutdown corners in the entire country. Safety Jabril Peppers, a former five-star recruit, has consistently made plays all over the field. Hackenberg will have his work cut out for him today.
3. Ole Miss WR Laquon Treadwell vs. LSU CB TreDavious White
Vaught-Hemingway Stadium, Oxford, Mississippi - 3:30 PM - CBS
If you're looking for the best one-on-one matchup this week, this one is probably it. Mississippi wide receiver Laquon Treadwell was a five-star recruit and is being ballyhooed as a potential Top 10 pick in the upcoming draft if he chooses to declare. He's got good size at 6-2, 212 pounds, and his ability to win at the catch point is what makes him very, very dangerous. I wasn't as high on Treadwell after last season, when he played at over 230 pounds and didn't look like a great athlete. He struggled with some of the nuances of the receiver position. While he still will have work to do as a route runner, Treadwell has improved in a number of areas in 2015. After losing a reported 18 pounds this offseason, he looks quicker and more explosive this fall. He's much better at getting off press coverage. With his combination of size, length and ball skills, Treadwell reminds me a bit of former second-round pick Alshon Jeffery. Treadwell is one of the most physically imposing receivers in all of college football.
My assumption would be that Treadwell, who typically lines up to the far left of the offensive formation, will see a majority of his snaps against LSU cornerback TreDavious White, who coincidentally also primarily lines up to that side. White has been known to travel with opposing No. 1 wide receivers. He's proven throughout his career that he's one of the top cover corners in the country. White is smart, athletic, competitive and his physicality really showed up last year in this game. I felt like LSU made it a point to get in Treadwell's head early, getting physical with him at the line of scrimmage, aggressive with him in the run game when he was asked to block and I thought it worked. I'm interested to see how this matchup turns out on Saturday. It's clearly the best man-to-man showdown of the week.
4. Ohio State RB Ezekiel Elliott vs. Michigan State DE Shilique Calhoun
Ohio Stadium, Columbus, Ohio - 3:30 PM - ABC
While the matchup between Treadwell and White may be the top one-on-one matchup, the best game of the week could be between Ohio State and Michigan State. With so many top picks on the field, it's the one with the most NFL Draft implications today. There are so many talented players on both sides of the ball for both of these teams, but my favorite player on the field is possibly Buckeyes running back Ezekiel Elliott. Widely considered the top draft-eligible back if he declares, Elliott has NFL size at 6-0, 225 pounds. He brings a near complete package to the running back spot much like Todd Gurley a year ago. Elliott is decisive, he's physical, he's shifty, he's versatile and he takes great care of the ball. In my mind, he's clearly a first-round pick whenever he decides to enter the draft. He's what makes this Ohio State offense go.
In a schedule that doesn't feature many intimidating matchups, this Spartans defense is one of the toughest tests that Elliott will face all year. At the forefront of this defense is defensive end Shilique Calhoun, a player who Michigan State beat writer Joe Rexrode described on the podcast earlier this month as "almost the face of the program, a mentor to a lot of the guys and a great leader." A three-year starter, Calhoun has very good size for the position and uses his hands well at the point of attack. Not your prototypical "bend the edge" pass rusher, Calhoun relies on his power and leverage to disrupt opposing offenses. He is built in the mold of a Chandler Jones-type player. Jones is a former first-round pick of the New England Patriots. Calhoun has a high motor, and the defensive leader of the Spartans will need that motor to help defend the entire width of the field against Elliott and the rest of this Buckeyes offense.
5. Indiana OT Jason Spriggs vs Maryland DE Yannick Ngoukue
Byrd Stadium, College Park, Maryland - Noon - Big Ten Network
Spriggs has been getting some attention in the media as of late, and is rumored to be attending the Senior Bowl in January. At 6-7, 305 pounds, he has the prototypical build of a future left tackle in the NFL, and he has the feet to protect the corner. A tackle with good anchor strength to defend a bull rush, he has the ability to be a starter early in his career. Spriggs is a very athletic blocker. He was a former high school tight end, and can get out in space to create room for ball carriers. One of the most naturally talented players at his position, Spriggs needs to get stronger at the point of attack, but he has the potential to be a quality player down the line.
Spriggs will see a good amount of snaps this week against Maryland edge rusher Yannick Ngakoue. The junior pass rusher sees reps on both the right and left side for the Terps. He has a strong first step with the ability to win off the ball. Overall, Ngakoue looks like a raw pass rusher who has the athleticism and raw talent to turn into a productive player at the next level. He still has to get stronger and learn how to use his hands better. He'll have a great platform to stand out for scouts on Saturday, but don't be surprised to see him throw his name into the NFL Draft due to the coaching change in College Park earlier this season.
Fran Duffy is the producer of "Eagles Game Plan" which can be seen on Saturdays during the season. Be sure to also check out the "Eagle Eye In The Sky" podcast on the Philadelphia Eagles podcast channel on iTunes. Prior to joining the Eagles in 2011, Duffy was the head video coordinator for the Temple University Football team under former head coach Al Golden. In that role, he spent thousands of hours shooting, logging and assisting with the breakdown of the All-22 film from the team's games, practices and opponents.