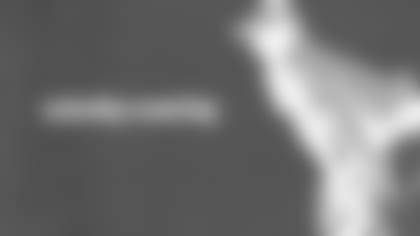 With the college football regular season in the rearview mirror, it's almost time to break down the slate of bowl games and the second-annual College Football Playoff. Before we get to that, however, we've got one more weekend of action in the conference title games that will continue to hold weight for NFL Draft prospects as they prepare to embark on the next stage of their careers. Who will make plays when the lights shine brightest? This week on the Eagle Eye in the Sky Podcast, I chatted with our good buddy Tony Pauline from DraftInsider.net to bring the latest buzz from around the country as the fall comes to a close. Plus, this week on the College Draft Podcast with Ross Tucker, I talked about some key underclassmen declarations and some of the top players heading down to the Senior Bowl. Let's look at five of the biggest matchups that fans should keep their eyes on today.
1. Stanford QB Kevin Hogan vs. USC Defense
Levi's Stadium, Santa Clara, California - 7:45 PM - ESPN
In a senior quarterback class that I feel is one of the deepest from top to bottom that we've had in a long time, Kevin Hogan from Stanford continues to sit quietly in the background. There's a reason for that. Despite the fact that he's in his fourth year as the man under center, I think there are some things that are going to keep Hogan from being an NFL starter. He doesn't have a great arm. His upper body mechanics are not ideal, and there are times where he makes some head-scratching throws. That being said, he's a pretty accurate passer. He's also got control at the line of scrimmage and does a good job pre-snap of putting his offense in position to win.
When these two teams faced off earlier in the season, he made a great call at the line of scrimmage, reading a disguised blitz from the Trojans before the snap, changing the protection and then hitting his tight end for a near touchdown at the 1-yard line. That was a "next level"-type of play. Hogan flashes the ability to move in the pocket and avoid the rush as well. There are NFL traits there, and Hogan will have a chance to put them on even further display tonight on national TV.
This is a USC defense that doesn't present too many blue-chip caliber draft prospects for 2016 (though keep an eye on super sophomore cornerback Adoree Jackson). For this year, however, the two names to watch are linebacker Su'a Cravens and cornerback Kevon Seymour. Cravens, a safety/linebacker hybrid, enjoyed one of his best games of the season against the Cardinal back in September. He made a ton of plays against the run. When the offense tried to run at him, he used his hands to take on blocks, shed them and make plays on the ball. A distant cousin of former second-round pick linebacker Manti Te'o, Cravens is a good athlete who excels in coverage.
It will be interesting to follow his decision-making process in the next few weeks as he ponders entering the 2016 NFL Draft. Seymour has the size to play in press schemes and the athleticism to play in off-coverage as well. The senior cover man shows good instincts, is a good athlete and can hang in man coverage down the field. The concerns are his skinny frame and ability to play the ball in the air, questions he can try to answer tonight against Stanford.
2. Alabama RB Derrick Henry vs. Florida LB Antonio Morrison
Georgia Dome, Atlanta - 4 PM - CBS
One of the favorites to win the Heisman Trophy this year, Derrick Henry is a big, strong runner who can be very tough to bring down. A reliable back with great ball security, Henry and the Alabama offensive line have carved up some of the best defenses on the schedule, and he'll be up for a big test against this Florida front. Henry is excellent in pass protection and shows some third-down ability, but is he a feature back in the NFL? That's the big question some evaluators have at this point in the process, as he continues to rack up yards between the lines and teams try to project him to the league. Henry's deceptive speed in the open field and competitive running style will surely allow him to find a spot at the next level.
Morrison isn't the most talented 2016 prospect in the Gator front seven (that title may belong to lineman Jonathan Bullard or edge rusher Alex McCalister), but he has the most to prove against Henry this afternoon. Morrison is tough, physical in the box and is a sure tackler at the line of scrimmage. Though he's a bit undersized, he's shown the ability to come downhill and take on bigger backs, but will he be able to take down Henry one-on-one? Morrison's lack of great length causes him to get stuck on blocks at times. If he can keep himself free at the point of attack, he'll have the opportunity to prove himself against one of the most physically imposing ball carriers in the entire country.
3. Michigan State WR Aaron Burbridge vs. Iowa CB Desmond King
Lucas Oil Stadium, Indianapolis - 8:17 PM - FOX
I'm as excited about this potential one-on-one matchup as any other this weekend. Michigan State wide receiver Aaron Burbridge has really come out of nowhere this year to be one of the conference's top performers out wide. The Spartans' "X" receiver at 6-1, 209 pounds, Burbridge is easy to like because of his physicality, his strong hands and his willingness to do the little things. He's a good route runner for a college receiver and he does well in the run game as a blocker. Burbridge isn't a burner, but you can live with that for a guy his body type. He has reminded me in the past of an Anquan Boldin-type receiver. One of the best in the senior class, he's been fun to watch all season long, and I don't expect that to change tonight.
Despite the fact that they're undefeated, not many people are talking about any of the prospects on this Iowa football team. One name to remember is junior cornerback Desmond King. At 5-11, 200 pounds, King has good size, the quickness, change of direction and speed to hold up well in man coverage. His physicality against the run helps to make him one of the most well-rounded corners in the entire country. A punt returner with several big plays on special teams this year, King often slides into the slot in their nickel and dime subpackages, pushing his versatility through the roof. King has the size and foot speed to keep up with Burbridge step for step. If the Hawkeyes' coaching staff decides to have King shadow Burbridge, we could be in for one of the battles of the year on the outside.
4. Temple WR Robby Anderson vs. Houston CB William Jackson
TDECU Stadium, Houston - Noon - ABC
I've detailed Temple's Robby Anderson before in this space, and for good reason. The rangy senior has good size (6-3, 190 pounds), is a smooth athlete for the position with the ability to get in and out of breaks efficiently and he has the natural hands to pluck the ball out of the air away from his body. One of the biggest questions with Anderson is his ability to finish completions in contested situations, and he'll certainly be tested in that area this afternoon against one of the more physical corners in the AAC.
Houston cornerback William Jackson, a confirmed attendee for January's Senior Bowl, has good size at 6-0, 185 pounds. He also has the length to disrupt receivers throughout the down and get the ball on the ground in contested situations. Jackson isn't quite the athlete that Anderson is, but with his size and length it should be a good matchup to watch in the early game on Championship Saturday, and a good test for Jackson as he prepares for his trip to Mobile next month.
5. Richmond WR Reggie Diggs vs. William & Mary S DeAndre Houston-Carson
Robins Stadium, Richmond, Virginia - Noon - ESPN3
I haven't done much to cover the FCS level this year, but with their playoffs in full swing I felt the urge to bring you up to date on two prospects to watch in one of the early games. Richmond wide receiver Reggie Diggs is one of the top small-school receivers in the country. The senior Spider wasn't quite as productive in 2015 as he was as a junior last fall, but he's still had a strong season. At 6-4, 200 pounds, Diggs racked up nearly 60 catches for 781 yards and five touchdowns this year, and presents a matchup problem on the outside and inside because of his size.
On the other side of the field, keep a close eye on William & Mary safety DeAndre Houston-Carson. A cornerback up until a year ago, Houston-Carson has good size at 6-1, 205 pounds and he lines up all over the formation in this defense. He's fearless running the alley and making a tackle downhill, and his corner cover skills come into play week in and week out on the back end. Watching Houston-Carson, I kept thinking of how much he reminded me of former first-round pick Ha Ha Clinton-Dix from when he was at Alabama. He's got the range, length, toughness and ball skills to be an impact safety, and he could be seen as one of the top small-school defenders in the entire country once it's all said and done.
Fran Duffy is the producer of "Eagles Game Plan" which can be seen on Saturdays during the season. Be sure to also check out the "Eagle Eye In The Sky" podcast on the Philadelphia Eagles podcast channel on iTunes. Prior to joining the Eagles in 2011, Duffy was the head video coordinator for the Temple University Football team under former head coach Al Golden. In that role, he spent thousands of hours shooting, logging and assisting with the breakdown of the All-22 film from the team's games, practices and opponents.