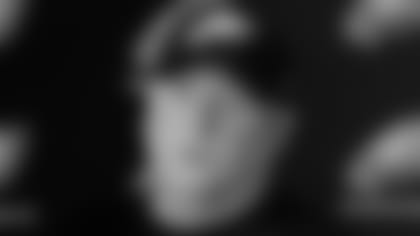 Q. You've had some games in the past where you've run from under center, but most of the time, you run from the shotgun. What's the difference between the two running styles?
COACH KELLY: There's no difference. It's just the path of the back and how we want to get the ball handed off to him. We don't think there's much difference between the two.
Q. Yesterday, LB Marcus Smith said he's healthy. Do you see a role for him against Dallas?
COACH KELLY: We'll see how the week goes along. Obviously, we've had one day of training. He did participate in everything we did yesterday. So, we'll see what goes on today, tomorrow and Saturday.
Q. How do you think DE Vinny Curry did at outside linebacker in his first game there?
COACH KELLY: He was a little up and down there. A couple times, he lost containment: once on the quarterback when we had a naked back our way. But I thought the transition for him, never really having played there and just got his feet wet in the preseason, we felt he did a good job. But we have got to get dialed in a little bit some on responsibilities.
Q. If LB DeMeco Ryans is not in there, how are LBs Mychal Kendricks and Kiko Alonso in terms of setting the front?
COACH KELLY: They're fine. Just making a right or left call. We didn't have any issues with it on Monday.
Q. Smith missed a lot of time. How far behind is he, and is it going to take a while just for him to get where he used to be?
COACH KELLY: I haven't even really looked at it that way. We were just happy that he got through practice and we'll see how he progresses today. But it's not, 'How far behind or how these other things?' We haven't really had those discussions. Let's just see where he is from a health standpoint. Does it hold up? Because he did go through a little bit longer work session than he's been used to, so we'll see how that holds up. So that's kind of how we're looking at things right now.
Q. You had 10 players catch passes the other night. Are you looking for someone to step up as the No. 2 or No. 3 after WR Jordan Matthews?
COACH KELLY: We don't  as long as everybody catches it, I don't care who has what or whatever, so, you know -- what we don't want is for people to drop the ball.
Q. You don't put numbers on guys like that do you? You don't say this guy --
COACH KELLY: Jersey numbers? [Joking]
*Q. Some teams or some people will say, 'He's No. 1 and he's No. 2.' You don't really *
COACH KELLY: No, I mean, I think we have five guys out -- or potentially five guys out -- on each play and it depends how the defense expresses itself or where the ball is going to go.
Q. Is it treated the same way with the running backs?
COACH KELLY: Yeah, if you have talented enough guys. I mean, you'd like to get to that point. Obviously, in the last two years, we had one running back that was head and shoulders above the other guys, so he carried the ball a little bit more than everybody else. But we want to be able to get enough guys in there. It's a long season; it's a 16 game season. There are a lot of plays. You play four games in the preseason, and if guys warrant playing time, then they will get playing time. I think it makes us a better football team in the long run when everybody is contributing. You only have 46 guys dressed on game day. To have three running backs dressed and only one guy play, then two guys stand there and you kind of break the glass if [the first guy] gets injured and then you [put one of the other backs in]. I don't think that's an effective way to do things. That can work in theory, but you'd better have the players that can  you don't want to take a guy out of a game, if you're just putting a guy in that certainly has a big talent discrepancy.
Q. Do you feel like you have that?
COACH KELLY: Yeah, we feel like we have got a lot of depth at receiver right now and we feel like we've got a lot of depth at tight end, and we feel like we've got a lot of depth at running back.
Q. In the portion of practice that we saw yesterday, K Cody Parkey was just in a baseball cap. Is that just a maintenance day?
COACH KELLY: No, he kicked yesterday. Jon [LS Jon Dorenbos] has a baseball cap on and they all have baseball caps on now.
Q. Have you identified anything mechanically with Parkey? He had some misses in the preseason and of course the one in the regular season.
COACH KELLY: No, on the one kick in the Falcons game, he just over-strided. His plant leg was out a little bit in front of him.
Q. With Curry moving to the outside and playing a lot, he did a lot of damage last year as a defensive end, as far as rushing the passer. Are you confident that the guys who will be in Curry's role from last yea, can do that kind of thing?
COACH KELLY: Yeah, he was in there on Monday against the Falcons. He played inside in our nickel stuff, so that didn't change. His role has not changed from that standpoint. When we are in our base defense, he's playing outside, but when we're in nickel, he's still an inside pass rusher for us.
Q. How do you think WR Nelson Agholor did in his first game? I know he was only targeted twice and he had the one reception.
COACH KELLY: Nelson did a good job. A lot of times with a receiver, it's when you are called upon, do you respond? You can't control how many balls are thrown your way or are not thrown your way at times. We hit him once on an underneath route and then another one was kind of contested. It was press-man, and we probably got the ball out a little soon; [Agholor] was just coming right out of his break. I thought for his first game, he really blocked really well. But when he had his opportunities to catch the ball, he did.
Q. Is there something to be said for taking shots deep or do you feel like if it's not there, just keep taking the underneath stuff? Is there an advantage you gain by showing you can do it?
COACH KELLY: I think everybody knows we can do it. I mean, [QB] Sam's [Bradford] got as strong an arm as anyone in the league. But when you're playing that type of defense, they are not going to let the ball  and that's part of their theory, they kept the ball in front of them. But when keeping the ball in front of them, we had no issues moving the ball in the second half. He was 21 of 25 and we were moving the ball down the field. Really the only thing that set us back in the second half were the penalties. We slowed ourselves down. But if that's what they are going to do, I don't think you prove anything to anybody and say, 'Even though they are back there, we are just going to throw the ball up.' I mean, that's kind of silly to be honest with you.
Q. Are you confident you're going to be able to run inside the tackles better than you did against Atlanta?
Q. Confident that you're going to be able to run inside the tackles?
COACH KELLY: That's what the game is all about. I'm not a prediction guy and say that we are going to do this and we are going to do that. We are going to go out and play our game and they are going to play their game.
Q. Any more thoughts on the guard play and how they did being in there for the first time?
COACH KELLY: We thought both guards played well and they graded out well for [offensive line coach Jeff Stoutlant] Stout.
Q. C Jason Kelce mentioned some of the guys, including himself, played with too much emotion, and he thought it led to some of the penalties. As a coach, is there a way of coaching not to play with too much emotion?
COACH KELLY: We always talk about playing with emotion, not letting emotion play with you and I think that's what happened in that situation. Some guys played with a little bit too much emotion and when that affects your play on the field, turning it from a positive into a negative, then you have to be able to harness that yourself. But usually you find younger guys doing that, you know what I mean, as opposed to older guys that have been around for a little bit. And he knows, and we've talked to Jason about it. He knows that. He gets hyped up a lot but you have to be able to control your emotions when you're out there.
Q. What about the offensive line on Dallas makes it such a good unit?
COACH KELLY: Obviously, they have three real outstanding players in [Cowboys T Tyron] Smith and [Cowboys G Zack] Martin and [Cowboys C Travis] Frederick, three first-round draft picks and then they filled in nicely with them but I think they play well together. They seem like they are always on the same page. There's not a lot of busts that go on with that group. There's a real consistency in terms of how they play.
Q. I know personnel is different this year but what has S Chris Maragos done to be in the conversation to be that fifth defensive back, as opposed to last year when he was not?
COACH KELLY: He's just gotten better. He's improved in year two here, and I don't know, maybe it's a good question for him, is he came in last year, was really trying to hone in on playing special teams and being a great special teams players. And we had talked to him last year about, don't sell yourself short as a defensive back because we think there's potential for you there and I think he's done that. I think he's really embraced both roles. I think maybe he feels a little bit  and I'm not speaking for him but he may feel a little bit more comfortable in understanding what we're doing special-teams wise where now he can tackle the other part of it. But obviously when we brought him here, and he knew that, we brought him here to be a special teams player, and he's an outstanding special teams player, one of the best in the league at it. Now he's kind of adopting that other role that you can do both. And I think he's shown that, he's shown that in camp and shown that going back to last spring when we got here in April that he can do that.
Q. If the guards graded out well, how does that jive with the fact that the run game wasn't very successful in the interior. Does that speak to the other positions?
COACH KELLY: Well, we didn't call many runs. So I think it's a misconception to say that we didn't run the ball very well. It's tough to evaluate the run if we are not running it. We threw the ball because of what they were doing almost exclusively in the second half because we could move the ball very quickly down the field by getting the ball in the air but that's not an indication of how  that's why so when they graded out, they were graded out as pass defenders and actually did a really good job of that.
Q. Why the smaller play card?
COACH KELLY: What's that?
Q. Using the smaller play card. I'm wondering why.
COACH KELLY: I'm confused.
COACH KELLY: I just folded it differently.
Q. Did you want to keep the TVs – ESPN last year --
COACH KELLY: I just literally refolded it. We didn't want it to look like a Denny's menu. So we went from a Denny's to a smaller restaurant. I just folded it and I have the creases in a little different spot. Wow. That's a great one. We're digging deep right now. I did have the same shoelaces. I don't know if you guys were looking at that. That's why I shouldn't have to talk three days in a row if we're talking about the size of play cards.
*Q. There are obviously three backs that you dress and you want to get them all in the game. Is there a way to get two on the field at the same time *
COACH KELLY: Can we get two on the field at the same time? Yeah, we have.
Q. Not often. Is that a way to get them more involved, or is that an option?
COACH KELLY: You can do whatever you want. We have five eligible receivers out there. We could get all three running backs in at the same time. If you are asking me theoretically can we do that, we can theoretically do that, yes.