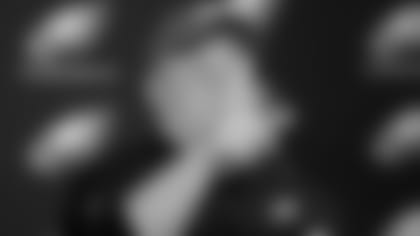 Q.  Is QB Sam Bradford going to play, and if so, how much?
COACH KELLY: Sam will not play. That's my decision. He really wants to play. I don't think he's real happy with my decision. Just felt he's been out here for two weeks, done a really nice job. He'll get his first work against the Ravens when we get a chance to train with them for a couple days before we play them and he'll play in the Ravens game. [QB] Mark [Sanchez] will start the game.
Q. Why did you make that decision?
COACH KELLY: It's just that he's been out here just for two weeks. I think the other guy has a little bit of base and I just feel more comfortable putting him in in the Ravens game.
Q. Does the physical element have anything to do with it?
COACH KELLY: No, I think he can go. I know he's disappointed but it's just my call. I think there's a fine line and part of it you look at what happened to [TE] Niles Paul last night for the Redskins who is a tremendous football player, who is done for the year right now. So there's that fine line in preseason games where you are. So his first 11 on 11 was two weeks ago and now going out against a team – it was just my decision. We've been back and forth around it. I made the final call that we're going to sit him this game, and he'll be ready to play against the Ravens. Mark will start the game. That's the only position we've really done right now is just quarterbacks. The rest of it will all be determined based off of today's training and tomorrow's training of what's going to be available. Mark will start, won't play very much and then it will be a lot of [QB] Matt [Barkley] and a lot of [QB] Tim [Tebow], so we'll have a chance to see those guys in some extended play.
Q. How do you balance getting the guy out there who has not played a lot over the last two years, getting him comfortable in the pass rush and trying to make sure he's healthy for the long haul?
COACH KELLY: Yeah, that's the decision I had to make. The training session with the Ravens next week I think will help because we'll get two real good days with them in pads with [Ravens Head Coach] John's [Harbaugh] team and then we have the game against the Ravens and then you have the Packers. I felt like we had some more opportunities for it.
Q. Will RB DeMarco Murray play on Sunday?
COACH KELLY: One more time. Any other position besides quarterback won't be determined until after training tomorrow. DeMarco is going to go today. He'll go tomorrow and then we'll make a determination on all those guys.
Q. How much did Bradford try to talk you out of not letting him play?
COACH KELLY: He didn't Sam understands. I think he's disappointed but I think he understands. It wasn't a debate.
Q. TE Zach Ertz wasn't out there yesterday at practice.
COACH KELLY: Zach has a core muscle injury and he's probably going to be out for a couple weeks now.
Q. Do you think Ertz will play in Week 1?
COACH KELLY: No, I think he'll be back for week one. Right now, he's out. He's with Dr. Meyers [Core muscle specialist Dr. William Meyers] today. It will be a couple weeks with him but he's not going to play in the preseason.
Q. The opportunities that QB Tim Tebow gives you from a schematic standpoint because of his skill set, if he were to make the team, would it be fair to say some of the things that you might want him to do, you wouldn't necessarily see in the preseason anyway?
COACH KELLY: No. I mean, that's part of our offense and what we do. I think when Tim gets in there, you'll see him run the ball a little bit. That's part of what he we have the ability to call plays depending on who is in there. You'll see that. We're not trying to hide anything. I think people know we can run zone-read plays and the quarterback has the ability to carry the football. I don't think that would surprise anybody if we didn't do that in the preseason and all of a sudden Tim had an opportunity to play during the season and we sprung it on him.
Q. I guess I meant from a gadget standpoint, but you wouldn't show gadget plays in the preseason --
COACH KELLY: Yeah, but Tim is not a gadget guy. I think Tim is a quarterback, and I think he's proven that so far when he's been out here. For all those guys, though, and I said it to begin with, they are in red jerseys. It's a different game when we get to Sunday. And I'm excited, we really as a coaching staff, we want to say Matt play a while and I want to see Tim play a while and I want to see what happens with those guys.
Q. Any update on the guys who sat out yesterday?
COACH KELLY: DeMarco will go. [LB] DeMeco [Ryans] is going. [LB Mychal] Kendricks will go. The only guy who is not going is Ertz and [LB] Brandon Hepburn has an ab, abdominal, so he's out. I don't have the extension on Brandon Hepburn. [DE] BJ McBride hurt his foot so he won't go. But all those other guys will be back whoa, whoa
Q. What about LB Kiko Alonso?
COACH KELLY: No, Kiko is out.
Q. What specifically is holding DeMarco back?
COACH KELLY: No, he's coming along. He's done a lot of different things. We're trying to get him acclimated. He also carried the ball more than anybody in the National Football League last year, so we are trying to integrate him into what we are doing.
Q. So it has a lot to do with last year's workload?
COACH KELLY: Yeah, we look at everybody and where they are from a body standpoint. I think we manage every individual player here in terms of where they are and what they are. And my job and our whole not my job, our entire coaching staff, training staff, sports science staff is to get those guys ready to play in week one.
Q. S Malcolm Jenkins brings a chair out
COACH KELLY: Malcolm Jenkins is busting people's chops, and I was laughing because he asked me before he did it, 'Can we get those guys some mojitos and maybe some fans because they have a day off?' Every player is dealt with individually here. What works for Player A may be different from Player B, and that's the way we've always done it.
Q. It's been ten days for Kiko. How is he coming along?
COACH KELLY: Kiko is fine. We know what type of football player he is, but that's not something you need to rush him back into doing anything. I think his legs are healthy, he can run around, he can do all those other things. But I think when you deal with an injury like that, you're just going to take your time. We don't have a game to play until we play the Falcons on [September] 14th.
Q. Has he passed the league's concussion protocol?
COACH KELLY: No, we have not [cleared him via] the protocol. We are just taking him along slowly…he's doing stuff in there…it's just make sure that he's in meetings, he understands everything and he's doing everything in there and when we get ready, he'll be ready to go play against the Ravens hopefully.
Q. When you made so many changes this offseason, there has to be a point where you want to see your guys on the field. As this game inches closer and closer, is there a part of you as a fan of this football team and of this game that you want to see all these changes and how they come together out here?
COACH KELLY: No. My job is to make sure our team is ready to play against the Atlanta Falcons. So I'm not a fan of anything. My job is to make sure that this team is ready to play when we go to play Atlanta.
Q. How much work will Bradford get against the Baltimore Ravens? With him not playing this week, will that increase his play against the Ravens?
COACH KELLY: We haven't gotten into that part of it. Usually the M.O. is we are usually going to play our ones 8-to-10 snaps in Game One, it gets extended in Game Two, you play probably a half in Game Three and they don't play in Game Four. A lot of that will depend on how everything else falls into place.
Q. You have a bunch of rookie free agent tight ends and obviously with Ertz being out for a while, you'll probably get a look at them. What have you seen from them so far and are any of them sticking out?
COACH KELLY: Well, it's one of those [situations] where daily, it's kind of a different guy shows up. [TE] Eric Tomlinson came on the last two days and made some big catches for us in the red zone. All three of them have size. Andrew [TE Andrew Gleichert] is a really sharp player and he really picked things up very quickly. And then [TE] Justin Tukes is starting to really come along. So, excited to see those three guys. So one of the byproducts of not being able to have Zach for a couple games here in the preseason, is [getting] those guys an opportunity to show what they can do. We have three guys in [TE Brent] Celek, Ertz and Trey [TE Trey Burton] that we feel really confident in. But we're really trying to figure out who that fourth guy is. And I think it's really a toss up, but all three of those guys, have at times [made you think], 'Wow, they have a legitimate shot of making this football team and let's see how we can do it on a more consistent basis.'
Q. Because Ertz and Burton were offensive weapons in college, where you looking for guys who were outstanding blockers when you decided to sign these rookie tight ends? Did you emphasize blocking more than receiving, or does that matter to you?
COACH KELLY: I think sometimes when you get to the undrafted free agents immediately after the draft, it's what's available. Because you say, 'Hey, I really like that guy,' and then someone takes him in the sixth and you say, 'God, I wish -- we were hoping we get a chance to get him a little bit later in terms of where he is.' But those are three guys we liked. They all have specific qualities you kind of like in them. At that point in time, it's about what's available and who are you going do be able to bring in. And with James Casey not here, I think they all felt that it was an opportunity to compete and see who the fourth tight end could be on this team.
Q. On Derek Boyko's [Eagles director of public relations] depth chart you have four guys at right guard
COACH KELLY: [Looks at Boyko] Did you? Four? You slashed four? Awesome. [Laughter] Was it alphabetical or numerical? Alphabetical.
Q. Are you looking forward to seeing how those guards do?
COACH KELLY: Yeah, we are, and they will all get an opportunity to play, but you are excited to see what those guys can do when it's live competition.
Q. So it really shows in the games rather than out here at practice?
COACH KELLY: It shows out here, but I think that kind of validates it when you get in a game.
Q. Obviously, you have a quick mind with how you bust our chops in here. Do you think that plays to your advantage in calling up-tempo plays and running an up-tempo offense?
COACH KELLY: I try not to bust people's chops when I'm calling plays but
Q. I didn't really mean that. It was more about whether being able to think quickly on your toes when things are moving fast --
COACH KELLY: I think it helps. I mean, but what we end up doing, because I think it's the thing that helps the most, is we get so many reps and we get so many more opportunities to be in play-calling situations, if that makes sense. So we have had a lot of trial and error in terms of how we do it, because we get so many reps in terms of how we train. I think that's the biggest thing for us.
Q. There are so many plays in your playbook and you can pick from a million plays, but you have to pick the right one in a short amount of time
COACH KELLY: Yeah, but the key is if you run a lot of plays, you can call crappy ones. [Laughter] You know what I mean? So if you're a team that only runs 50-to-60 plays a game, you almost have to hit on every single one of your play calls. If you can get 85-to-90 play calls, you can have 25-to-30 not very good calls, but they tend to forget about them because then the next play got your first down, you know what I mean?
Q. That's why your book gets kind of smaller on game day --
COACH KELLY: No, our book on game day is I just think your retention during the week, you can have that's the fine line, I think, for any staff when you're putting together a game plan is, 'How much is too much? We need to have this, we need to have this, we need to have this.' Then for us, you want to have confidence because they drilled it. If you go into a game and you listen to people say, 'We have 150 plays up for this game.' Well [the question is], 'How did you practice them all?' You only have X amount of days. You're getting 50 snaps three days in a row, that's 150. Did you run every play once and did you run it to the right and did you run it to the left and did you run it against that defense that you were anticipating getting. So that's kind of the chess match of when you try to pare down a little bit, just so our guys, when we call things, they are prepared for more than one or two defenses.
Q. Current Indianapolis Colts Trent Cole and Todd Herremans were longtime Eagles and are coming back this weekend. Can you talk about what significance they had in your two years here?
COACH KELLY: Those two guys were outstanding leaders here: Todd, offensively, and Trent, defensively. Economically, is the only reason they are on another sideline, but those two guys did absolutely everything we asked them here. They were two tremendous football players and two great Eagles. So I'll be excited to see both those guys.
Q. How did you see those guys impact the team? Cole and LB Brandon Graham were in similar situations being that they were originally defensive ends and had to switch to outside linebacker. Additionally, how did Herremans impact the offensive line?
COACH KELLY: Both those guys, again, I thought did a great job because they were older veterans in here. They accepted our staff immediately when we got in here. They were both probably two of the hardest working players we had on our team, both in the classroom and in the weight room. It was evident when you play that many years in this league, there's a reason for it. I think it's their dedication, and the quote-unquote, what everybody is looking for, 'true professional football players,' in terms of how those guys approached it. I think it really rubbed off on our younger guys. You can ask BG, but I know how much he looked up to Trent and how Trent kind of took him under his wing and tried to bring him along. And it's same thing with Lane [T Lane Johnson] being next to Todd for the two years that he was with him, how Todd kind of taught Lane the ropes. They were both real good mentors to our younger players here.
Q. Where is Bradford at? Does he have limitations at all coming off this injury or is he just --
COACH KELLY: He's been full-go on everything. The only limitation is the head coach.
Q. With Ertz, obviously you would prefer him to get some game reps in the preseason. How does that set him back in terms of
COACH KELLY: The biggest thing for us in this situation, to be honest with you, is that it's something that we wanted to get cleaned up. So the reps weren't really important. In the long term, he's going to be a lot better for it. We just wanted to get it out of the way.
Q. Does he need a procedure or anything?
COACH KELLY: I don't know. Whatever it is, Dr. Meyers said it's going to be a couple weeks and thinks he's going to be fine for the opener. So I said, 'If we got to shut him down now, I'd rather shut him down now rather than have to shut him down some time during the middle of the season.'