Q. What led to the decision to use S Ed Reynolds more than S Chris Maragos as a safety in your sub-packages?**
BILL DAVIS: Well, nothing against Chris. Chris had a great first eight or nine games of the season for us. We love Chris and everything he brings. We put Eddy out there to see -- they have a big special teams role, too. The last couple weeks you've seen Chris really shining and making a huge difference [on special teams]. He's not playing as many defensive snaps. He's still a big part of what we do defensively, but we are anxious to see what Ed brings to the table. Ed does a great job of quarterbacking back there. He's a bright, young man that the flies around the field and really does a nice job communicating.
Q. How encouraging was it to get that kind of pass rush success against the Patriots without even having to blitz to get to QB Tom Brady?
BILL DAVIS: It's a tough place to go in. First of all, I thought the players did a great job. They showed a lot of character, being in the hole we were in the last two weeks and them fighting through it and having that challenge of going in there to beat Brady and Coach [Bill] Belichick in Foxboro is a big deal. A big part of it was the three-and-four-man rush winning there and the cover guys just holding. We knew we were going to get our share of their passing game. That's what they do and that's what their strength is. In the last couple weeks, we were not having much success in that area and the guys stepped up and made a lot of plays.
Q. What have you seen out of Bills RB LeSean McCoy over the last month?
BILL DAVIS: Shady's [McCoy] on top of it right now. He's playing the best you've seen him play. He's peaking right now, like he does a lot of times; I think always in November and December, you've seen him be at his best. It looks like he's in great shape. They are feeding him the ball a lot. He's being Shady: he's making the cuts and stopping on a dime and changing directions and making plays when they aren't there. We are going to have our hands full and we look forward to the challenge. We know he's going to be at his absolute best. He'll be the best blocker, the best runner and the best pass protector that you can be. He'll be fired up for this game, but so will we. We are excited about playing him.
Q. For your players having seen him in practice for a couple of years, does it help them on the field?
BILL DAVIS: It does, but it's not the full speed. Shady is about full speed. His start and stop and perimeter run is second to none and he sees the field. You see him in one gear in practice and then there's another gear to Shady that shows up in the game that we have to be ready for and we will be.
Q. It would be great to have a guy like that, right?
BILL DAVIS: Come on, Les [Philadelphia Daily News reporter Les Bowen]. [Joking followed by laughter] What do you got, Jeff [Philadelphia Inquirer reporter Jeff McLane]? Let's move on with it. Let's go to Jeff. [Laughter]
Q. With Bills QB Tyrod Taylor running the ball and Bills RB Karlos Williams as a complement to McCoy, how tough is it to defend that entire running game?
BILL DAVIS: I know [Bills offensive coordinator] Greg Roman and I've known him a long time. I think he's one of the most thorough and best offensive coordinators in the league, in that he has everything from extra tackles, tackle over, he's got the empty package, he's got the quarterback run game like you're talking about and he really makes you defend everything. Then he uses his talent pretty well. He's got a quarterback run game and they threw the wildcat out there last week. So there's a lot of stuff that we're going to have to defend and stop, schematically, and he's taking advantage of what Shady does best and what the tight end does. They have got [TE Charles] Clay and [WR Sammy] Watkins. So they have got weapons everywhere and the quarterback is throwing a great [deep ball]. He's very impressive with his deep ball. He's throwing one of the more catchable deep balls that I've seen in a while. They're asking him – he's not [trying to do] too much and he's not making any bad decisions.
Q. You talked earlier about Reynolds and you also have DB Eric Rowe, who is a young guy. What's the value of having two young guys in the secondary that you can grow now that they are getting reps?
BILL DAVIS: Well, as you're growing the young guys you have to go through the growing pains with them. With two of them out there, you have to watch and make sure you're giving them what they can handle and not putting them in too dangerous of a position until they get more familiar out there. It's nice to have young guys that we are growing that hopefully down the road we'll have them for years to come.
Q. DT Bennie Logan didn't play that many snaps against New England. Was that because of the sub-packages you were in or because of his injury?
BILL DAVIS: It was more the packages we were in. [The Patriots] were in a lot of passing personnel groupings and we went with a lot more of Vinny [DE Vinny Curry] than we did with the bigger guys.
Q. On the snaps that LB Kiko Alonso took, what did you think of the number he played and how he played?
BILL DAVIS: We probably -- the numbers weren't quite the way we needed them to be. It showed up very late in the game where he was gassed. Him and Mychal [LB Mychal Kendricks] have to have more of a 50-50 [snap distribution] and we'll make sure that gets done. I think at the very end there, where Kiko had a couple plays where he fell or he was just exhausted, we should have made a switch there. But we are happy with Kiko and Mychal. We have to get some coverage things down technique-wise, but they are good athletes with good football awareness and will play better and better as we go.
Q. Looking back to the day the Eagles traded for Alonso, what did you expect from him this year coming off the injury?
BILL DAVIS: You didn't know what to expect. When you're dealing with injuries like that -- I didn't know, to be honest with you. I just hope that everybody gets up to speed as quick as you can, but when you're coming off an injury like that, everybody's different and every injury is different. We're glad with where he is now. It looks like the injury is in the rearview mirror and now it's about playing within our scheme and making the most of him.
Q. When you talk about the wide receiver position and you look at the speed wide receivers you have faced, how dangerous is Watkins?
BILL DAVIS: Oh he's right at the top of the list. He goes vertical and blows the top off the defense, constantly. The quarterback [Taylor] has all the arm strength to throw it as far as he needs to hit him. That's a nice combination that we have to be well aware of and make sure that we handle that. He's got speed everywhere. There is his vertical route, but with that vertical route he gets you off of him on the comebacks and the curls and the crossers. It's a total package that we have to make sure we're on top of.
Q. Brady said after the game that part of the reason he held on to the ball was because of what you guys were doing. What do you think you were doing that confused him or delayed him?
BILL DAVIS: I don't think there's anything he hasn't seen or hasn't adjusted to, and we knew that going in. We showed a lot of people up; we bluffed a lot of pressure and then fell back with different numbers. I think we just constantly move the number of droppers and rushers around to where he wasn't positive and if you can get a guy like that, who has seen so much, to just hold the ball for one extra count -- I thought our rushers did a great job. Vinny and Fletch [DE Fletcher Cox] inside -- They didn't get any sacks and that's why I don't think that much of sacks and I don't evaluate on sacks. Those two guys had more disruption inside and then Connor [LB Connor Barwin] and BG [LB Brandon Graham] on the outside got the sacks, but all four of them together are rushing very well. It takes four [players] to rush as one, in order to really get the production they had the other night.
Q. You mentioned Alonso and Kendricks need to be more even in snap distribution. Who does that fall on?
BILL DAVIS: Me. It all falls on me. I can guide it as I go. We have a plan every week when we go in there, but what you don't know -- the curveball and the moving target -- is what personnel groupings we're going to get. Going into [the Patriots] game, without Gronk [Patriots TE Rob Gronkowski], we didn't know what they were coming at us with. They had shown so much two-tight-end personnel sets and then Gronk went out, so what was coming at us, we [didn't] know. We have a plan for a lot of different things. Rick [Eagles inside linebackers coach Rick Minter] was just executing the plan and at the end it -- We had the three series in a row where we were out there defensively, defensively and defensively, for a good reason: we had the interception return; we had two return touchdowns. But that puts us out there constantly. And I think it was somewhere in there that the numbers got out of whack. So you can't tell. Every game is different and that's kind of what happened with Kiko.
Q. Is there a trend with running backs having success as receivers out of the backfield? That's kind of become a concern for you, hasn't it?
BILL DAVIS: Yeah, it has and we have to make sure -- and I think it's more technique. I really do. I believe with all my heart in their athletic ability and their ability to start and stop and cover these running backs. We have faced a couple good receiving running backs, but I think we have some good coverage linebackers. And as we move on, we'll get better and better at it and we'll throw help to it if we need to. But it's something we're working on.
Q. S Malcolm Jenkins said he was challenged last week, perhaps in light of what he had to say publically. Was it you who challenged him and how do you think he responded to it?
BILL DAVIS: Oh, I think Malcolm had a great game. I didn't think much of that. It was all about New England last week. We were trying our best to keep the focus on New England and we did. Malcolm is always our best at preparation and there is nothing that goes by him. He's in the building all morning and all night. I think Malcolm had a great week of preparation and he rose up and made a lot of big plays for us. He really did.
Q. What was the difference in getting pressure on Brady last week? Particularly, how was Cox able to generate 8-to-10 pressures?
BILL DAVIS: He was winning one-on-ones. He really was. Those guards were struggling with him. We move Fletch around. We move them all around, but we move Fletch around to any matchup that we see fit. Inside on the guards, he was beating them quick. They were one-move wins and he had a big game. So did Vinny. Both those guys were disruptive forces in there, which is why the coverage sacks happened and the interceptions [happened]. On the big [interception] return, the [rush] move [Cox] made on the interception return for touchdown was why the ball was thrown [where it was thrown]. It was a bad ball that [Brady] threw, but he had to make the quick decision because here comes Fletch. It's all tied together and the guys collectively stepped up and made plays this week and I think that's been kind of what we've got to make sure we focus on.
Q. What about the kind of season that Cox is having overall? How would you assess the way he has played?
BILL DAVIS: I think he's having an outstanding season. If he had the sack numbers to match his pressures, we would be talking about him for defensive MVP. He's having that kind of an effect. He's just not getting the sack numbers for whatever reason. I've been around that before, too, and that's why I don't put a whole lot of stock in [the sacks]. Are you making the quarterback come off his spot? Are you breaking his rhythm like you did the other night? Are you making the quarterback throw before he wants to throw or [making him] throw inaccurately? That's what we're getting out of Vinny and Fletch and BG and Connor and the whole pass rush group.
Q. You mentioned the four-man pass rush. Does it take a while to get that coordinated like it takes an offensive line time to get coordinated? Does it take time for those guys to work together?
BILL DAVIS: It does and I told you early in the season, I think our stunts and games are much better than they were a year ago. Those four guys are just working together and talking about it and they meet about it together. So they put a lot of work into making those things work and trying to get the other guy free and they really are excited for each other. It's not like everybody is selfish with the sack numbers. Those guys are together and they are trying to get each other to the quarterback and really move him off the spot. Every plan changes. With Brady, you want to keep him in there and not let him step up and you have other guys, like this week, where you can't let them out. There's a lot of different techniques involved in pass rushing and the guys are doing a good job of making a four-man rush together.
Q. What do you use to determine when you're going to bring pressure on a quarterback or a team?  What do you look at?
BILL DAVIS: Everything is different. How many men are they keeping in protection? Are they releasing? Who are the protectors and what are the mismatches we like in our D-Line versus their offensive line? Is their running back a good protector or not? How can we get somebody on the back? So there are so many things. How quick is the ball out? A lot of these guys get the ball out quick and pressure is not what you want because the numbers go backwards on you. If you get too many rushing and then the ball goes out, you don't have enough in coverage. So there's a lot of factors that go into it and each week changes.
Q. With the way things went in the previous two games, is there a sense of relief for you this week after the win?
BILL DAVIS: Every week, it's all in with everything we have. Absolutely, you feel the pressure; I'm not saying you don't, but I don't focus on it. At this point in my career, wasted energy is focused on the reaction to the problem. All my energy goes into solving the problem. And that's what I've learned over time: you just have to have laser focus on solving the problem, not on everybody's reaction to the bad that's happened.
Q. The last time this team had won a game prior to Sunday was the big win at Dallas. Following that win, you had three straight losses. Now you're coming off another big win. Is there anything you learn from after the Dallas game that you can use in your approach and preparation to prevent that from happening again?
BILL DAVIS: No, I don't think -- our preparation and our self-evaluation, it doesn't change week-to-week, win or loss. I think our job as coaches, we are constantly saying, 'How can we put the players in the best position to make the plays? Then we watch them make their plays on Sunday. That's what we try to do and we just keep looking at who we are. And it changes every week with injuries and everything else, but it's about, 'What does this group do the best and how can we put them in situations to make the plays?' I think the guys -- that [performance against the Patriots] was about the players. The New England game was not about scheme; it was about players stepping up, making tackles, pressuring the quarterback, covering guys downfield and making interceptions. It was fun to watch those guys go out and perform like they did.
Q. Against New England it seemed like you guys used more split-safety than you normally do. Was that the case and what factored into that decision?
Bill DAVIS: I think we played a good amount of that, but again, when they are dropping back and passing on almost every down, most people do that. The pressure package almost always makes you go single-high, but with what they were doing and with the type of offense that was coming at us in the passing game, we felt the split-safety handled that the best.
Q. Do you expect to have DE Cedric Thornton back today and going forward into the game?
BILL DAVIS: I'm not positive of Ced, but he's day-to-day. I'm confident -- I hope we have him. I have not heard today, but I know he's day-to-day in a good way. I think we'll be alright.
Q. How did Rowe play against New England?
BILL DAVIS: Eric did a nice job. He really did.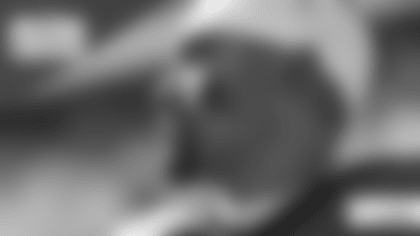 news
Morning Roundup: 'We needed a game like this'
Read about Nicholas Morrow's career day and Jalen Hurts' clutch performance.